Bogaerts' gaffe costs Red Sox, leads to rout by Astros
In Fenway debut, Kelly allows slam after overturned call extends inning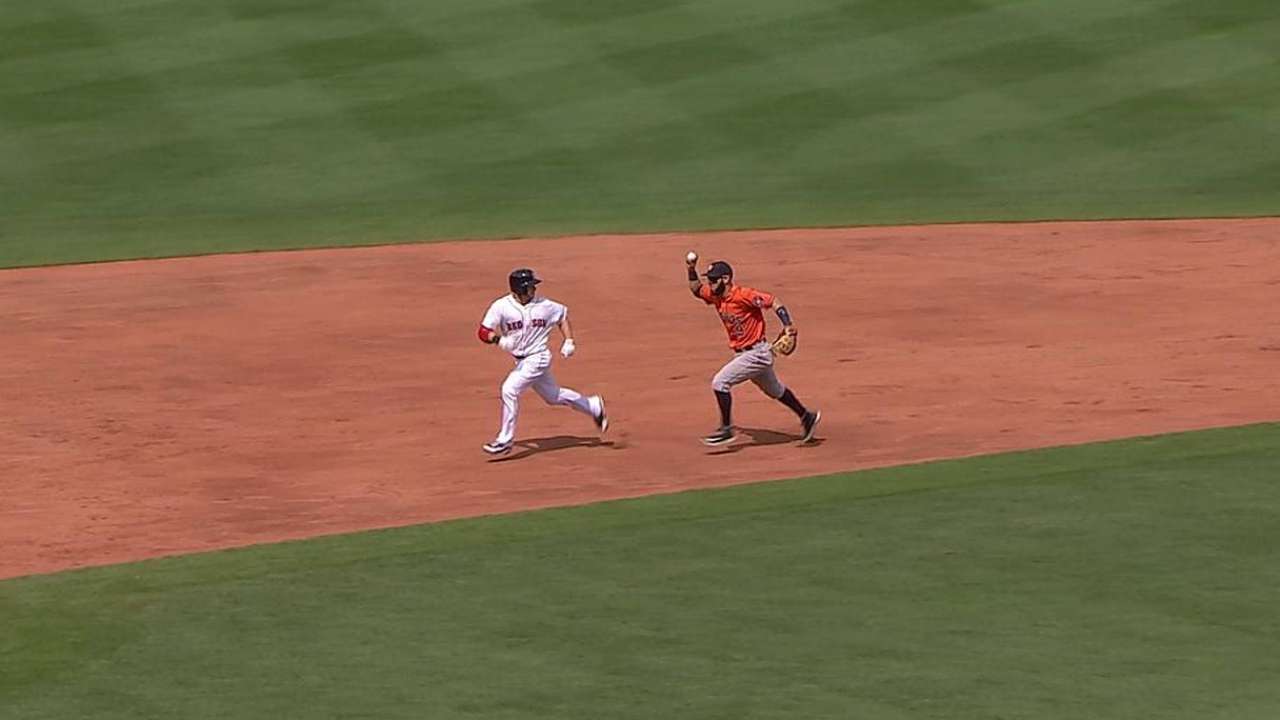 BOSTON --- Just minutes after Red Sox starter Joe Kelly had induced a double play to end the second inning during his first outing at Fenway Park, Jose Altuve of the Astros was rounding the bases and celebrating a grand slam.
How? Instant replay, of course, although this case was anything but cut and dry.
Astros manager Bo Porter challenged the double-play ruling and umpires determined that Boston shortstop Xander Bogaerts didn't step on the bag until after he threw the ball to first. The Red Sox had already cleared the field, but a few minutes later, Altuve took Kelly deep to give his club a six-run cushion in an 8-1 Houston win Sunday afternoon. The Astros salvaged a split of the four-game set.
"We forced a couple of extra outs in the inning. And any time you do that, you're asking for trouble," Red Sox manager John Farrell said. "On a day when Joe scuffled with his command … it compounds things."
On the reviewed play, Marwin Gonzalez hit a ground ball up the middle that Kelly got a piece of and redirected to Bogaerts. The shortstop shuffled to his left and threw to first as he reached second, and it seemed Kelly was out of the inning. But Porter challenged the play, arguing that Bogaerts had gotten rid of the ball before touching the base.
"I saw the runner coming on me and I tried to touch the bag and get it out as quick as possible to turn the double play. Joe Kelly was going through a rough stretch with his command, so getting a double play right there would have been huge," Bogaerts said. "It really would've turned the game around."
Plays like that are often not reviewable, but because this was a race to the bag between Bogaerts and Marc Krauss instead of a throw to second that Bogaerts needed to field --- a "neighborhood play," which means a player just needs to be near the bag while turning two so he can safely avoid a sliding runner --- Porter could challenge it.
Farrell, who was eventually ejected after Altuve's slam, said the umpires initially told him the front-end of a double play is never reviewable, but crew chief Jim Joyce asked officials at the Replay Command Center in New York, who determined it was since this was not a neighborhood play, but a force play.
"I knew that I wanted to challenge. Just wanted to make sure obviously that you're not challenging the neighborhood play, which is something that you can't challenge," Porter said. "We had confirmation from our people that the ball was out of his hand before he touched the base."
"Being the first time we've had this this year, I thought we better be 100 percent on it," Joyce said. "So instead of just saying to Bo, 'Yes or no' because we really weren't sure, they actually took a couple of minutes on it just to make sure it was reviewable."
After Robbie Grossman worked a two-out walk on nine pitches upon Boston's return to the diamond, Altuve ripped a grand slam just over the Green Monster to give the Astros a 6-0 lead. Krauss singled home Dexter Fowler to get the Astros on the board earlier in the second, and Matt Dominguez's sacrifice fly scored Jon Singleton that inning as well.
"Every time I go to BP and we have situations, I tell him, 'Put me in here with the bases loaded,'" said Altuve, who went 4-for-5. "And I try to go deep, but I never do."
Fowler followed a six-run frame with a solo shot to right field in the third to make it 7-1. Singleton hit a solo homer in the ninth.
Kelly surrendered seven runs on seven hits and six walks over four innings. He fanned three. The righty didn't do himself any favors with all the free passes -- in his first three starts with the Red Sox, he's walked 13 -- but didn't get much help from his defense, either. To start the second, Krauss hit a fly ball to left off the base of the Monster that Yoenis Cespedes lost right off the bat. Then Bogaerts' gaffe cost Kelly and the Red Sox dearly.
"Plenty of stuff. Plenty of power. Plenty of action to his secondary pitches," Farrell said of Kelly. "Just his command was not as its been in the first two outings for him."
"No, I wouldn't say it's tough. You've got to find a way to just lock back in," Kelly said of returning to the mound in the second. "We don't get the double play, you've just got to be able to be ready for the next guy."
Astros starter Colin McHugh held the Red Sox to one run on seven hits over six innings. He walked four and struck out six. Boston put multiple runners on base in four of McHugh's six frames, but could only muster a run when Brock Holt walked and Daniel Nava doubled down the right-field line to score him in the third. The Sox left nine runners on and went 0-for-7 with runners in scoring position.
Knuckleballer Steven Wright pitched four innings in relief, allowing one run on four hits while striking out four. The Red Sox called him up Sunday for long relief purposes, and he threw 75 percent of his pitches for strikes. Wright even snared a rocket grounder from Dominguez to start a double play with Bogaerts in the sixth. The shortstop made sure he stepped on the bag with both feet that time.
Steven Petrella is an associate reporter for MLB.com. This story was not subject to the approval of Major League Baseball or its clubs.