Royals ride seven-run frame to extend Central lead
Guthrie settles in after second-inning uprising, while KC hits three HRs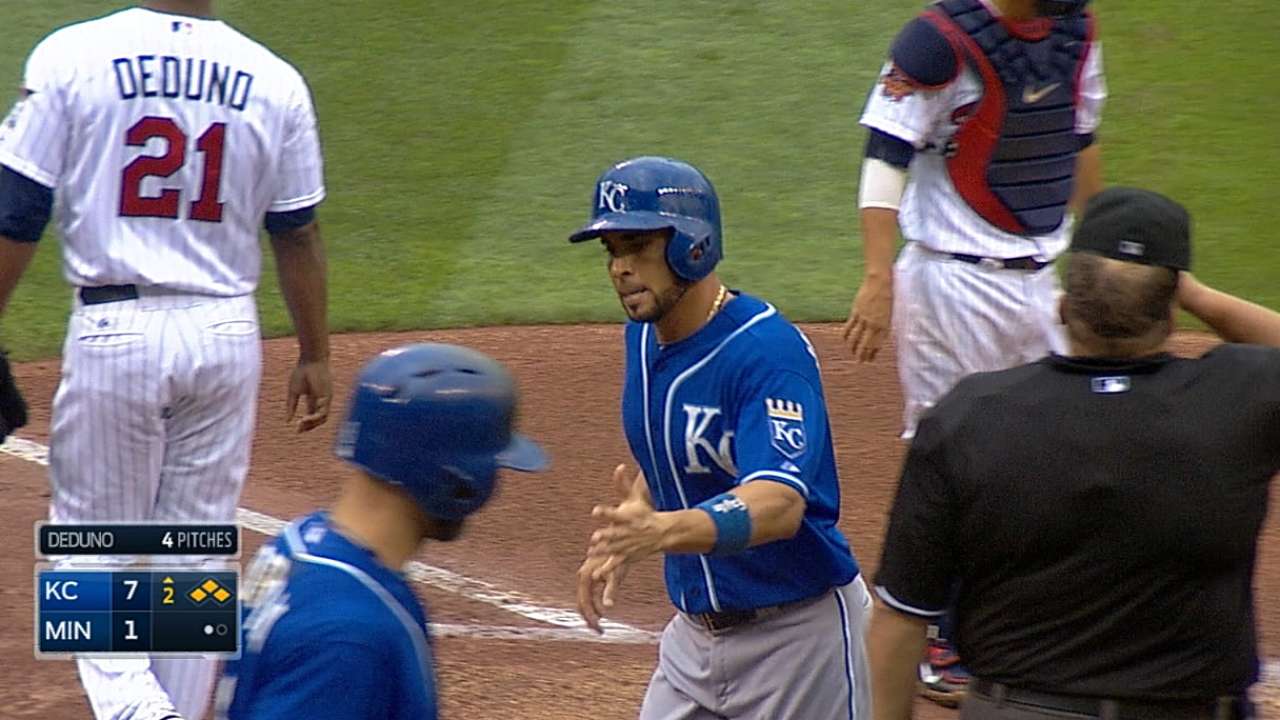 MINNEAPOLIS -- Swingin' in the rain.
That's what the Royals were doing for part of Sunday afternoon as they slogged and slugged their way to a 12-6 romp over the Minnesota Twins with 31,455 fans at damp Target Field.
Right-hander Jeremy Guthrie shrugged off a rain delay of almost an hour and worked seven innings for the victory. Billy Butler contributed two hits to a seven-run inning and Alex Gordon later banged a two-run homer, while Salvador Perez and Josh Willingham each had solo shots.
The victory, the Royals' 20th in 25 games, restored their lead in the American League Central to 1 1/2 games over Detroit. The Tigers lost to Seattle, 8-1.
As rain pattered down steadily, the Royals launched a second-inning outburst that ended with seven runs charged against Twins left-hander Tommy Milone.
"I don't know if it was the elements or what, but we had to swing in it and everything else," Butler said. "I don't know if it was tough on Milone, but we were making him work."
Radar watchers apparently miscalculated the rain when they delayed the start of the game by 34 minutes. Nothing fell until after the first inning, as the Royals were coming to bat for the second time.
As the rain continued, the Royals sent seven runners squishing across the plate.
Butler set off the second-inning mudfest with a solid single to center. Milone loaded the bases by plunking Gordon with a pitch and walking Willingham. Mike Moustakas fouled out, but then things kept, ah, flowing.
Alcides Escobar ripped a two-run single, Jarrod Dyson walked and Nori Aoki lined another two-run single. With the infield in, second baseman Brian Dozier missed Omar Infante's grounder for an error and two more runs scored.
"It was raining hard and Milone tried to pitch through it but it was pretty much a mess out there," Twins manager Ron Gardenhire said. "I don't think he had a feel for the ball. They just kept putting the ball in play and finding holes against him. So it was a tough inning."
When Perez singled, Milone was sent out of the shower and into the showers.
"I was trying not to walk guys, so I just kept leaving it over the plate," Milone said. "It was pretty tough. It seemed like every time I got a new ball it was just soaked."
Reliever Samuel Deduno, a right-hander, promptly gave up an RBI single to Butler for the seventh run before inducing Gordon to bounce into a double play.
As the seven-run inning ended so did the downpour and now the Royals could only hope to hold the 7-1 lead and that more rain wouldn't wash out their run burst.
The rain did persist, finally causing play to be stopped at 3 p.m. CT with one out in the bottom of the fourth and the Royals up, 7-2.
Was Royals manager Ned Yost worried that perhaps the big lead would go down the drain with another stoppage?
"No, I'm a pretty good amateur meteorologist, so I wasn't too concerned," he said.
Yost was continually monitoring the radar on his computer between innings.
After many bags of Turface Quick Dry and a lot of raking, play resumed after a 54-minute delay and Guthrie, despite the long wait, resumed pitching for the Royals.
"Obviously the big lead early was huge for us," Guthrie said. "It allowed me to just really go out there and attack, and not worry too much about stuff out there, the way the offense was going."
Before the rain delay, in the third inning, Joe Mauer caught hold of Guthrie's first pitch and drove it over the left-field wall for the Twins' second run. That was Mauer's third homer against Guthrie in 25 at-bats.
After the delay, Gordon followed Butler's third single in the fifth inning with a home run to deep right-center off left-hander Caleb Thielbar. It was Gordon's 13th homer and traveled 422 feet, but he wasn't sure it'd leave the park because of the high wall.
"It barely went out," Gordon said. "I thought it was going to bounce off that wall and Billy was going to stop at third. It was a 3-2 pitch and I was looking for a fastball in that situation and got one down, and put a good swing on it."
That made the score 9-2. Good thing because in the bottom half the Twins' Kennys Vargas clipped Guthrie for a two-run homer.
But the Royals kept adding on. Perez led off the seventh with a homer before Gordon tripled and scored on Willingham's double. Then, in the ninth, Willingham had the Royals' third homer.
"Gordy just absolutely smoked his, I didn't know he could get it out where he hit in the park," Yost said. "Sal's was just a laser and Willingham's was in the upper deck."
So it didn't matter much when Oswaldo Arcia hit a two-run blast off reliever Jason Frasor in the eighth. Even so, Yost didn't want to risk that the Twins might cut the gap further and force him to use closer Greg Holland, who was taking an important second day of rest.
Yost knew Detroit had lost and the Royals could pick up a game. So, despite a six-run lead, he brought in hard-throwing Kelvin Herrera, one of his top three backend relievers, to work a 1-2-3 ninth.
"I just wanted to hammer the nails down in the coffin," Yost said.
Dick Kaegel is a reporter for MLB.com. This story was not subject to the approval of Major League Baseball or its clubs.