Braun, Gomez shots off Kershaw back Gallardo
Brewers tag lefty for rare multi-homer game to snap ace's streak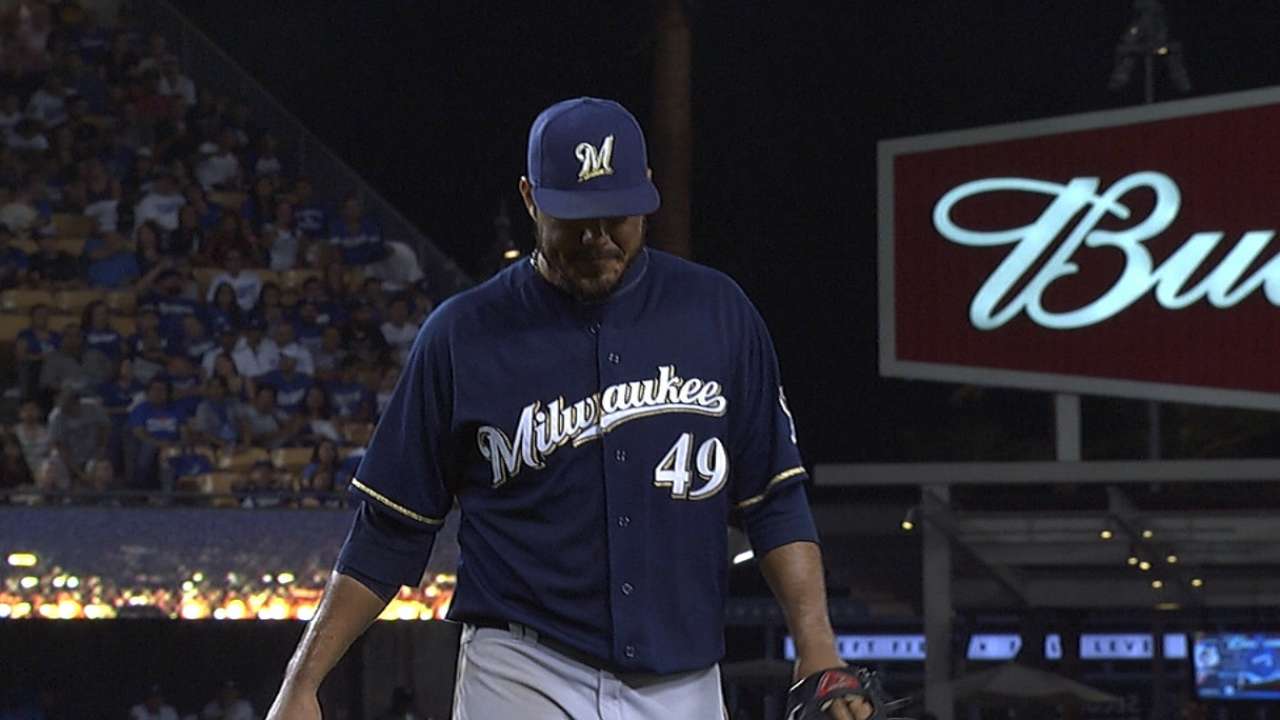 LOS ANGELES -- Yes, it is possible to defeat the great Clayton Kershaw.
The Brewers did so Saturday at Dodger Stadium, where Ryan Braun and Carlos Gomez hit home runs and Yovani Gallardo outperformed the consensus best pitcher in baseball. Those efforts produced a 3-2 Brewers victory and guaranteed Milwaukee a second series victory in a span of 10 days over National League West-leading Los Angeles.
Kershaw, who had defeated the Brewers at Miller Park a week earlier, saw the end of a career-best 11-game winning streak that spanned 13 starts since May 28.
"The guys that we have in this clubhouse, we look forward to that," said Gallardo of the marquee matchup. "We're very confident right now with the guys that we have."
And why not? The Brewers may be only one game over .500 since the start of May, but their sensational April means they moved Saturday to within a half-game of the Dodgers for the NL's best record while strengthening their hold on the NL Central. The Cardinals (three games back) and Pirates (4 1/2 games back) both fell Saturday.
Kershaw pitched a complete game, but Gallardo's eight innings were better. The Brewers right-hander and Opening Day starter set a season high for innings pitched while holding the Dodgers to one run on six singles, with one walk and three strikeouts.
"I got outpitched," Kershaw said. "Yovani pitched better than I did. I just made some mistakes and they showed up on the scoreboard."
Gallardo made few mistakes, allowing a lone run on Justin Turner's fourth-inning single, and retired the final nine batters he faced from the sixth through the eighth. Gallardo had only thrown 96 pitches when manager Ron Roenicke summoned closer Francisco Rodriguez, who surrendered a Matt Kemp home run in the ninth inning but was able to reclaim the Major League lead with 38 saves. Rodriguez took sole possession of 11th place all-time with career save No. 342 after matching Brewers closer Rollie Fingers the night before.
Roenicke said there was no debate about giving Gallardo a chance for his first complete game this season.
"I thought he threw a great game, and that was good," Roenicke said.
Gallardo, who has worked at least seven innings in four of his last five starts, was on board with the decision to let Rodriguez begin the inning with a clean slate.
"As soon as I came out [after the eighth] I turned it over to Frankie," Gallardo said. "He's been lights-out."
But the Brewers' recent strength has been a starting rotation challenged lately by injuries to Matt Garza and Kyle Lohse that has nonetheless posted a 2.55 ERA in the last 25 games, including 21 quality starts of at least six innings with three or fewer runs.
"I think sometimes we don't get enough credit," Braun said. "We don't necessarily have the name recognition that other teams have, but these guys have been incredible. Not just one through five, but one through seven with Jimmy Nelson and Mike Fiers. All those guys have been so great for us all year, and it's the reason we've won as many games as we have."
The Brewers were hitless against Kershaw before Gomez hit the first pitch of the fourth inning for a double. Brewers catcher Jonathan Lucroy could not advance the runner (he grounded out to shortstop) but Braun did, connecting with a fastball for a home run that just cleared the fence in right-center field. It was Braun's 15th home run this season and came two days after he was left out of the Brewers' starting lineup because of renewed pain from a nerve issue in his right hand.
Two innings later, Gomez struck again -- again on the first pitch. He hit a changeup for a home run that hugged the left-field line.
"No matter who you are, when you're hanging pitches [to] professional hitters, something is going to happen," Gomez said.
Gomez added, "But you see, [Kershaw] completed the game. He's one of those guys who comes at us a fighter. It's not fun to face him. But I'm a guy who gets excited to face one of the best pitchers in the game. I look at myself, like, 'OK, I'm good, too.'"
The Brewers will aim for a three-game sweep Sunday with Wily Peralta aiming for his 15th victory, which would tie Cincinnati's Johnny Cueto for most in the Majors.
"Every game is so important, so significant to us right now," Braun said. "We know that we've got our hands full this last month and a half with three teams behind us who are playing really good baseball."
Adam McCalvy is a reporter for MLB.com. Read his blog, Brew Beat, and follow him on Twitter at @AdamMcCalvy. This story was not subject to the approval of Major League Baseball or its clubs.