Homers snap Kershaw's winning streak
Lefty goes distance but allows two homers for first loss since May 28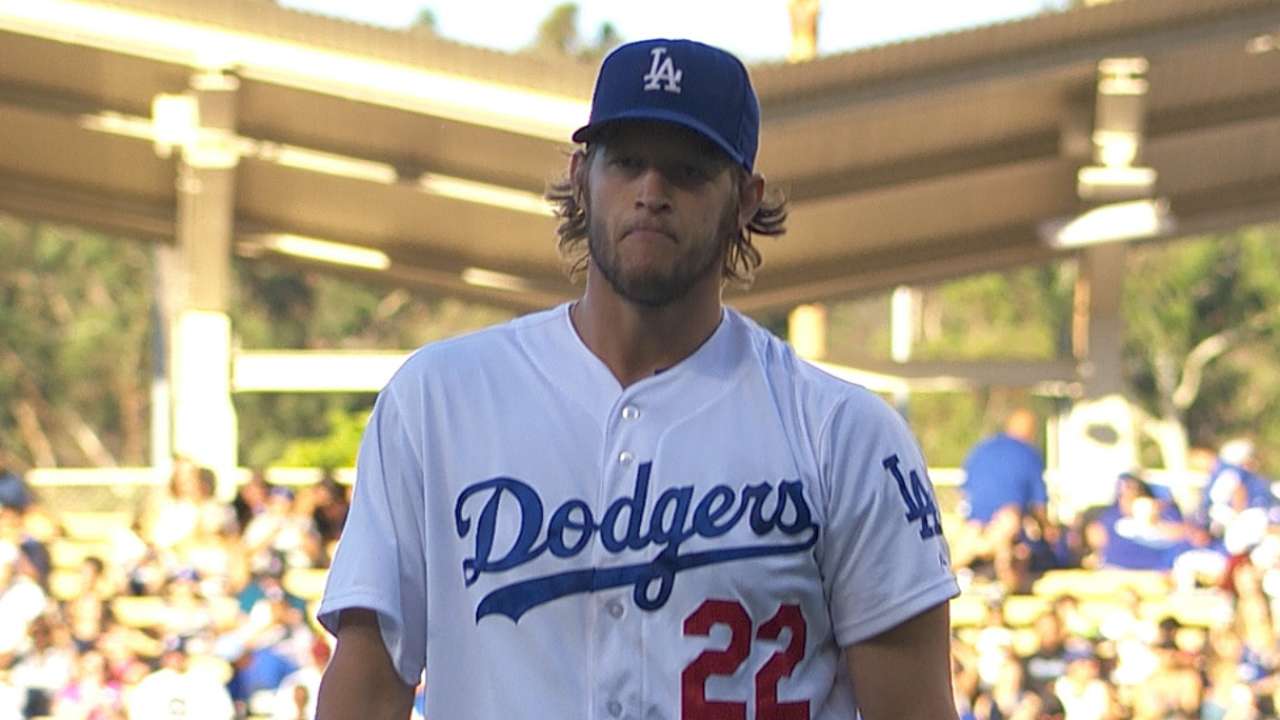 LOS ANGELES -- Even when Clayton Kershaw loses, it's something special.
So when he came off the field after striking out 11 without a walk for nine innings Saturday night, he received a standing ovation at Dodger Stadium.
He and the Dodgers were on their way to a 3-2 loss to the Brewers, Kershaw being taken deep by Ryan Braun and Carlos Gomez, pitching better in defeat than he did while winning in Milwaukee six days ago.
"I felt like I pitched so much better than in Milwaukee, but the scoreboard said differently," said Kershaw, benefitting from an extra day of rest. "The scoreboard doesn't always reflect how you feel."
The loss was Kershaw's first in 14 starts (since May 28 against Cincinnati), snapping an 11-0 run of decisions for the National League Pitcher of the Month in June and July. He's 14-3, his ERA inching up from 1.78 to 1.86.
With the Brewers swinging at first pitches, Kershaw made only 97 for his sixth complete game of the year, which leads the league and is the most for a Dodger since Ismael Valdes had six in 1995. It was the first time a Dodgers starting pitcher threw a complete-game loss at home since Derek Lowe in 2007.
Kershaw might go on to a third Cy Young Award this year and he's in the conversation for MVP. But Saturday night Kershaw was outdueled by Yovani Gallardo, who kept the Dodgers in the ballpark. Gallardo pitched eight innings, allowing one run on six singles.
"I got outpitched," said Kershaw's toughest critic, himself. "Yovani pitched better than I did. I just made some mistakes and they showed up on the scoreboard."
The Brewers are 4-1 against the Dodgers this year and 16-8 since 2011, including 8-3 at Dodger Stadium. They've won games started by Zack Greinke and Kershaw back to back.
"You don't usually see those two guys get beat back to back," said Justin Turner, who had an RBI single. "But that's baseball. It happens. We'll come out tomorrow and try to salvage the series, like we did in Milwaukee."
Kershaw came into the game having allowed only six home runs in 136 1/3 innings, but Braun slugged an opposite-field two-run shot with one out in the fourth inning and Gomez led off the sixth inning with a homer.
"Braun's home run, he hung that pitch, and the one he threw me, too, was right in the middle and hanging," said Gomez. "No matter who you are, when you're hanging pitches [to] professional hitters, something is going to happen."
Dodgers catcher A.J. Ellis said even in defeat, Kershaw showed an attribute essential to a starting pitcher in consideration for an MVP -- the saving of a bullpen feeling the domino effects of five members missing because of injury.
"A lot's been said lately about the MVP and whether a pitcher should be in it, but if you've watched the Dodgers the last few days and how much has happened to the bullpen, for Clayton to know he had to go eight or nine innings and to deliver, that's valuable too," he said.
Kershaw was perfect through three innings, but that ended in the fourth when Gomez jumped on the first pitch for a double. One out later, with Gomez dancing off second base to get Kershaw's attention, Braun sent a towering homer on a 3-1 fastball that just cleared the right-field fence.
"He's the best pitcher in baseball and he's been on a historically great run. It's incredible," said Braun. "It's kind of fun to watch from afar. It's obviously extremely difficult to beat him. It hasn't happened much this year, so for us to do that, it's an impressive accomplishment."
The Dodgers trimmed the deficit in half against Gallardo during the bottom of the fourth when Carl Crawford beat out an infield single, stole second and was singled home by Turner, who was thrown out trying to advance to second base.
But Gomez jumped on Kershaw again leading off the sixth inning, this time lofting a first-pitch changeup into the back of the Dodgers bullpen.
"Clayton is going to be on the attack and see what teams do," manager Don Mattingly said of opposing team plans of first-pitch swinging. "Always early in the count, they're attacking him. ... They're a good club."
Matt Kemp led off the ninth with a homer off Brewers closer Francisco Rodriguez before Rodriguez set down the next three batters in order.
Ken Gurnick is a reporter for MLB.com. This story was not subject to the approval of Major League Baseball or its clubs.