Gyorko slams Cards just before long rain delay
Seventh-inning shot puts Padres on top; Hahn surrenders five runs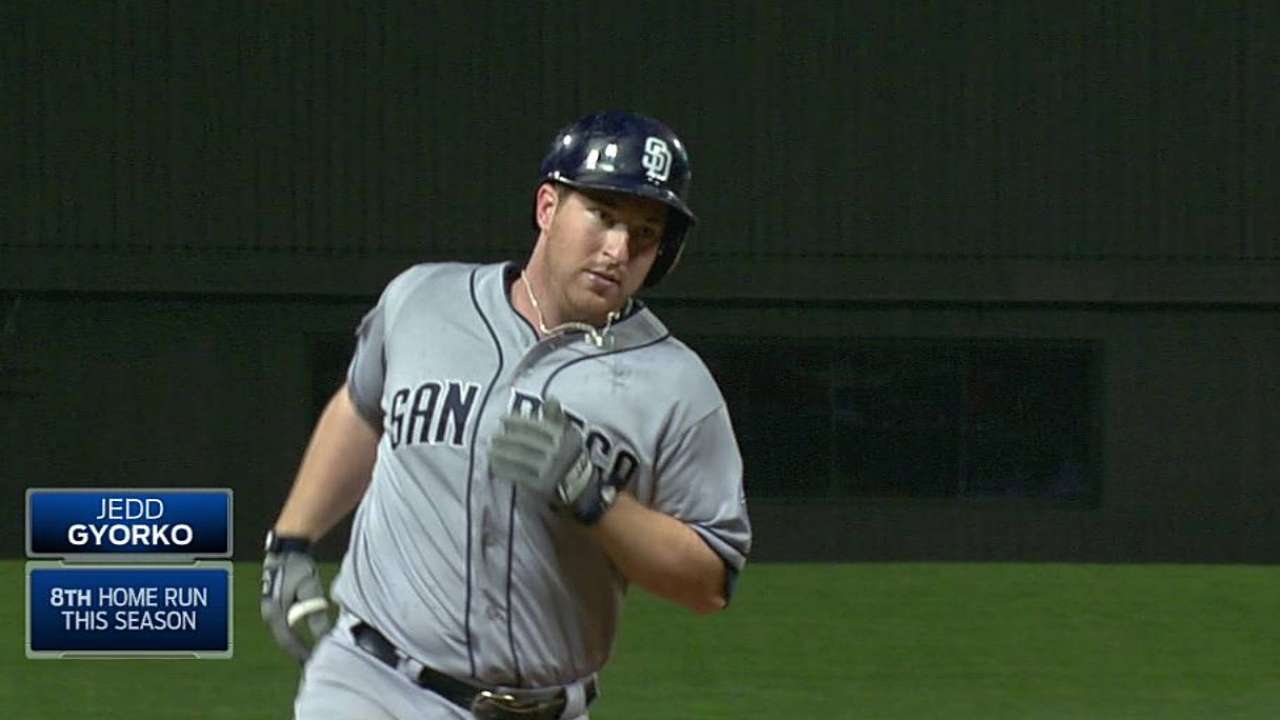 ST. LOUIS -- There was a point this season when Jedd Gyorko spent his time staring at his numbers from the disabled list.
"It's not a lot of fun," Gyorko said. "I did a lot of soul searching, kind of tried to find myself while I was on the DL. I think it has worked out pretty well."
Gyorko made that loud and clear Saturday night as the rain began to fall at Busch Stadium. With the Padres trailing by one run and the bases loaded in the seventh inning, Gyorko turned on the second pitch he saw and sent it flying toward the left-field wall.
The 347-foot fly ball caromed above the wall for a grand slam and three-run lead before rain halted the game against the Cardinals just two batters later. Following a 1-hour, 46-minute delay, the Padres added a run in the eighth and proceeded to halt their two-game losing streak with a 9-5 win over the Cardinals.
"It was good to see Jedd come through in a big way," Padres manager Bud Black said. "Good at-bats that inning against [Cards reliever Kevin] Siegrist and then Jedd got a ball that he could get on the pull side and hit it well."
The Padres, who entered Saturday with the lowest-scoring offense in baseball, loaded the bases in the seventh with two one-out singles and a walk before Gyorko stepped to the plate against Siegrist. His blast came on a 94-mph fastball left over the plate and marked his second grand slam this season and the third of the second baseman's career.
"Just a fastball down and in and I was able to drop the head on it," Gyorko said. "It probably wasn't a bad pitch, I was just able to put a good swing on it looking for something hard in."
"I guess I didn't get it in there enough and he got his hands to it," Siegrist said. "He put a good swing on it."
The Cardinals jumped on rookie Jesse Hahn during a 27-pitch second inning. Jhonny Peralta and Oscar Taveras hit RBI doubles. Matt Carpenter sent a two-out double to left field to score two more before Hahn worked out of the four-run inning, the worst in his 12 starts in the Majors.
"I felt good in my warmups. First inning felt great," the rookie said. "Just a couple mistake pitches hurt me. I left them up and they hit them."
An offensive onslaught put the Padres back into the game in the third as two-out hitting helped them capitalize on early singles. Gyorko singled to plate the Padres' first run before Jake Goebbert emptied the bases with a three-run triple to even the score.
Hahn, who hadn't allowed more than three runs in any of his previous 10 starts after surrendering four in his Major League debut, put Matt Holliday on with a two-out walk in the fifth and watched him score on a triple from Matt Adams as the Cardinals moved back ahead.
The rookie got two outs in the sixth before exiting. He allowed a career-high five runs on seven hits.
"I thought overall he threw the ball fine," Black said. "They got to him, they got some hits against him.They got the big inning against him, but he got us into the sixth inning."
While the Padres had squandered chances in losing the first two games of this series -- they stranded a combined 16 runners -- they had other plans Saturday.
Abraham Almonte reached with a one-out infield single in the seventh, Seth Smith singled to left and Yasmani Grandal walked to load the bases. A mound visit attempted to calm Siegrist before Gyorko connected.
When the second baseman went on the disabled list in early June with plantar fasciitis in his left foot, he was hitting .162. For the next eight weeks those numbers stared back at him.
Gyorko's average reached .199 on Saturday, and he has hit .348 with six RBIs in the team's last six games.
"Obviously it's been a work in progress," Gyorko said. "We've got a month and a half. I'm looking to keep it going, obviously I have a lot to prove I was a different hitter than I was in the first half."
Looking at Saturday's numbers and ahead sure beats looking on from the disabled list.
"Since he's come back, it's good to see him start to climb both in average and on-base percentage," Black said. "As the season gets into these last six weeks, I think you're going to see Jedd continue to produce. He's just too good of a hitter."
Alex Halsted is an associate reporter for MLB.com. This story was not subject to the approval of Major League Baseball or its clubs.