Castro's late homer clinches win over Mets
Arrieta continues dominant ways with seven scoreless in no-decision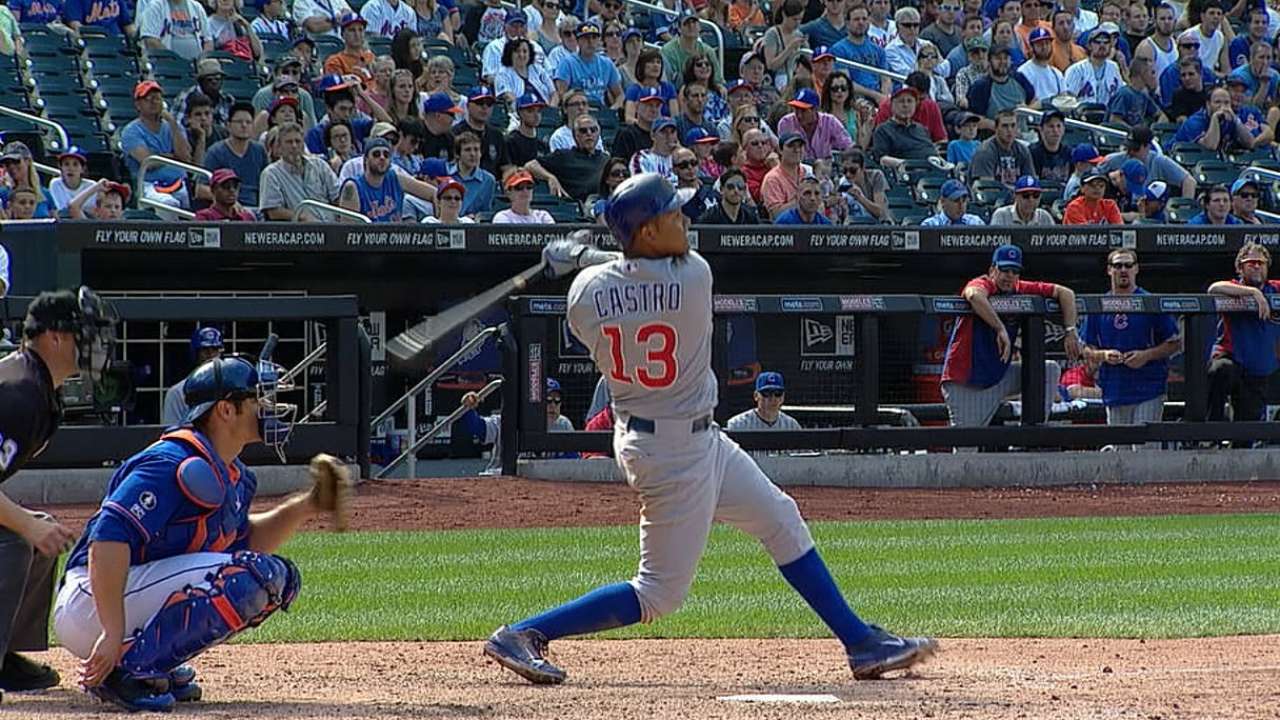 NEW YORK -- Starlin Castro delivered when the Cubs needed him to, just not quite in time to give Jake Arrieta the win.
Castro belted an opposite-field home run leading off the ninth to lift the Cubs to a 2-1 victory on Sunday over the Mets at Citi Field, after New York had tied the game in the eighth on Curtis Granderson's RBI single.
Arrieta was in line for the win before the Mets rallied. The right-hander held New York to two hits over seven innings, while striking out nine -- including eight on his curveball. Since June 3, he has given up more than three runs only once while compiling a 2.45 ERA.
"Jake was very, very good today," Mets manager Terry Collins said. "The curveball was tremendous, which we knew he had going into the game. You have to battle him."
Arrieta used his fastball to set up the curve.
"I just had a good feel for [the curve], and was able to throw it in multiple counts for a strike below the zone -- so it was there for me when I needed it," Arrieta said. "[Catcher John] Baker saw that it was a pretty effective pitch, especially with the life off the fastball. Those two combined, the way they were going, I didn't have to use the cutter as much today. It was nice to have that feel and adjust on the fly."
Castro knew what he wanted to do in the ninth. With the game deadlocked at 1, he smacked the first pitch he saw, a fastball, for his 13th home run of the season and second since June 20 to right off Jenrry Mejia. Castro is now one shy of matching his career high in home runs, set in 2012.
"That was a big one," Cubs manager Rick Renteria said. "When he hit it, it came off his bat, and we were hoping it would get away from [the right fielder] -- and it just carried enough to get out. That was a big at-bat for him, big at-bat for us."
"It's a big swing of the bat," Arrieta said. "He's having a real nice year and doing big things offensively, and he's playing great defense. A big-time hitter for us stepped up in a big-time spot. First pitch he sees, to deposit it dead right, right down the line, that's tough to do."
Mejia said he was trying to throw the ball outside, but Castro reached out and poked it far enough.
"The guy threw me fastball first pitch, and that's what I'm looking for," Castro said, "and I was going to try to hit it hard."
Castro also helped out Arrieta in the third. The Mets had runners at first and third with one out, and Arrieta got Juan Lagares to hit into a 6-4-3 double play, although Castro had to run to snare the ball, then flip to Javier Baez, who made a barehanded catch and threw in time to complete the play.
"That was pretty awesome," Castro said of the play. "That ball was hit pretty hard."
And Baez looked like a natural at second.
"He plays like he's always played [at second base]," Castro said of the converted shortstop.
New York starter Rafael Montero was nearly as tough, limiting the Cubs to five hits over 7 1/3 innings. Baez walked to lead off the fourth, his first in 55 plate appearances since his callup on Aug. 5. One out later, Baez moved up on a groundout by Castro and then scored on Luis Valbuena's single to center. Baez had struck out 21 times, including in the first inning, before the walk.
Ruben Tejada singled with one out in the Mets' eighth off Pedro Strop, moved up on a passed ball charged to Baker, and then scored one out later on Granderson's single to tie the game. Granderson's hit ended an 0-for-17 skid.
Arrieta missed the first month of the season as he rehabbed from tightness in his right shoulder. The Cubs' front office has said it wants to see some of their recently acquired pitchers -- such as Jacob Turner, Dan Straily, who made a spot start on Saturday, and Felix Doubront, who made his second rehab start on Sunday. Arrieta wasn't sure what the plan will be. He just wants to keep going.
"I want to make every start that I have lined up throughout the end of September," Arrieta said. "If something comes up, I guess that will be addressed. I'd love to stay in the mix and finish out on a high note."
Nearly every time the Cubs have acquired a pitcher, they mention the success Arrieta has had since he arrived from the Orioles in July 2013.
"I know there are guys who need looks -- and they want to give them looks -- and that's part of transforming a developing team to a winning team," Arrieta said. "You have to find out what you've got to move forward."
Carrie Muskat is a reporter for MLB.com. She writes a blog, Muskat Ramblings, and you can follow her on Twitter@CarrieMuskat. This story was not subject to the approval of Major League Baseball or its clubs.