Mejia gives up late homer as Mets fall to Cubs
Montero impresses in allowing one run over 7 1/3 innings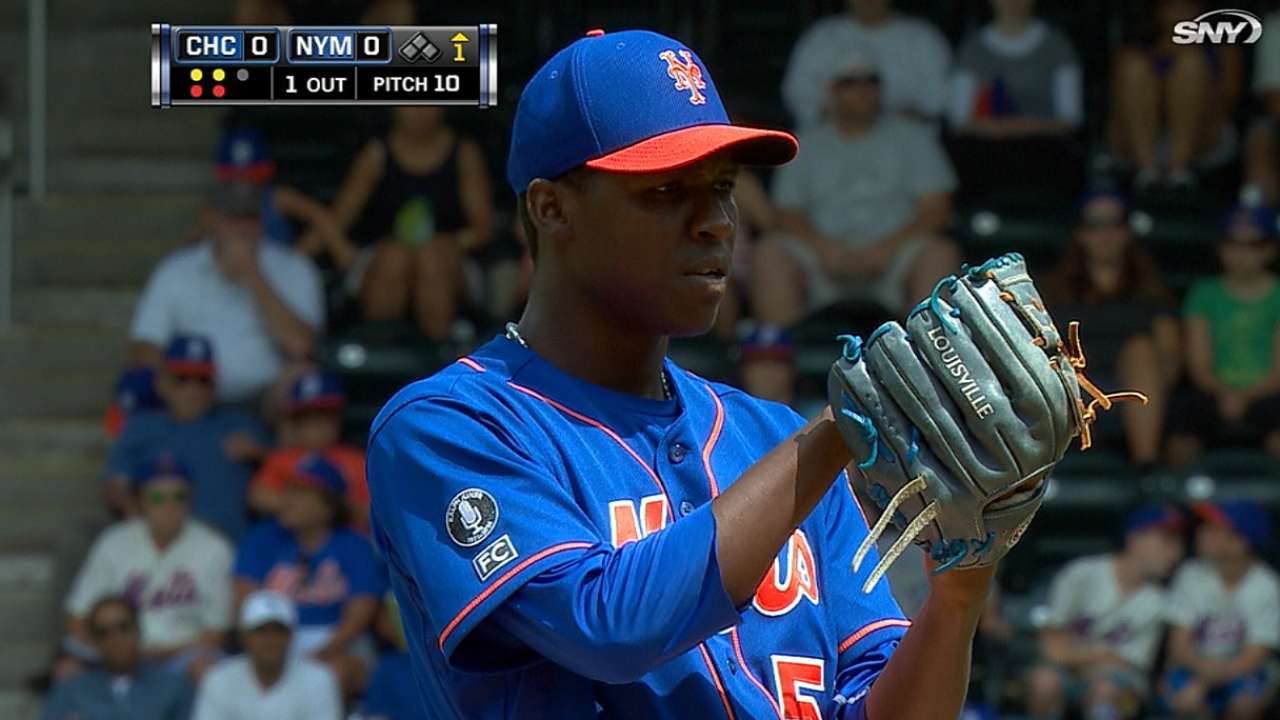 NEW YORK -- The Mets lost, 2-1, to the Cubs at Citi Field on Sunday afternoon, their first loss in three games against Chicago this weekend. It was a tight one that might have tilted the other way had Starlin Castro not hit a go-ahead homer in the ninth or if the Mets had figured out Chicago right-hander Jake Arrieta before he departed after seven scoreless innings.
But given the Mets' place in the standings and the time of year, the most important development wasn't the final score. It was the fact that Rafael Montero, a right-hander making his sixth Major League start, fashioned his most impressive outing yet by spinning 7 1/3 innings of one-run ball.
"It was really good for him to have a game up here where he knows he can be successful," manager Terry Collins said of Montero, who could very well end up back at Triple-A Las Vegas with Jacob deGrom on track to return to the rotation next weekend. "No matter what happens here in a few days, certainly he has to be very happy with the way he threw today -- and his confidence has got to be pretty high."
Montero exhibited a degree of resiliency previously unseen from the 23-year-old, bending but not breaking as he navigated a strikeout-prone Cubs lineup into the eighth inning -- the deepest he has pitched as a Major Leaguer. Chicago put the leadoff runner on in five of Montero's eight innings, but only one of them scored.
The Cubs' lone run off Montero scored in the fourth. Javier Baez drew his first walk in 55 Major League plate appearances, and Luis Valbuena brought him in with a two-out, line-drive single to right field.
By the time manager Terry Collins took the ball from him in the eighth, Montero had held the Cubs to one run on five hits and two walks. He struck out six -- half of them via swings-and-misses on his changeup -- and didn't give up a home run for the first time.
All of that represented a significant improvement over his five-run, five-inning effort against the Nationals on Tuesday, when he was a spot-starter fresh off a plane from Las Vegas and didn't exactly know where his locker was when he walked into the Mets clubhouse.
Much of Montero's effectiveness was the result of a good changeup. He threw it only 7 percent of the time against Washington, according to brooksbaseball.net. But with the encouragement of pitching coach Dan Warthen to attack hitters the way he did in the Minors, nearly one-quarter of Montero's offerings on Sunday were changeups.
"You saw how effective his secondary stuff is. We had heard his changeup is outstanding, and today he showed it. He showed great use of it, great location with it," Collins said. "Once they started going up there looking for some offspeed stuff, he snuck some fastballs by guys that he hasn't been doing."
Added catcher Anthony Recker: "He was able to start [the changeup] for a strike and drop it out of the zone a lot. It had good depth on it, too. It was a good pitch for him today. We tried to use it as much as we could."
The Mets had their chances, despite being held to four hits for a third consecutive game. They put the leadoff man on base four times, and twice he stood on second before the first out. They didn't convert until the eighth, when Curtis Granderson singled to plate Eric Young Jr.
New York went 1-for-8 with runners in scoring position and stranded four runners while playing without two of its biggest bats. David Wright sat out with a sore left shoulder, and Travis d'Arnaud gave way to Recker for a day-game-after-a-night-game reprieve.
Arrieta allowed two hits while striking out nine over his seven innings. Collins credited his big curve for much of that.
"I just had a good feel for it, and was able to throw it in multiple counts for a strike below the zone -- so it was there for me when I needed it today," Arrieta said. "[Catcher John] Baker saw that it was a pretty effective pitch, especially with the life off the fastball."
Jenrry Mejia gave up Castro's long ball in the ninth. The Chicago shortstop sent a first-pitch fastball over the fence in right.
Tim Healey is an associate reporter for MLB.com. This story was not subject to the approval of Major League Baseball or its clubs.