Five errors catch up to D-backs in loss to Marlins
Miscues in seventh allow go-ahead run; Arizona held to early sac fly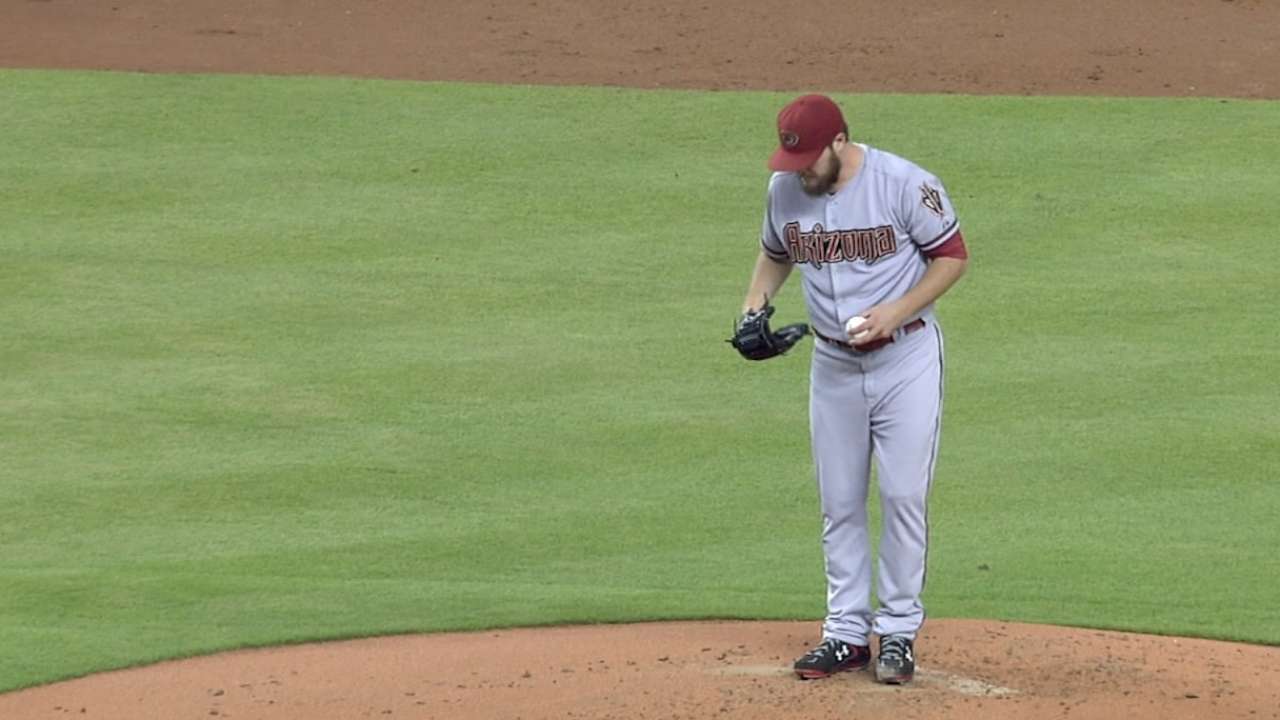 MIAMI -- An ugly night on defense proved costly for the D-backs on Saturday.
Arizona committed five errors, one shy of a team record, in falling to the Marlins, 2-1, at Marlins Park.
"We didn't play very good tonight," D-backs manager Kirk Gibson said.
Yet, despite the poor defense, the D-backs were in the game right to the end, thanks to the pitching of Wade Miley, who certainly deserved a better fate.
Miley (7-9) allowed just four hits over seven innings while striking out nine.
"From the first pitch of the game, it seemed like he had really good stuff," shortstop Cliff Pennington said. "He battled through. We didn't pick him up definitely the way we should have, and he still gave us a chance to win the game. He threw a great game."
The story of the game, though, would come in the field and not on the mound, as Jake Lamb, Miley, Ender Inciarte, Mark Trumbo and Pennington each committed miscues.
The errors by Trumbo and Pennington proved to be the costliest, with both coming during the seventh inning when the Marlins scored what proved to be the game-winning run.
Marcell Ozuna led off the inning with a single to center, and when Miley attempted to pick him off first, Trumbo was unable to glove the throw, allowing Ozuna to advance to second.
"I was anticipating that he was [throwing] over, which is the frustrating part," Trumbo said. "But I went and watched right now and I got handcuffed. I expected the ball to be in a spot and it ended up somewhere else. Ultimately, it ended up behind me. I've got to make that play."
A groundout moved Ozuna to third, and with the game tied at 1, the D-backs played the infield in.
Miley got Jeff Mathis to hit a grounder to Pennington, who threw home to try to get Ozuna. The shortstop's throw was offline, however, and got past catcher Miguel Montero.
"No, I don't think so," Pennington said when asked if he rushed the throw. "Unfortunately it was a big play for us. Wade threw a heck of a game, and I need to pick him up right there."
Miley's error, which came in the second inning, was a pickoff attempt that got by Trumbo. It was one of three errors during the inning, though the Marlins were not able to capitalize and push across a run.
While he's made most of his big league starts at first, Trumbo has only recently moved from left field to the position after Paul Goldschmidt suffered a season-ending injury.
Miley took the blame for the throws, saying they had too much movement to them, but Trumbo was not having any of that.
"I'll take both of them," the first baseman said. "I've got to be able to catch those balls. I can't remember the last time I've had two misses like that in the same game. I think I need to get out there early with him and see the way he throws a little more, get a few more looks at it so I can make an adjustment. I just made the adjustment too late."
The D-backs opened the game with three straight singles, with Inciarte getting thrown out at the plate in the process, but Arizona did manage a run in the frame thanks to a sacrifice fly by Trumbo.
Henderson Alvarez (9-5) settled in after that and allowed only two more hits before departing after seven innings.
"He threw some pitches early but really settled in and made them be aggressive and limited his pitches, which allowed him to get through the seventh inning, and that's exactly what we needed," Marlins manager Mike Redmond said.
The Marlins tied the game in the fourth when Giancarlo Stanton beat out an infield tapper to third and scored one out later on a triple to right-center by Jeff Baker.
That was the only earned run that Miley would allow, but he refused to pin the loss on his defense.
"That's when you've got to focus more," Miley said. "Those guys are going to bail you out way more than I'm going to bail them out. We're all human and make mistakes. It's my job to pick them up. That's really what you try to do."
Steve Gilbert is a reporter for MLB.com. Read his blog, Inside the D-backs, and follow him on Twitter @SteveGilbertMLB. This story was not subject to the approval of Major League Baseball or its clubs.