Stubbs delivers heroics for Rockies with walk-off HR
Two-out blast caps five-run ninth-inning rally; Arenado collects four hits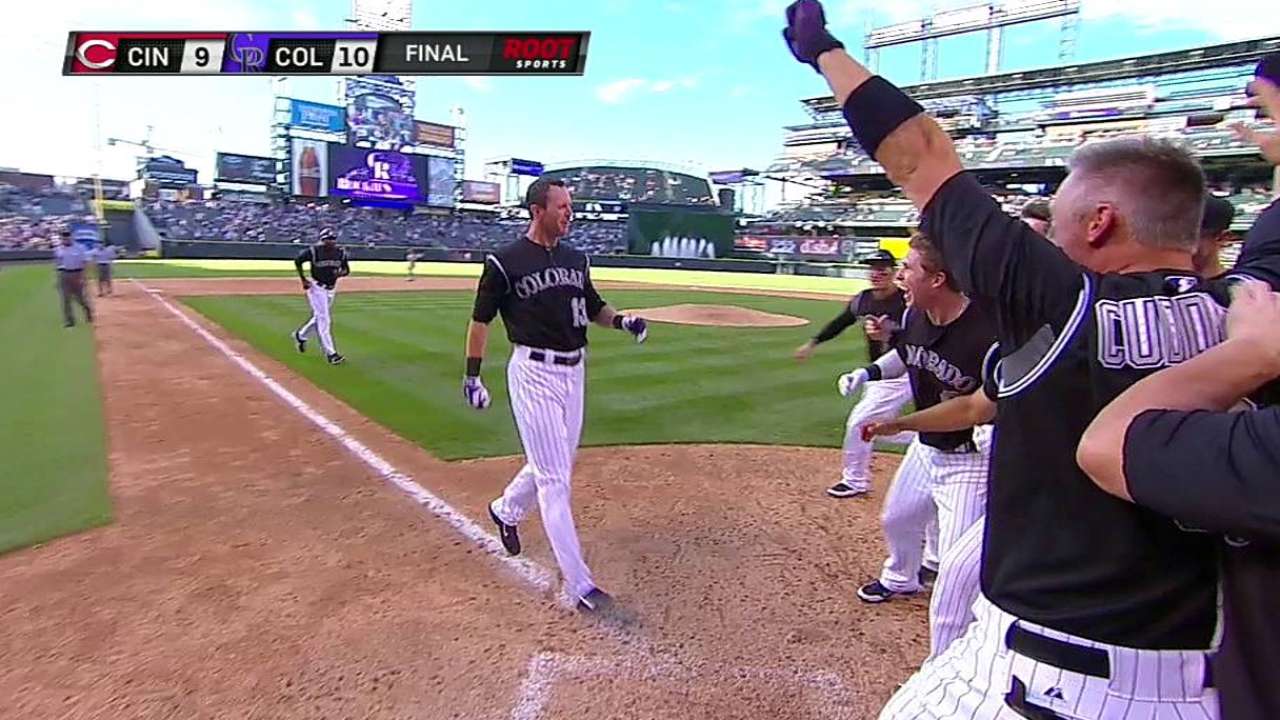 DENVER -- On a day when the Rockies retired Todd Helton's No. 17, Coors Field magic returned. Or someone put a hex on the control of Reds closer Aroldis Chapman, one or the other.
Chapman entered with a four-run lead and walked four batters to open the bottom of the ninth. Eventually, former Reds top Draft pick Drew Stubbs hit his third career walk-off homer, for three runs off J.J. Hoover, for a 10-9 Rockies victory in front of 42,310 in the first game of a doubleheader.
Stubbs, who was selected by the Reds eighth overall in 2006 and played for the club from 2009-11, clubbed his 12th homer into the left-field seats on an 0-1 curveball from Hoover.
"I have a lot of friends over there, a lot of people I have good relationships with," said Stubbs, who played with the Indians last season and was traded to the Rockies during the winter. "But, at the same time, it's always nice if a team trades you to get a little retribution, if you will.
The victory meant the Rockies stayed a half-game ahead of the Rangers, who have the Majors' worst record. Stubbs found it special that the win came on a special day, as the franchise retired its first number.
"I only played against Todd, but talking to some other guys, they were getting a little emotional," Stubbs said.
Nolan Arenado tied a career high with four hits, and Michael McKenry had a hit and drew four walks. Also, Charlie Blackmon's solo shot in the second inning was his 15th homer, and Corey Dickerson doubled in a first-inning run and led off the seventh with his 17th home run as the Rockies amassed 14 hits.
They also left 11 on base, but the ninth-inning comeback erased any disappointment from that statistic. Stubbs' homer also saved Rockies lefty reliever Rex Brothers (4-5), who gave up two runs in the top of the ninth.
Chapman (0-4) threw balls on 16 of his 28 pitches while walking Arenado, McKenry, Josh Rutledge and Charlie Culberson (ending a nine-pitch at-bat) to cut the difference to 9-6. Pinch-hitter Wilin Rosario hit a sacrifice fly to left to cut the gap to two runs. Blackmon lined to right before Stubbs won it.
"I like the way all our guys battled in that inning," Rockies manager Walt Weiss said. "It's not easy to face a guy throwing 100-plus [mph]. Even if Chapman didn't have his great command, it's still hard to lay off those pitches because you've got to make early decisions as a hitter about whether to swing or not."
One of Rockies' better hitters returned Sunday. 2013 National League batting champ Michael Cuddyer, who had missed the previous 60 games with a left shoulder fracture, went 1-for-5. He singled and scored during the two-run seventh, but couldn't save the team in the eighth. With two on and the Rockies trailing by two runs, Cuddyer grounded into a double play against Reds reliever Jonathan Broxton.
Jay Bruce's two-run homer in the fourth off Rockies starter Jordan Lyles (five runs, five hits in five innings) and Kris Negron's leadoff shot in the sixth off reliever Franklin Morales helped the Reds to a 7-3 lead.
Dickerson led off the seventh with his homer to deep center against Sam LeCure to cut the disadvantage to 7-5. Cuddyer, Arenado and McKenry all singled, with McKenry's hit coming off Jumbo Diaz. Rutledge, who had left six on base in his first three at-bats, then came through with a sacrifice fly, but Diaz escaped the inning by forcing Culberson to fly out to right and a Brandon Barnes foul popup.
Thomas Harding is a reporter for MLB.com. Follow him on Twitter @harding_at_mlb. This story was not subject to the approval of Major League Baseball or its clubs.