Price puts Tigers back into playoff spot
Lefty caps eight innings of one-run ball by escaping bases-loaded jam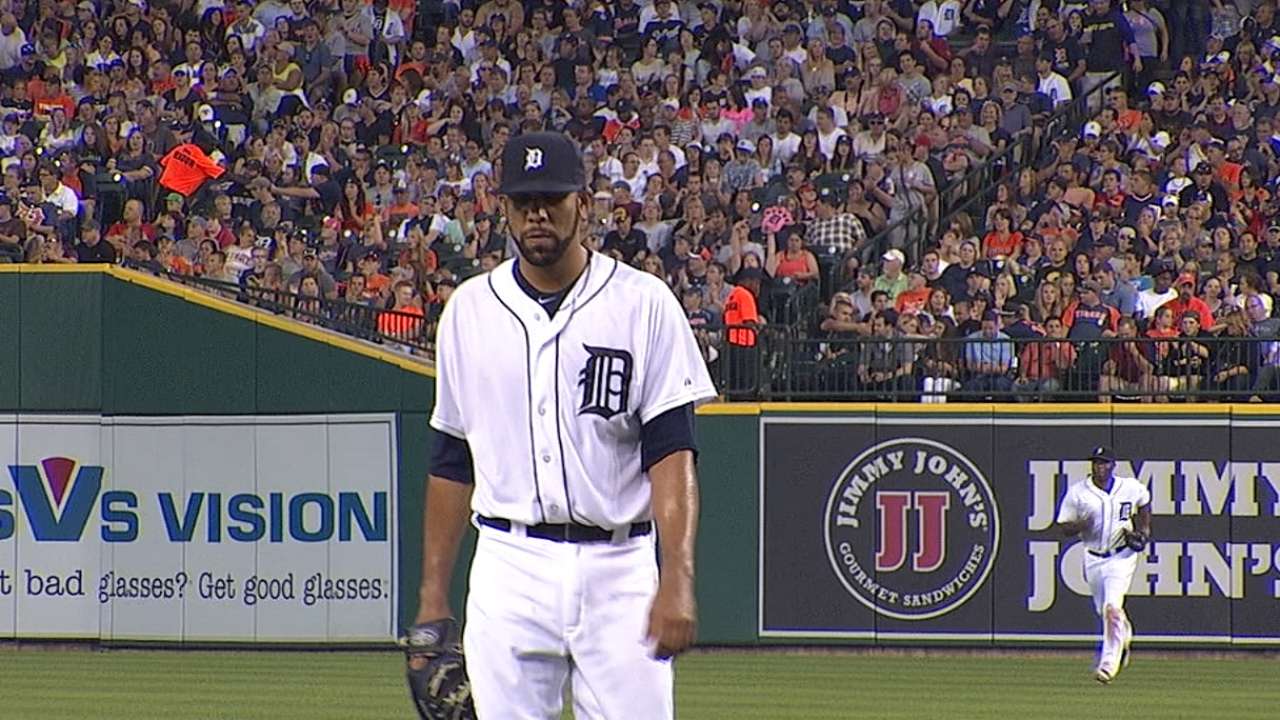 DETROIT -- The largest crowd at Comerica Park since Opening Day made it through concert traffic, road construction, a classic car cruise and other obstacles to watch David Price's home debut as a Tiger. The only traffic they were watching in the eighth inning of the Tigers' eventual 4-2 win were Mariners cluttering the basepaths and manager Brad Ausmus walking to the mound.
Whenever Rays manager Joe Maddon had visited the mound on him in Tampa Bay, he indicated, he was usually done. With the tying run on base after a one-out walk to the No. 9 hitter Chris Taylor, Price figured the same fate awaited him here. Ausmus had his bullpen up and warming, but he wasn't pointing. The visit was so brief that he was barely talking.
It was quick enough that it resembled Ausmus' predecessor, Jim Leyland, marching to the mound in a similar situation last year and telling Justin Verlander he was going to get his manager fired. It wasn't nearly that dramatic.
"I wanted to get a feel for how he was doing," Ausmus said. "But he made it extremely clear that he was good."
Said Price: "A lot of guys might look down and say, 'I'm fine,' and then the manager probably doesn't believe them. So I made sure I stared him right in his eyes and I let him know that I was fine."
That was good enough for Ausmus.
"I'm pretty sure that's the first time I ever had the manager come out and I've been able to stay in the game," Price said. "That's cool. I love that."
So, too, did Ausmus.
"He was good," Ausmus said, "And I was happy."
Tigers fans have asked about Ausmus' decisions on pulling starters or sticking with them several times in his first season at the helm. This wasn't one of them. As Ausmus walked back to the dugout, he received an ovation.
And after Price struck out ex-Tiger Austin Jackson and retired Dustin Ackley to leave the bases loaded, much of the sellout crowd of 43,833 rose to their feet to give Price a standing ovation.
"It was a great atmosphere," Price said. "It was fun, and I enjoyed it."
The victory puts the Tigers back into the second American League Wild Card spot, a half-game ahead of the M's. It also drew Detroit within a half-game of the AL Central lead after the Royals lost at Minnesota.
More importantly, it gave a reminder that the Tigers can put an ace against the best pitcher in the league and come out on top, not just with stingy innings but with good at-bats. While Price earned his first win as a Tiger, Detroit earned Felix Hernandez an early exit.
"They had a good approach, a tough approach," said Hernandez, who gave up two runs over five innings before leaving as a precaution following a comebacker off his hip. "They took a lot of pitches."
Hernandez came in with a record streak of 16 consecutive starts with seven innings or more and two runs or less allowed. Even at that standard, Price likely would have outpitched him. However, the Tigers milked pitches out of Hernandez early, putting up four singles in the first eight batters and lengthening at-bats otherwise.
"We were able to get to him," catcher Alex Avila said, "but the thing about Felix is when you get to him, it's two runs. You have to make sure you have a guy like David Price."
Though the two starters had never pitched opposite each other like this before, the Tigers acquired Price 16 days ago with matchups like these in mind. They were just thinking about October rather than August. That was before the combination of an August slump and a late-summer tear from the Royals knocked Detroit out of first place in the division.
Once the M's beat them Friday night for a fifth straight win, the Tigers were on the outside looking in on the Wild Card race as well. And Price transitioned from playoff trump card to late-summer slump-buster.
Price held the M's hitless for three innings before Jackson doubled leading off the fourth and scored on a Robinson Cano groundout. From there, Price retired 12 more Mariners in a row before a seventh-inning infield single.
By the time Price faced more than one runner on base, he was in the eighth. It ended up being his one real threat of the night. He finished with eight innings of three-hit ball with seven strikeouts.
"It's awesome," Price said. "Felix, the way he's been throwing the ball for his last 15, 16 starts, it's history. For us to be able to break that up, it's big. Whenever you face a guy like him, you have to come correct, and that's what we did tonight."
Jason Beck is a reporter for MLB.com. Read Beck's Blog and follow him on Twitter @beckjason. This story was not subject to the approval of Major League Baseball or its clubs.