Mariners cede playoff spot back to Tigers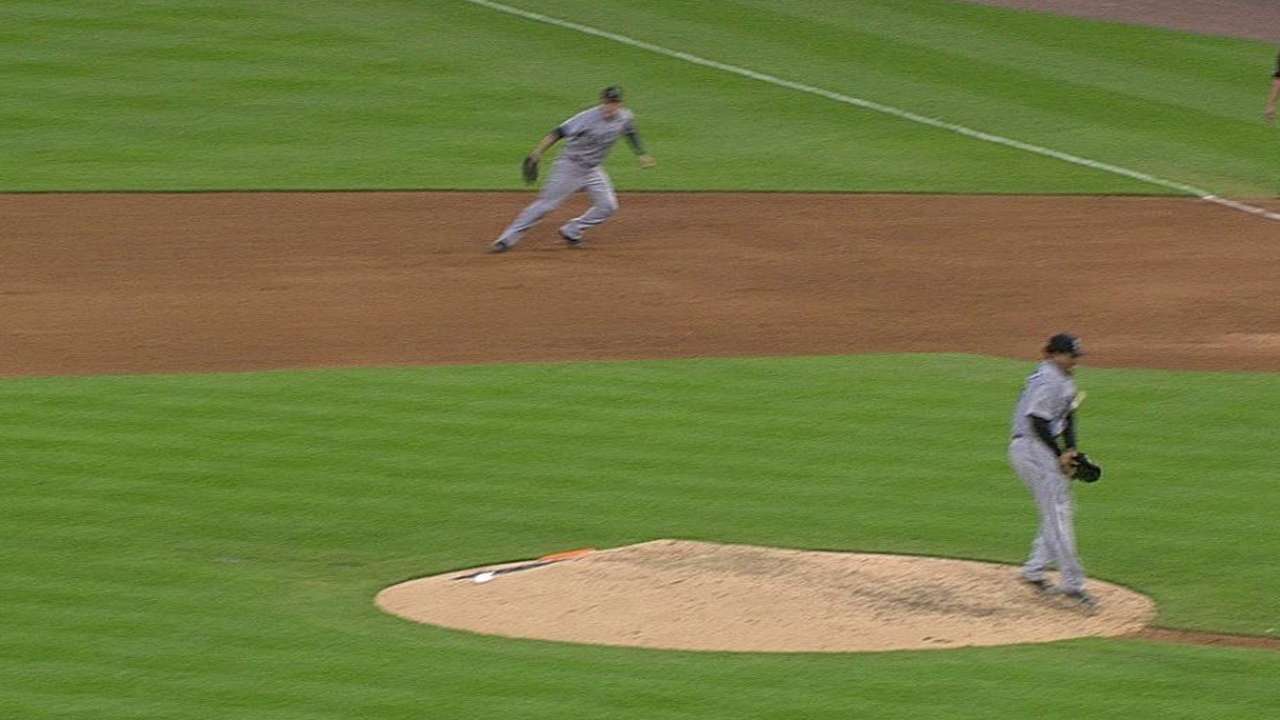 DETROIT -- There was perhaps one common denominator to Felix Hernandez's historic run of impressive starts.
In all of them, the 16 consecutive outings in which "King Felix" threw at least seven innings with no more than two runs allowed, Hernandez pitched economically.
Saturday night, when the longest such streak since 1900 finally came to an end at Comerica Park, Hernandez was by no means efficient. With the end of Hernandez's run came the demise of the Mariners' season-high five-game winning streak. They fell to the Tigers, 4-2, surrendering the American League's second Wild Card spot back to Seattle just one day after they had seized it.
"Move on, get ready for tomorrow and try to win a series," said Mariners manager Lloyd McClendon, who was ejected in the second inning for apparently arguing balls and strikes.
The first pitch of Hernandez's fifth inning was his 80th. He returned to his usual, frenetic pace that inning, throwing only 13 pitches. But the high, early pitch count helped ensure that his night would be too short to extend his remarkable run to 17 outings. Hernandez credited the Tigers' approach at the plate for running up his pitch count.
Compounding matters was the comebacker Hernandez took off his hip from Ian Kinsler in the fourth inning. McClendon said the resulting injury, which shouldn't force him to miss a start, was the main factor in removing him from the game. After five innings and 92 pitches, Hernandez gave way to the bullpen, tying the shortest start of his year. The two runs he allowed came off seven hits, the most against him since the beginning of June.
Of his stuff Saturday night, Hernandez said, "It was not that good.
"Changeup was up a little bit. Fastball tonight was not there."
David Price, Hernandez's counterpart, did his part to meet the hype that surrounded the pitching matchup, which featured the AL's 2012 and 2010 Cy Young Award winners. He held the Mariners' lineup to just three hits over eight innings of one-run ball.
"Fastball, changeup, cutter, curveball," Seattle's Mike Zunino said of Price. "He was able to throw all four around the zone."
Seattle loaded the bases off Price in the eighth inning, prompting a mound visit from Tigers manager Brad Ausmus. Price responded by striking out Austin Jackson and inducing a groundout of Dustin Ackley to end the threat and his night.
Detroit rookie Nick Castellanos broke a 1-1 tie in the fourth inning with a towering solo shot to left off an elevated, down-the-middle Hernandez changeup. The Tigers added two more off Brandon Maurer in the seventh inning with a pair of RBI singles from J.D. Martinez and Castellanos.
"You don't really have to say much to hitters to prepare them to face a guy like Felix Hernandez," Ausmus said. "The fact that you're facing Felix Hernandez gives you enough concentration, focus and adrenaline that it's just a matter of battling and hoping that he leaves a pitch out over the plate that you can hit. He doesn't do that often."
But he did a few times Saturday, including on Castellanos' smash.
Tensions were high from the first inning when Miguel Cabrera asked for and was granted a timeout after Hernandez had started his delivery. An inning later, McClendon, already angry from home-plate umpire Tony Randazzo's decision in the Cabrera at-bat, was ejected from the game for arguing balls and strikes. He later said the offending comment did not come from him, but from someone else in the Mariners' dugout.
But the best example of the way things went for the Mariners on Saturday night came during Zunino's fifth-inning at-bat. Two pitches after his massive fly to left flew just foul of a game-tying homer, he became the seventh strikeout of the night for Price, baseball's leader in that category.
Matt Slovin is an associate reporter for MLB.com. This story was not subject to the approval of Major League Baseball or its clubs.