LaRoche leads rally while Ramos walks off Nats
Slugger's homer ties game in eighth; catcher's double plates winner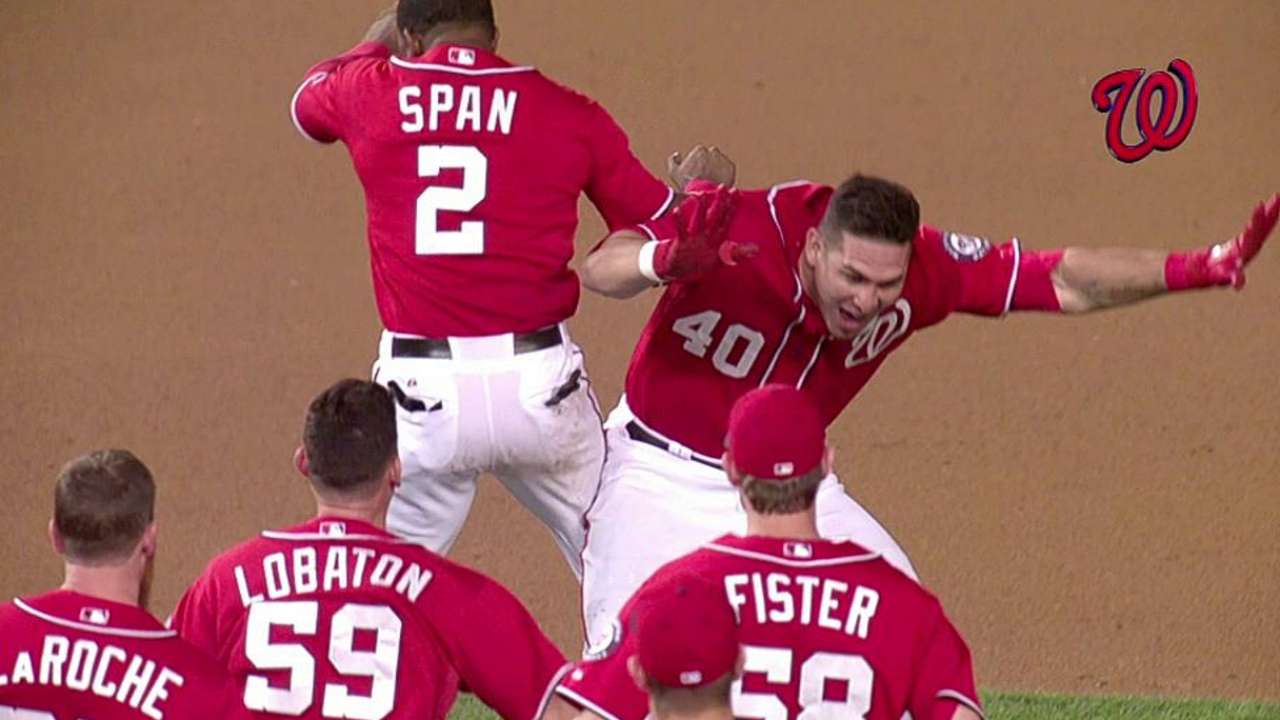 WASHINGTON -- Adam LaRoche stepped to the plate in the bottom of the eighth inning Saturday night against the Pirates with two outs and Denard Span on third base. The Nationals had pulled within two runs behind Kevin Frandsen's RBI single two batters earlier, but an Anthony Rendon 6-4-3 double play appeared to all but squander the team's momentum.
That's when LaRoche put a charge in a 1-0 offering from left-hander Tony Watson and sent a line drive hurtling toward the right-field wall. It cleared the fence, soared into the Nationals' bullpen and tied the game.
An inning later, Wilson Ramos delivered a walk-off ground-rule double to right, scoring Bryce Harper, and the Nationals escaped with a 4-3 win over the Pirates -- their fifth straight victory -- despite seven innings of stagnant offense and another inefficient outing from starter Gio Gonzalez.
"This team is relentless, no matter if we're eight runs down, guys still grind out at-bats," said Frandsen, who went 3-for-4 in his first start since Wednesday. "With our type of offense, one swing can get you back in it. And Rochey did that."
Harper led off the bottom of the ninth inning with a walk before advancing to second on a Justin Wilson wild pitch. Manager Matt Williams opted not to bunt Ramos, considering the right-handed slugger's gap power to both right- and left-center field, and the decision proved vital.
Ramos connected on a 1-2 fastball from Wilson. The ball sailed over the head of right fielder Gregory Polanco before bouncing once on the warning track and over the right-field fence.
"That was an amazing day. I'm excited for this moment right now," said Ramos, who offered his game-winning hit as a birthday gift for his wife, Yeli, 11 days after the couple gave birth to their first child. "The most important thing tonight, the team never put their head down. We fight the whole game."
The Nationals' late-game comeback came after another rough start for Gonzalez, who surrendered three earned runs on seven hits over five innings.
All three runs came in the third inning. A two-out walk followed by a broken-bat double from Starling Marte opened scoring. Gaby Sanchez then ripped a single through the left side of the infield in the next at-bat to give the Pirates a 3-0 lead.
The performance mirrored Gonzalez's last outing, when the southpaw surrendered two earned runs, six hits and four walks over 4 2/3 innings on 111 pitches. On Saturday night, he fired 102 pitches.
"I felt I was attacking the strike zone. I made pitches that I wanted to make, just tough breaks," said Gonzalez, who now sports a 4.06 ERA on the season. "I got ground balls that I wanted, they just found the hole. I got broken bats, and they found hits. So that's just baseball. That's how it's going for me this year. You've got to keep grinding, keep grinding. At the end of the day, a 'W' is a 'W'."
Pittsburgh starter Jeff Locke, meanwhile, spun 5 2/3 innings of scoreless ball. Manager Clint Hurdle pulled the left-hander in the sixth inning with runners on first and second and two outs. The move proved successful, as Jared Hughes retired Ian Desmond on a lineout to shortstop.
After Gonzalez's departure, reliever Craig Stammen entered for the Nationals and threw three scoreless frames. That provided the Nationals' offense with an opportunity in the eighth against Watson, who entered the contest with a 1.40 ERA.
Pinch-hitter Michael Taylor walked to lead off before Denard Span singled through the right side to put runners on the corners. Frandsen then dropped a blooper to right field on the first pitch of his at-bat for a single, scoring Taylor and bringing Washington within two runs. LaRoche connected on his 18th home run of the season two batters later.
"They feel like they're always in the game," Williams said. "We've got some guys that can hit the ball over the fence. We've got good situational hitters, guys that draw walks. And if you have that kind of team, then you can get back into a game. It hasn't changed since Day 1. They believe that they can come back. They believe that they can string hits together and we can score runs, and that's a good thing to have. That belief system is good."
Daniel Popper is an associate reporter for MLB.com. This story was not subject to the approval of Major League Baseball or its clubs.