Angels hang on in Texas, share first place in AL West
At 72-49, Halos have best record in baseball for first time since 2008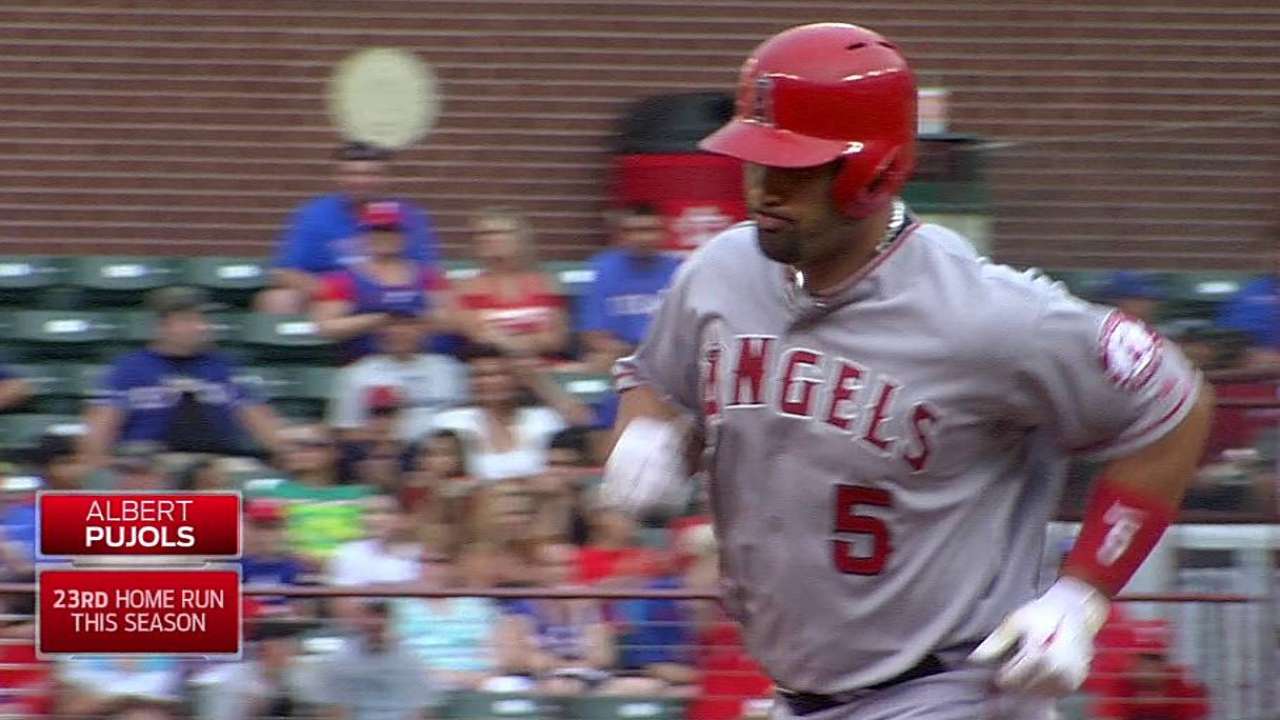 ARLINGTON -- Five hundred and three days.
That's how long it had been since the Angels - American League West champions five times from 2004-09 - found themselves in first place.
Then Saturday came.
The A's lost for the sixth time in the last seven games, dropping a nail biter in Atlanta, and the Angels beat the Rangers for the franchise-record-tying ninth consecutive time, giving them at least a share of first place for the first time since Opening Day 2013 and the best winning percentage in baseball for the first time since the last day of the '08 regular season.
At 72-49, they're actually two percentage points ahead of the A's (73-50).
"It's been a race," Angels leadoff hitter Kole Calhoun said. "We've kind of been neck and neck all season. It's nice to be in this position right now."
And without Matt Shoemaker, they're probably nowhere near it.
Undrafted out of Eastern Michigan University, stuck in Triple-A with Salt Lake for most of the last two years and on nobody's radar heading into the 2014 season, the 27-year-old right-hander got the win after giving up two runs in 5 2/3 innings at Globe Life Park. Shoemaker now has 11 wins and a 3.84 ERA in 96 innings this season, while beating the likes of Cliff Lee, James Shields, Chris Sale, Yu Darvish and Justin Verlander along the way.
Said Angels first baseman Albert Pujols: "There's nobody in this locker room that deserves that more than him."
When Hector Santiago struggled at the start of the year, Shoemaker came up from Triple-A and provided a boost.
Now, with Tyler Skaggs undergoing season-ending Tommy John surgery and little help available in the Minor Leagues, Shoemaker's helping to solidify the rotation with an intense division race in the background.
Angels manager Mike Scioscia said there are "four or five guys on our roster right now" that would "make your head spin" if you thought about what they've done relative to what the expectations were in Spring Training, "and Matt Shoemaker might be leading that parade."
"I definitely thought it was a possibility," Shoemaker said of attaining this kind of success in 2014. "Did I think it was going to happen? Not necessarily. But my competitiveness tells me, 'Hey, it's possible. Anything is possible.'"
The Angels are here, at a 96-win pace, in part because they've received contributions from unlikely sources like Shoemaker. Look no further than what has transpired over the course of these last four games. Pujols, Mike Trout and Josh Hamilton have gone a combined 7-for-43, and yet the Angels have won all four games.
Pujols got the Angels on the board with a first-inning solo homer off Colby Lewis, who gave up 13 runs in the first three innings against the Angels on July 10. But then it was Howie Kendrick hitting a solo homer in the second. And Chris Iannetta adding an RBI double four batters later. And Calhoun notching a two-out, two-run single in the fourth, while on his way to his sixth multi-hit game in the last seven contests.
The last-place Rangers (47-76) made it a one-run game on a two-run single by Alex Rios in the seventh, but Jason Grilli retired Adrian Beltre to end the threat, and Joe Smith and Huston Street -- crucial members of a deep bullpen that has taken the Angels to another level -- retired six in a row.
If you exclude Opening Day scenarios, the last time the Angels were in first place was July 5, 2011.
So much has happened since then, from the new front office to the Pujols and C.J. Wilson dual signings to the Hamilton blockbuster to the coaching-staff shakeup to the miserable 2013 season that didn't even see the Angels reach .500 after April 3.
But there's so little time to reflect on it all.
"We haven't accomplished anything," Pujols said, eyeing a schedule that has 41 games remaining in it. "Let's not get too far ahead of ourselves. We're just playing good baseball right now. We're pitching good, our bullpen has been outstanding, we're getting key hits from different guys every night. When we accomplish our dream and our goal, we can talk about it. Right now, let's just try to stay cool and keep playing the game we've been playing."
Alden Gonzalez is a reporter for MLB.com. Read his blog, Gonzo and "The Show", and follow him on Twitter @Alden_Gonzalez. This story was not subject to the approval of Major League Baseball or its clubs.