Lewis' 10 K's not enough as rally falls short
Righty allows five runs in six innings; Texas drops fourth straight game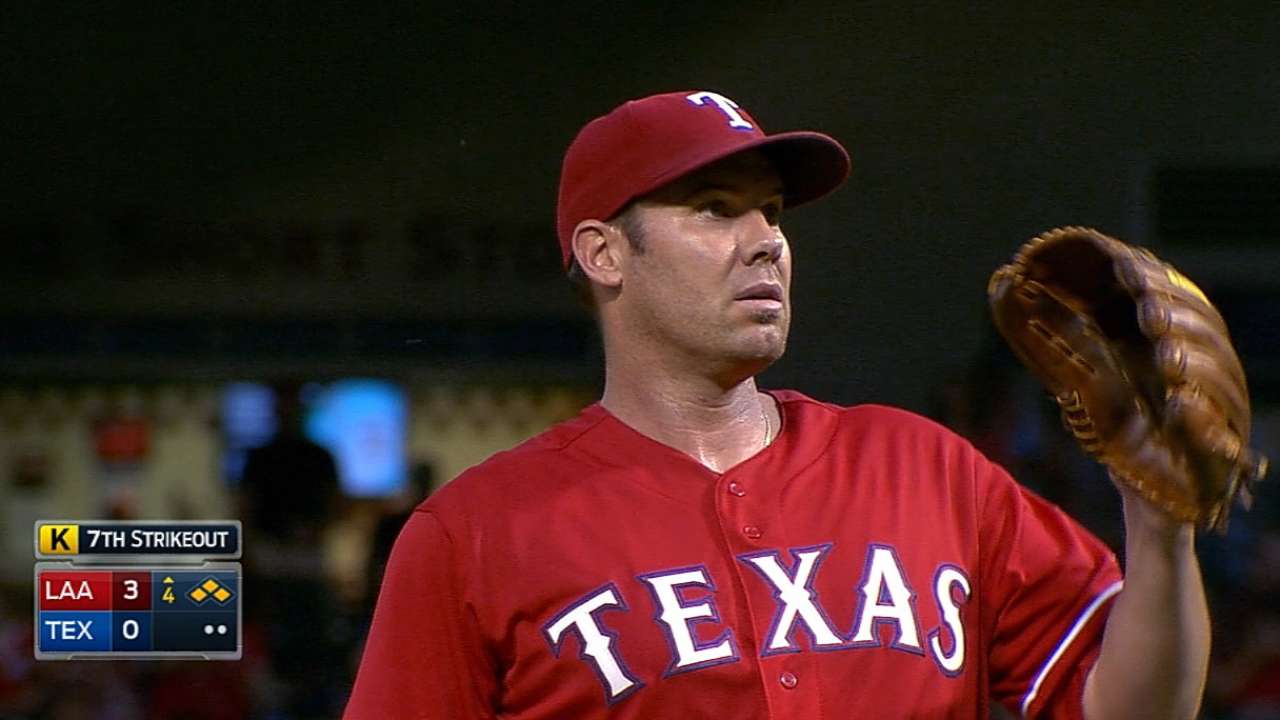 ARLINGTON -- The last time Colby Lewis climbed the mound to face the Angels, virtually everything went wrong as he allowed a club-record 13 runs in 2 1/3 innings last month.
On Saturday against Los Angeles, only just enough went wrong to send Lewis and his team to a 5-4 loss, the Rangers' fourth in a row.
In six innings, Lewis struck out a season-high 10 hitters and didn't walk anyone. He only made a few mistake pitches in his estimation -- Albert Pujols and Howie Kendrick hit solo homers in the first two innings, and Chris Iannetta also drove in a run in the second with a two-out double.
"Other than that, I felt like I had really, really good stuff tonight," Lewis said.
Lewis turned in an impressive third inning -- striking out heavy hitters Mike Trout, Pujols and Josh Hamilton, all looking -- but foundered in the fourth before giving up the game's most damaging hit on a pitch he put where he wanted to.
Lewis loaded the bases with no outs, allowing back-to-back singles to Kendrick and Aybar and hitting David Freese with a pitch. The Rangers righty almost got out the jam, getting a flyout and a strikeout, but Kole Calhoun blooped a two-run single to right for the Angels' final runs off Lewis.
"It was just a situation where, with the bases loaded, I felt like I made a decent 0-0 pitch and he just came out hacking and broke his bat, and it was able to drop in," Lewis said. "He's swung the bat pretty well against us. It just stinks that that was the deciding factor."
It was the 11th double-digit strikeout game of Lewis's career and his first since June 17, 2012 against Houston. He threw 105 pitches, 80 of them strikes, and allowed 10 hits.
After missing a season and a half due to hip and elbow injuries, Lewis is now the workhorse of the Rangers' staff again. He tied Yu Darvish on Saturday for the most starts by a Ranger this season at 22. Still, despite a workmanlike performance, Lewis fell to 8-10 this year.
"He kept us in the ballgame and that's all we can ask," manager Ron Washington said of Lewis.
Los Angeles rookie starter Matt Shoemaker retired the first nine batters he faced and lasted 5 2/3 innings, allowing two earned runs on four hits and striking out six.
"Outstanding," Pujols said of Shoemaker. "He reminds me of one of the guys from when I was in St. Louis, who stepped up for us to win championships and get to the playoffs. That's what he's been doing. Guys got hurt, he came to the bullpen, up and down, and now he's just getting an opportunity to go out there, and he's performed. There's nobody in this locker room that deserves that more than him."
Shin-Soo Choo led off the Texas fourth with a 415-foot homer to left and J.P. Arencibia broke an 0-for-19 streak later in that inning with an RBI single.
Thanks to a solid effort from relievers Phil Klein, Neal Cotts and Roman Mendez, who each threw a 1-2-3 inning, the Rangers kept the game close.
The Rangers pulled within a run in the seventh when Alex Rios drove in two runs with a bases-loaded, two-out single up the middle off reliever Jason Grilli. But Adrian Beltre grounded out, leaving the would-be tying and winning runs on base.
Huston Street pitched a scoreless ninth for the save for the Angels.
"We've just got to put something solid together and hold onto it. We just haven't been able to do that," Washington said.
The teams have been heading in opposite directions throughout the time between Lewis's starts -- the Angels took over first place in the AL West by .002 percentage points over the Athletics with Saturday's win, while the Rangers continue to bury themselves deeper at the bottom of the standings.
With seven games each remaining against Los Angeles and Oakland, the Rangers will probably play a part in who wins the division.
"These are obviously good teams that are playing hard, as hard as they can, to win the division," Rios said. "You get to see that kind of intensity when you play these kinds of teams. For us, we just try to find ways to win games."
Playing the role of spoilers is something the Rangers could take solace in, but having gone 9-19 since the All-Star break, it won't be easy.
"I hope we figure out ways to win ballgames," Washington said. "Certainly against those guys, that's our role. … We've just got to put something solid together and hold onto it. We just haven't been able to do that."
Dave Sessions is a contributor to MLB.com. This story was not subject to the approval of Major League Baseball or its clubs.