Johnson's clutch singles help lift solid Teheran
Right-hander spins quality start to keep Braves rolling against A's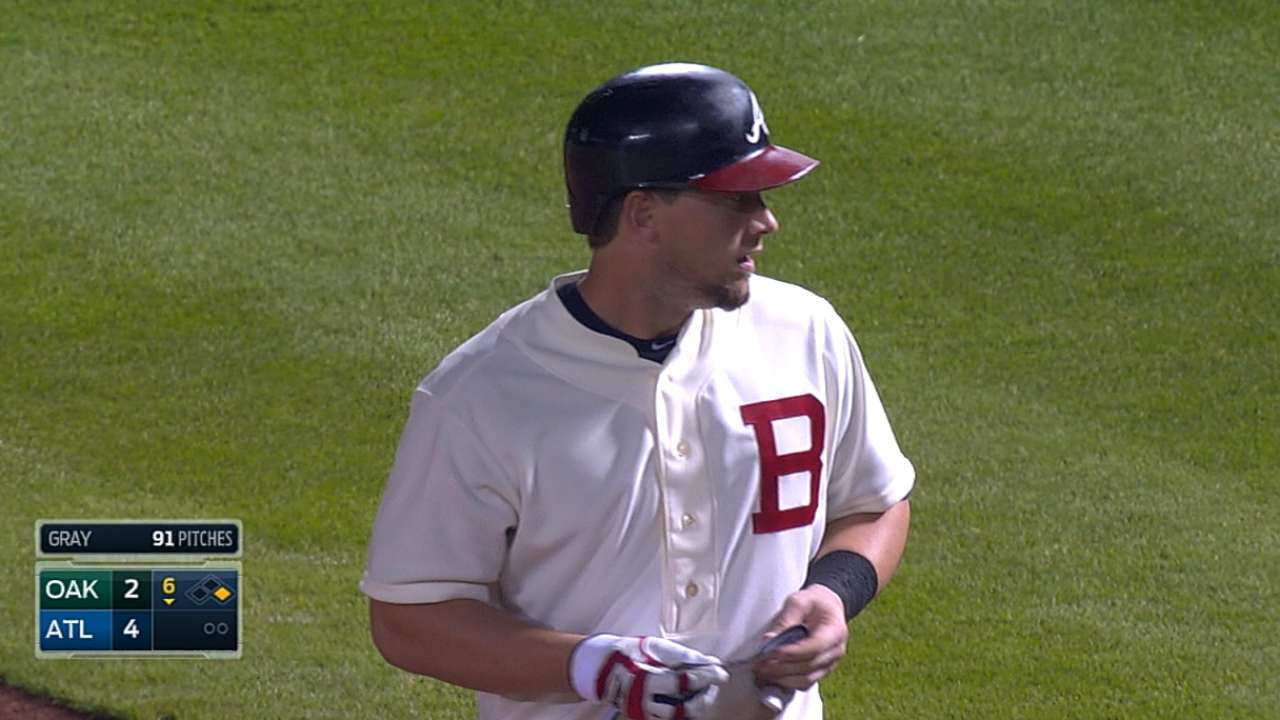 ATLANTA -- When the Braves began this imposing 10-game homestand in the midst of an eight-game losing streak, there was reason to wonder if they were destined for trouble. A little more than a week later, they still have plenty to prove. But as this homestand has progressed, the hosts have proven to be a bunch that has a knack for coming alive when others are wondering if they are dead.
Julio Teheran halted his recent woes and provided an impressive performance that was backed by a three-hit performance from Chris Johnson in Saturday night's 4-3 win over the A's at Turner Field. This marked the first time since July 28 that the Braves recorded a second consecutive victory. They are now assured of at least splitting this homestand, which concludes Sunday.
"We know we're not out of this thing," Braves first baseman Freddie Freeman said. "We've been swinging the bats well the past couple of games. Hopefully, that's a sign for more things to come. If we keep swinging the bats and pitching the way we are, we might be there at the end."
This has certainly been an eventful week for the Braves, who distanced themselves from the eight-game skid by taking two of three from the Nationals last weekend. They then created more doubt as they lost three of four to the Dodgers. But this maddening bunch has once again shown some resiliency by taking the first two games of this three-game set against the A's, who still own Major League Baseball's best record despite losing six of their past seven games.
The Braves sit six games behind the Nationals in the National League East. But they are now just 1 1/2 games back in the battle to claim the NL's second Wild Card entry.
"It's fun when people are counting you out and things like that," Johnson said. "I think we have a group of guys who kind of feed off of that a little bit."
Riding the momentum created by the four homers hit in Friday's series opener, the Braves' offense quickly extended its surge against A's starter Sonny Gray, who allowed a pair of runs in the first inning and two more over the 5 1/3 innings he completed.
Teheran set the tone for the evening as he allowed two runs over six innings. The only damage he incurred came when he surrendered Stephen Vogt's two-run homer immediately after issuing Brandon Moss a two-out walk in the sixth.
"Sonny Gray is something special," Freeman said. "That curveball of his is not fun to face as a hitter. Julio was right there with him the whole game. We were able to get him some runs early and get him some run support."
When John Jaso cut the deficit to one run with an eighth-inning solo shot off Jordan Walden, the Braves had reason to be thankful for Justin Upton scoring from first base when Johnson went the other way with a single in the sixth inning. Upton was running on the pitch and crossed the plate in uncontested fashion with what proved to be the winning run.
"We're a pretty good club," Braves manager Fredi Gonzalez said. "The last three or four days we've been swinging the bats and getting some big outs, some two-out RBIs. We're moving runners. The pitching has been pretty darn good all season. That keeps us in ballgames."
Freeman, who has batted .438 (14-for-32) during this homestand, highlighted the two-run first inning with an RBI double that put him in position to score on a two-out single from Johnson, who entered the night having hit .195 (8-for-41) in his previous 11 games.
After Upton and Johnson opened the fourth inning with singles, Andrelton Simmons scored Upton with his latest clutch delivery. Simmons has four hits in six at-bats with runners in scoring position dating back to Wednesday's win over the Dodgers.
Throughout the season, the Braves have discussed the importance of winning every series that they play. But now that they have reached a point in the season where they do not have a lot of room for error, they seem to be adopting a greedier approach.
"It's not really about winning series anymore," Johnson said. "We have to win all the games. Coming in tomorrow, winning the first two [games of the series] means absolutely nothing when we get here."
Mark Bowman is a reporter for MLB.com. This story was not subject to the approval of Major League Baseball or its clubs.