Gray off his game as A's fall into first-place tie
Vogt, Jaso go deep but not enough to pick up Oakland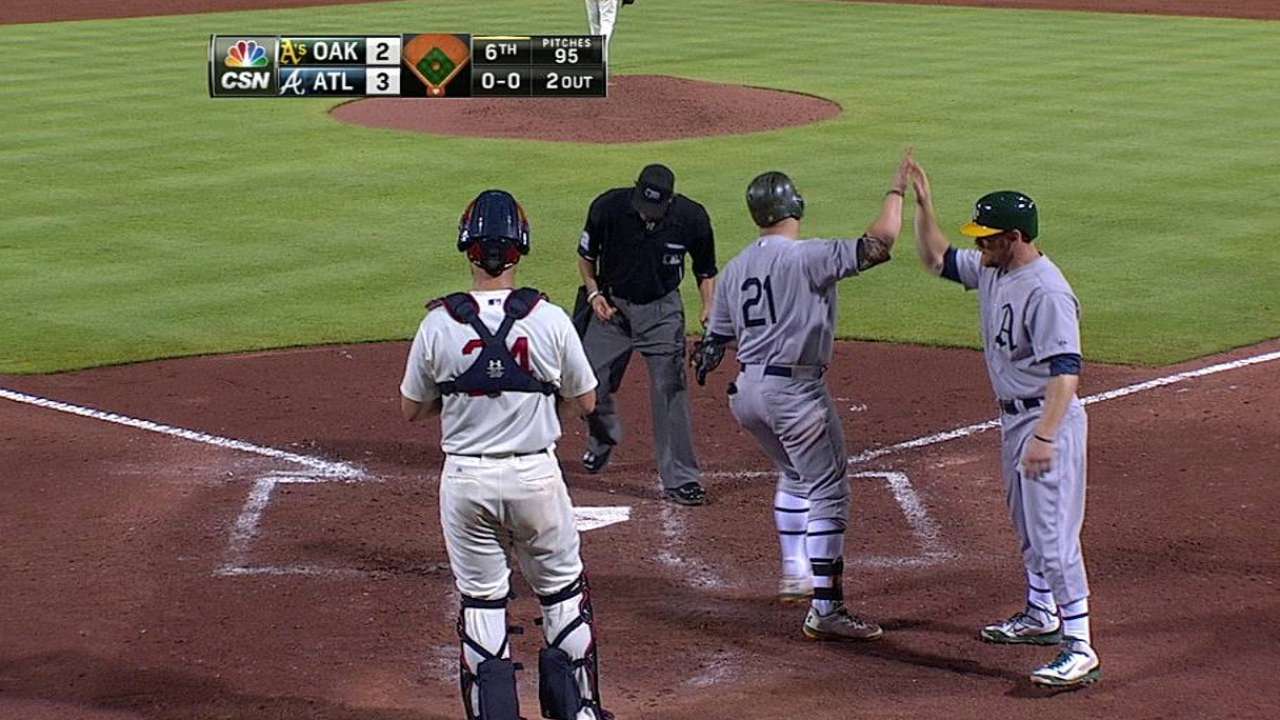 ATLANTA -- Sonny Gray suffered his fourth straight loss and so did the A's, as the starter set and the team matched a season-worst skid in a 4-3 loss to the Braves on Saturday night in front of 40,760 fans at Turner Field.
Both Stephen Vogt and John Jaso homered, but Oakland still scored three runs or fewer for the 15th time in its past 19 games. The A's have lost six of their past seven and dropped four of their past five road series.
But perhaps most concerning is that the Angels have moved into a first-place tie with the A's in the American League West.
"Until it's the last game of the season, it doesn't matter," said A's manager Bob Melvin, whose club is not in sole possession of first place for the first time since April 27, when they were knotted up with the Rangers. "We haven't really been through a tough stretch all year other than a sweep here and there where we responded very well. We're just going through a tough stretch right now."
The Braves plated four runs on eight hits against Gray in 5 1/3 innings. After giving up a combined four earned runs in five July starts, Gray has surrendered at least that many in two of his past three turns.
Saturday's outing also marked only the fourth time Gray has pitched fewer than six innings in 25 starts, but the second time he was unable to do so in his past three.
"I thought I made a lot of really good pitches," Gray said, "and it just kind of didn't go our way."
Gray was undone by singles as seven of the eight hits he surrendered. Phil Gosselin notched the first one in the bottom of the first and came around to score on a Freddie Freeman double down the right-field line.
Freeman then scored on a single off the bat of Chris Johnson, who singled off Gray again to bring home a run in the sixth. Between those singles, Andrelton Simmons plated Justin Upton with an RBI single in the fourth.
"Especially those first couple of innings, I thought I really threw the ball where I wanted to," Gray said. "I felt like I missed a lot of barrels that just, unfortunately for us, fell in tonight, and it's tough."
"[Freeman's double] gets down the first-base line. I mean, it's like five inches to the left and that's a double play to get out of the inning," Jaso added. "So, it's just like, it's hard. It's hard. You really don't want to make excuses or anything like that, but it's tough when like they don't like absolutely murder the ball or anything like that, but put up runs just by bloops and stuff like that."
The Athletics did their damage on some bigger hits, pushing across their first two runs when Stephen Vogt followed a two-out walk to Brandon Moss with a home run to deep right-center in the top of the sixth that narrowed their deficit to 3-2.
The blast was Vogt's eighth homer of the season, doubling the total of four he hit last season. But Gray gave one back the next inning on Johnson's second single and Atlanta's sixth. Simmons added another single before Gray finally exited.
Despite the tough night for Gray, the Braves walked away impressed.
"Sonny Gray is something special," Freeman said. "That curveball of his is not fun to face as a hitter."
Although the A's managed only five hits, they squandered chances against Teheran, who gave up two runs on four knocks and three walks in six frames. They put a man on base in every inning against Teheran, but only Vogt came through.
For the second night in a row, Oakland had someone picked off the basepaths as Teheran nabbed Josh Reddick leading off second. Besides Moss in the sixth, the rest were stranded as the A's went 0-for-3 with runners in scoring position.
Jaso's solo shot off Jordan Walden cut the deficit to 4-3 before the A's finished the game with loud outs against Braves closer Craig Kimbrel, including a Reddick flyout that Justin Upton caught with his back against the left-field wall.
"I can't remember the last time we really got like a bloop hit or anything like that," Jaso said. "Because if you string like a few bloop hits together and all of a sudden you've got the momentum back, but that's baseball. It can go in stretches like that, and there's still a lot of season left."
"We're hitting the ball hard all night," Melvin added. "We played good. We had some really good at-bats off some good pitchers at the end of the game and had nothing to show for it. So, literally a game of inches tonight. ... Cruel game sometimes."
Joe Morgan is an associate reporter for MLB.com. This story was not subject to the approval of Major League Baseball or its clubs.