Santo Domingo, Houston to meet for softball title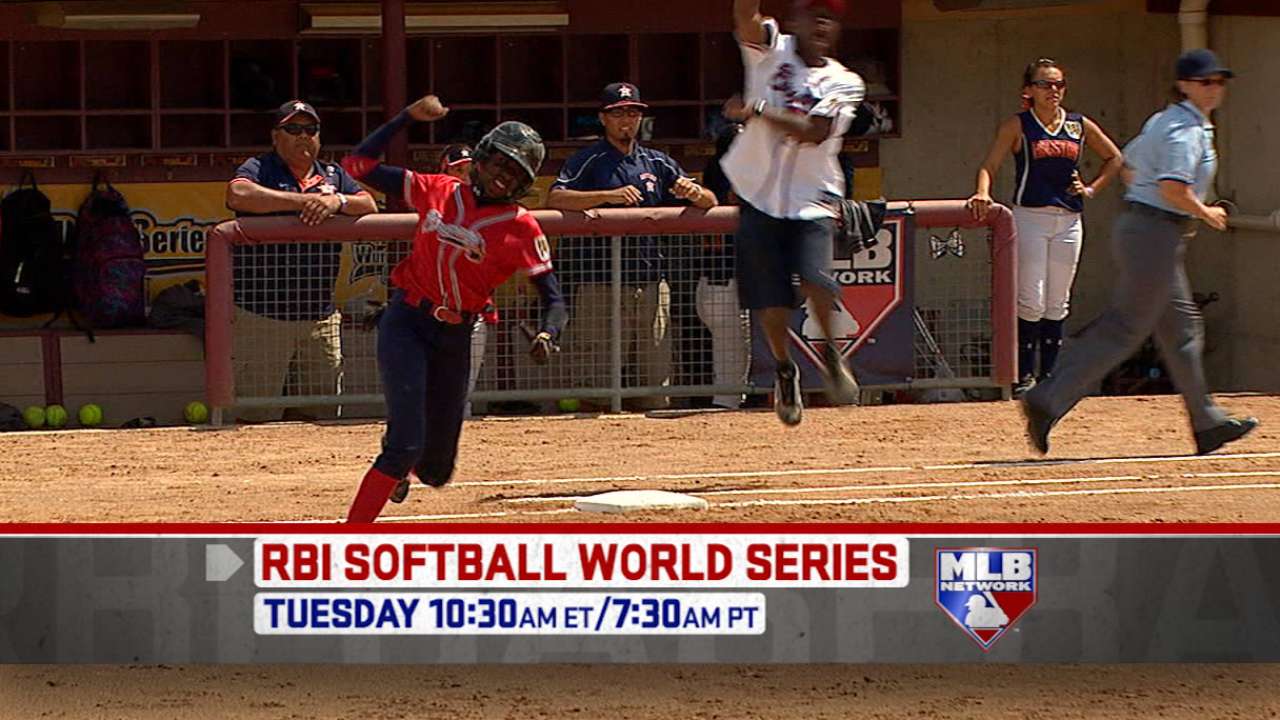 SOUTHLAKE, Texas -- Bracket play continued for the eight teams in the Reviving Baseball in Inner Cities Softball World Series on Saturday morning. But only two teams were going to walk away with their tickets punched to the championship game on Sunday at Texas Woman's University in Denton.
RBI Santo Domingo eliminated Hoboken RBI, 4-2, and Harrisburg RBI defeated Nobu Yamauchi RBI, 7-4, in the 8 a.m. CT games to meet in the semifinals.
The team from Dominican Republic never trailed against Harrisburg RBI and used a 10-run fifth inning to put the mercy rule in effect in a 15-2 rout, sending RBI Santo Domingo to the championship game.
All nine starters for RBI Santo Domingo had a base hit -- compiling 16 total hits -- and scored a run in the lopsided game. Pamela Falcon went 2-for-3 with four RBIs and Nairoby Concepcion went 3-for-4 with an RBI to lead the offensive production for RBI Santo Domingo.
Cauris Rincon was a force on the mound for the Dominicans, tossing all five innings, allowing only three hits, striking out four and giving up one unearned run to Harrisburg. The only run for Harrisburg came following a pair of Santo Domingo errors to the first two hitters of the game, allowing leadoff hitter Taylor Krow to score.
"This is a team that relies on every player to do their job," said RBI Santo Domingo head coach Dotel Santos. "They play for the team and there are no individuals out here. I just tell the girls to play the best that they can."
The other semifinal game was a rematch of the 2013 RBI Softball World Series championship that was played in Minnesota between undefeated Atlanta Braves RBI and Houston Astros RBI.
Atlanta Braves RBI pounded Minnesota Twins RBI, 11-1, to reach the semifinals, while Houston Astros RBI shut out Cleveland RBI, 4-0.
Defending champion Atlanta was a game away from another championship berth and defending its title. But Houston gained a measure of redemption after last year's title game defeat and also a 9-1 loss to Atlanta earlier in the tournament, dealing Atlanta its first loss in the RBI World Series, 5-4.
Houston starting pitcher Monica Montelongo went the distance for Astros RBI, hurling seven innings and striking out four.
Astros RBI jumped out to an early 1-0 lead in the first inning and added a run in the fourth and two in the fifth for a commanding 4-0 advantage.
With a 5-1 lead in the bottom of the seventh, Montelongo was determined to finish what she started on the mound. Although she gave up three runs to Atlanta in the final frame, a groundout to third base ended Braves RBI's comeback attempt.
Esperanza Mahoney went 2-for-4 at the plate with two RBIs for Houston -- including a solo home run in the second inning.
The 2014 RBI Softball World Series will feature Houston Astros RBI and RBI Santo Domingo. Astros RBI is seeking their first RBI World Series championship, while RBI Santo Domingo is in search of its third title -- with prior wins coming in 2008 and 2012. The game will take place Sunday morning at 11:00 a.m. CT at Texas Woman's University in Denton, with the broadcast of the game airing on MLB Network on Tuesday at 10:30 a.m. ET.
Ryan Cox is a contributor to MLB.com. This story was not subject to the approval of Major League Baseball or its clubs.