Peacock can't stop Papi as Astros let one slip away
Given big lead, righty gives up pair of two-run HRs to Red Sox slugger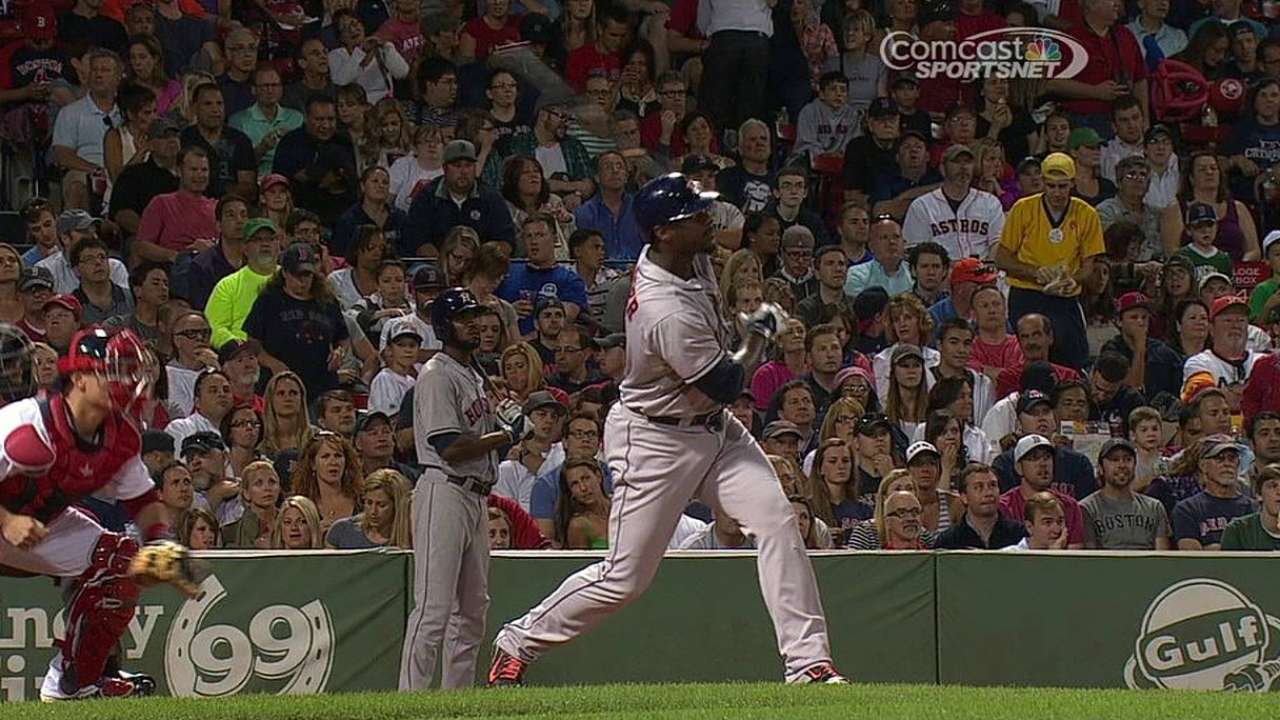 BOSTON -- On the mound with a four-run lead in the third inning Saturday night, Astros starter Brad Peacock had an opportunity to right his season and help his chances of staying in the rotation. David Ortiz had other ideas.
Ortiz walloped a pair of two-run homers off Peacock in the third and fifth innings and wound up tying a career high by driving in six runs to lead the Red Sox to a 10-7 come-from-behind victory over the Astros at Fenway Park.
The Red Sox batted around against Peacock and reliever Josh Fields (2-6) in the fifth and scored four times, including the Ortiz homer, to take a 7-6 lead. Ortiz had a two-run double in the eighth to push the lead to 10-6.
"David Ortiz is a Hall of Famer," Astros manager Bo Porter said. "He's about as good as it gets in this game, but at the same time, a couple of those pitches, the location, we didn't throw the ball exactly where we were trying to throw it and a couple of them we probably should have made a better pitch than we actually made. To his credit, that's why he has the numbers he has in his career because he's paid to drive in runs."
Peacock gave up six runs (five earned) and seven hits in 4 1/3 innings and took a no-decision. In his last four starts, he's 0-2 with a 10.50 ERA, allowing 28 hits and 12 walks in 18 innings. The Astros have lost all four of those starts.
"At this point, we're going to go start by start," Porter said when asked about Peacock's place in the rotation. "He understands exactly where he's at. Again, you look at tonight's ballgame and him get deeper into the game, we could have passed the ball to the guys we use in a winning scenario. We were not able to the ball to those guys, and the difference in the ballgame was their bullpen's ability to hold us at bay. We got six runs off their starter, and their bullpen came in and did a tremendous job."
Boston's bullpen held the Astros to three hits, including a ninth-inning homer by Jason Castro, and one run in five innings in relief of starter Rubby De La Rosa, who gave up six runs and nine hits in four innings.
Ortiz's second homer gave him 459 for his career and 401 with the Red Sox. Only Ted Williams (521) and Carl Yastrzemski (452) have hit more homers wearing a Red Sox uniform.
"It's an honor to be out there mentioned with those legends, people that did an amazing job as long as they played for the Red Sox," he said. "Legendary. You come to this organization to play and you're not expecting your name to be mentioned right next to those guys."
When third baseman Gregorio Petit shot a two-run double down the left-field line with two outs in the third, the Astros led, 5-1. The Red Sox's comeback began with a towering two-run homer to center field by Ortiz that cut the lead to 5-3 in the third.
Chris Carter's 29th homer pushed the lead to 6-3 for Houston in the fourth, but Ortiz hit a two-run, line-drive homer into right field in the fifth to make it 6-5. Peacock was pulled after first baseman Jon Singleton dropped a popup on the infield.
"That's a very costly error," Porter said.
That's because Fields came in and allowed the first three batters he faced to reach, two via walks, and gave up a game-tying single to Daniel Nava and a bases-loaded sacrifice fly to Jackie Bradley Jr. that put the Red Sox ahead, 7-6.
"One of the best players in baseball," Peacock said of Ortiz. "The first homer, it was a hanging changeup, a bad 0-2 pitch, and he just did what he was supposed to do. The second one, I thought it was a good pitch when I threw it, but came back and looked at video and it wasn't very good. He just did his job. It kind of stinks."
The Red Sox scored three more in the eighth against Kevin Chapman, who worked two scoreless innings before getting roughed up when he came back out for a third.
"How well he was throwing the ball at that point, you're trying to save the rest of your bullpen," Porter said. "He did a tremendous job the first two innings and we thought if we get him through one more we could save our long guy and still have a chance to come in here and hit."
Brian McTaggart is a reporter for MLB.com and writes an MLBlog, Tag's Lines. Follow @brianmctaggart on Twitter. This story was not subject to the approval of Major League Baseball or its clubs.