Hughes pins down first-place Royals for 13th win
Dozier delivers go-ahead double in decisive three-run seventh frame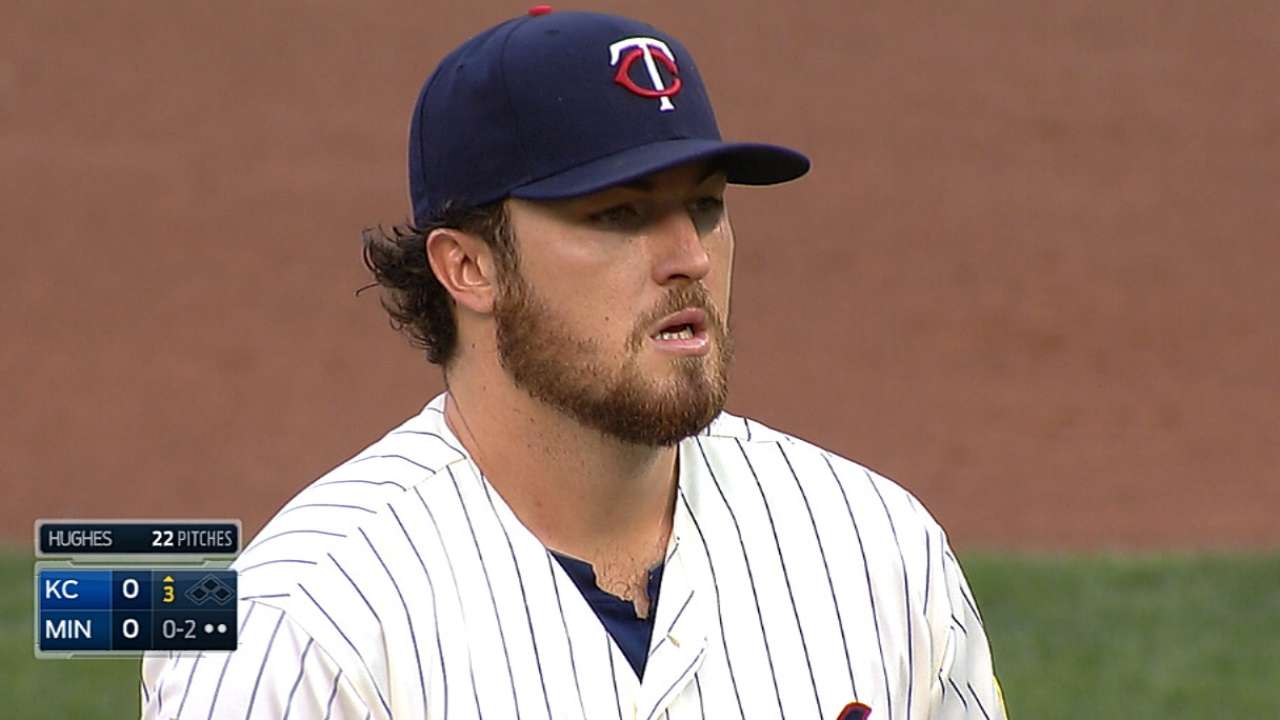 MINNEAPOLIS -- After an impressive start to the season, Phil Hughes labored a bit from mid-June through mid-July. But now, the right-hander appears to be back on track.
Hughes posted a 6.31 ERA in a six-game stretch from June 22-July 24, but since then, he's been back to his dominant early-season form.
He was at it again on Saturday night with 7 1/3 strong innings, while the Twins rallied for three runs in the seventh inning to hand the American League Central-leading Royals a 4-1 loss at Target Field.
Hughes continued his recent run of success, registering his fourth straight quality start. The right-hander gave up just one run on seven hits, while striking out six to get his team-leading 13th win of the year.
"I feel pretty good right now," Hughes said. "I've been in a pretty good stretch. But you have to credit the defense and the offense coming through right on time against a guy [Royals starter Yordano Ventura] who has good stuff. It was impressive and fun to watch."
Hughes has been dealing with a cracked nail on his right index finger in his last three outings, but Hughes is 3-0 with a 1.33 ERA over that span. He said his fingernail wasn't as much of an issue this time out and it showed.
The lone run Hughes allowed came in the fourth inning, when Nori Aoki opened the inning with a double. Aoki then stole third base and catcher Kurt Suzuki's throw sailed high into left field to allow Aoki to score on the throwing error.
"He was locating his stuff," Royals first baseman Billy Butler said. "He had a good fastball. He had a good cutter, he had all three pitches working. He was throwing his curveball for strikes, elevating his fastball."
Despite his strong start, Hughes appeared in danger of getting the loss until the Twins finally put together a rally against Ventura in the seventh.
Suzuki started it with a leadoff single before Chris Parmelee surprised the Royals with a bunt single down the third-base line. It led to a sacrifice bunt from Jordan Schafer on his third try, which turned out to be crucial to keep the rally going.
"We've been preaching to these guys about those situations late in the game and they're playing you back with a bunt," Twins manager Ron Gardenhire said. "[Parmelee] has been practicing. It was a beautiful thing. A nice drag bunt. And with Schaf, he missed the first two times but persevered."
The sacrifice bunt set the stage for Danny Santana to tie the game with a fielder's choice to Butler, who threw home to get Suzuki, but he was able to make an impressive slide to avoid the tag by Salvador Perez.
"As a catcher, I know how tough that play is coming from the first-base side because you're blind to the tag," Suzuki said. "So I just tried to get as far wide as I could. I saw him dive back, so I knew he didn't have much to work with."
Gardenhire explained that Suzuki was instructed to run on contact, as the Twins were desperate to try to tie the game with the way both Ventura and Hughes were pitching.
"We had a contact play coming home and it's something I don't like do, especially with our catcher," Gardenhire said. "But in our situation, I thought we had to. Suzuki did a nice job, got a great jump and made a super slide."
Brian Dozier gave the Twins the lead with an RBI double down the left-field line before Kennys Vargas gave Minnesota an insurance run with a sacrifice fly to left field after Joe Mauer was intentionally walked.
"We were able to get some hits and get some runners on base with nobody out, and usually good things happen," Dozier said. "And it did in the seventh."
The three-run inning came after the Twins struggled offensively early in the game against Ventura, who didn't gave up a hit until Schafer singled with one out in the fifth.
Minnesota went just 1-for-9 with runners in scoring position, but the offensive output was enough for Hughes, who departed with one out in the eighth after giving up a one-out single to Omar Infante.
Casey Fien was able to get out of the eighth unscathed, including a big strikeout of Butler to end the inning, before handing it over to closer Glen Perkins, who tossed a scoreless ninth for his 31st save.
Rhett Bollinger is a reporter for MLB.com. Read his blog, Bollinger Beat, and follow him on Twitter @RhettBollinger. This story was not subject to the approval of Major League Baseball or its clubs.