Ventura, Royals foiled by Twins' three-run frame
Rookie labors in key 7th as KC's AL Central lead shrinks to half-game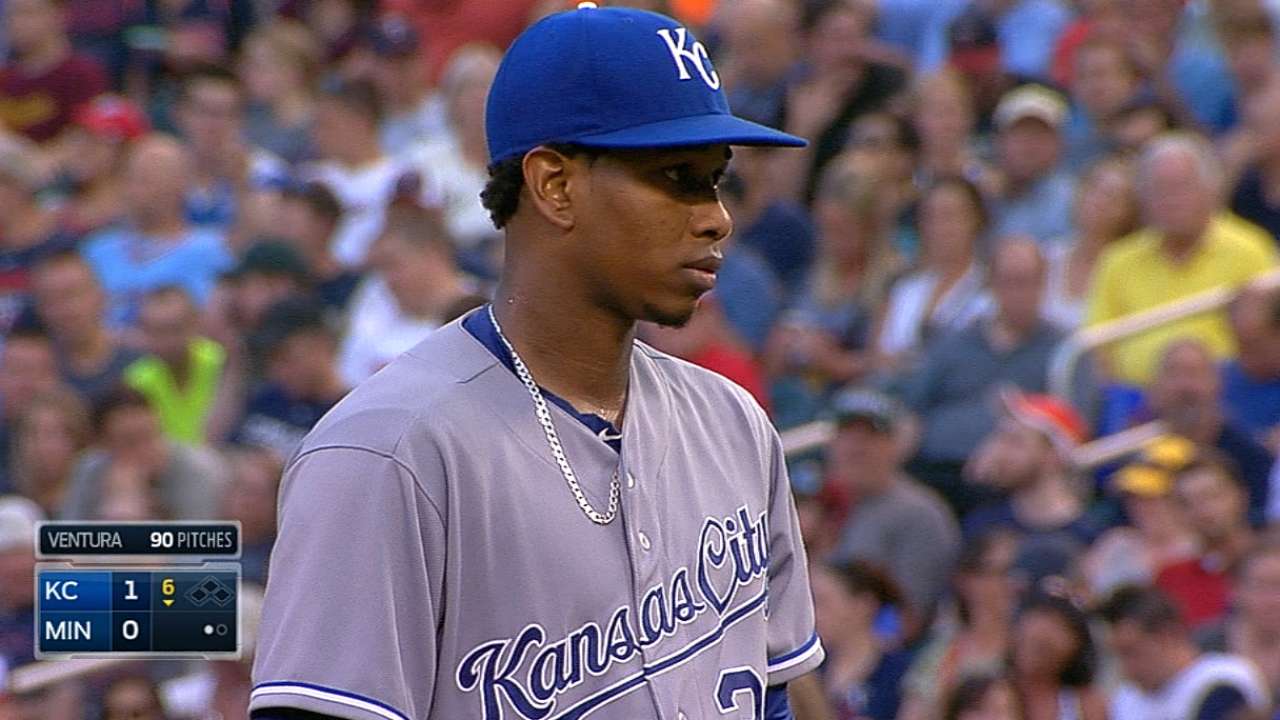 MINNEAPOLIS -- Royals rookie Yordano Ventura got through six shutout innings, but then he ran out of zeros. And manager Ned Yost was already short of relief pitchers.
As a result, the Minnesota Twins forged a 4-1 victory to cool off Kansas City as 35,575 fans turned out on a steamy 86-degree Saturday night at Target Field.
The loss was just the fifth in the last 24 games for the Royals, who lead the American League Central. Previously, they had won three straight and 11 of 12.
With Detroit winning, the Tigers cut the Royals' lead back to one-half game.
Even though Ventura had given up just one hit and had a 1-0 lead going into the seventh, it's possible that he might not even have gone into that inning if Yost had his full bullpen arsenal ready. But he didn't, having already decided that setup man Wade Davis and closer Greg Holland needed the night off.
"You've got to deal with this stuff. That's the fun of a pennant race," Yost said. "You've got to maneuver, you've got to be able to work through these types of issues because you're not going to have perfect conditions every single day.
"There's no way in my mind I could pitch either Wade or Holly today. They'd both thrown back-to-back days and I just can't. I'm going to end up killing 'em. You can't do it."
So, Yost needed Ventura to get into the seventh. If the lead held, the skipper planned to use Jason Frasor to pitch the eighth and Kelvin Herrera, normally his seventh-inning guy, to close out the ninth.
It didn't get that far.
Ventura's control was off -- he issued five walks in the first five innings -- but he was able to dodge trouble through the sixth.
"The thing with him is, he walked the bases loaded with one out, but he's got stuff to get out of it," Yost said.
But, in the seventh, the Twins broke through. Kurt Suzuki singled, Chris Parmelee bunted safely and both moved up on Jordan Schafer's sacrifice bunt. Suzuki, the Twins' catcher, was perched at third.
"We had a contact play coming home and it's something I don't like do, especially with our catcher," Twins manager Ron Gardenhire said. "But in our situation, I thought we had to. Suzuki did a nice job, got a great jump and made a super slide."
Danny Santana's broken-bat grounder was fielded at first base by Billy Butler, who fired home to catcher Salvador Perez. However, Suzuki slid around his tag for a 1-1 tie.
"We gambled and played the infield in, and got the ground ball, but Billy hesitated just enough where we couldn't make the tag at the plate," Yost said. "The throw wasn't bad, it was just the hesitation and that split-second hesitation -- that was the time that Sal needed to catch the ball and make the play."
Butler said he had to take a moment to reset and throw.
"A ball down the line, I catch it, got to reset, throw home, made a good throw. He made a good slide, that's all there is to it," Butler said. "The ball beat him there. Give him credit on that. He took a good angle on it. That changed the game."
Suzuki used his catching knowledge to get around Perez.
"As a catcher, I know how tough that play is coming from the first-base side because you're blind to the tag. So I just tried to get as far wide as I could," Suzuki said. "I saw him dive back, so I knew he didn't have much to work with."
The Royals were now tied up, 1-1.
"If that play works out in our favor, you never know what happens," Butler said. "That changed it all."
There was still just one out with two runners on. Brian Dozier doubled home pinch-runner Eduardo Escobar and, after an intentional walk to Joe Mauer, Kennys Vargas got Santana in with a sacrifice fly. The lead was 3-1 and Ventura was pulled after a season-high 114 pitches.
Francisley Bueno got the third out and Aaron Crow pitched the eighth, giving up a solo homer to Suzuki for the Twins' last run.
Right-hander Phil Hughes went 7 1/3 innings for his 13th victory. The Royals' only run came in the fourth when Nori Aoki doubled, then stole third and continued home on catcher Suzuki's throwing error.
Aoki hesitated for a moment, though, before heading to the plate.
"I lost sight of the ball," Aoki said.
No wonder because Suzuki's throw was seriously misdirected into mid-left field, not coming anywhere near third base.
The Royals wouldn't score again. Closer Glen Perkins pitched past Alex Gordon's leadoff single in the ninth for his 31st save.
Dick Kaegel is a reporter for MLB.com. This story was not subject to the approval of Major League Baseball or its clubs.