Lindstrom unable to build on offense's momentum
Reliever struggles following three-run rally in sixth; Avisail goes 2-for-4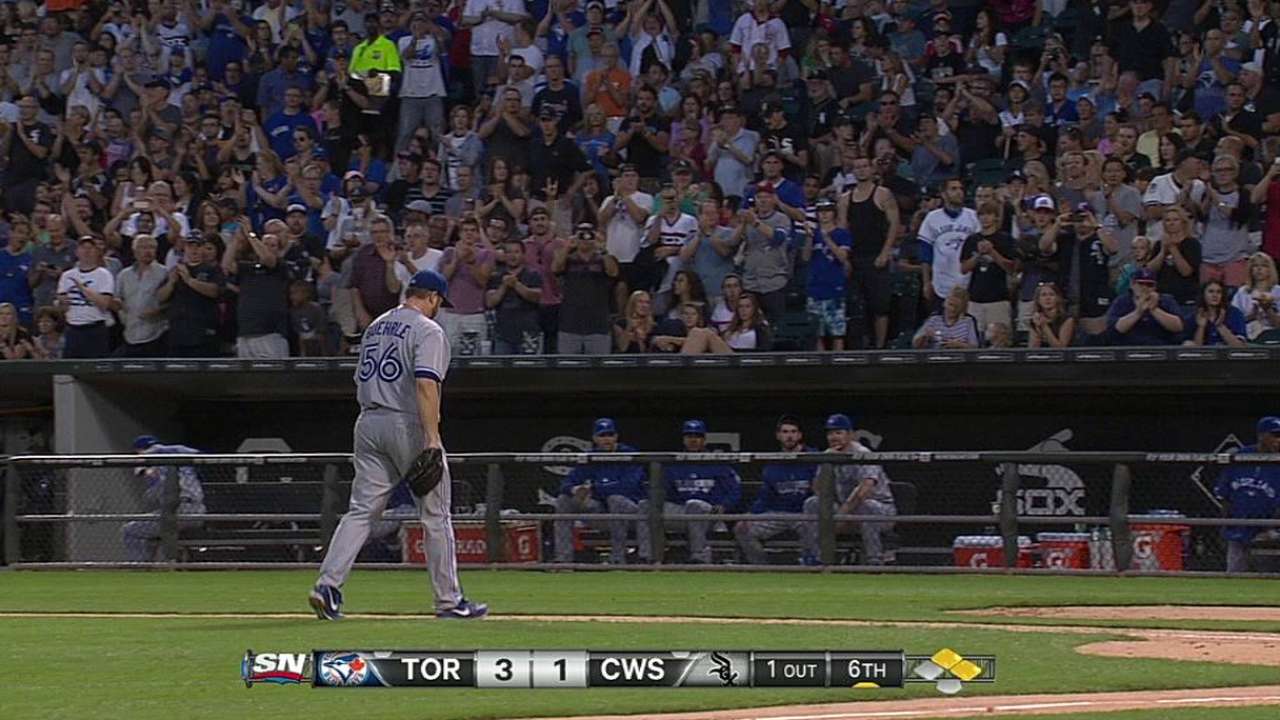 CHICAGO -- Two confidants became counterparts on a crisp night warmed by a vibrant crowd on the South Side of Chicago.
Mark Buehrle and John Danks were the lefty cogs in the White Sox rotation for five years, and shared cake at the latter's wedding this offseason.
Yet the veteran southpaws didn't offer the slightest salutation to each other before the Blue Jays' 6-3 win on Saturday.
"It was like any other start -- we didn't make eye contact, didn't wave, nothing," Danks said after. "I'm sure I'll see him before they get out of town, but it wasn't anything really different from a normal start."
That's a hard sell, at least for Buehrle, who took the U.S. Cellular Field mound for the first time since leaving the White Sox after 12 years in 2011.
The rubber was one he graced en route to a World Series title in 2005, a pair of no-hitters, four All-Star appearances and three Gold Glove Awards.
The South Side was his haven, and it reflected amid a raucous yet respectful crowd.
"I had a little more nerves and a little more emotion going than I originally thought I was going to," Buehrle said. "Obviously, coming out of the dugout and running out, fans started chanting and going crazy. … Coming off the field every time, I ran out to hear people cheering, walking off around the dugout it was exceptional."
Buehrle took the field roughly 30 seconds before the Jays joined him, evoking a receptive ovation from the 29,420 on hand. The notion was matched when Buehrle left in the sixth with his hands raised, cap in one.
The veteran cruised through five scoreless innings with a 3-0 lead before his former teammates engineered a comeback to tie the game in the sixth.
Buerhle was credited with his sixth no-decision in 25 starts, but his crafty repertoire played a pivotal factor in what the Jays' hope to be a turnaround game.
"Huge," Buerhle said. "We needed it."
One of the only bats Buerhle couldn't halt Saturday night belonged to all-purpose outfielder Avisail Garcia, who went 2-for-4 with a double and RBI in his return from the 60-day disabled list.
Garcia admitted he was nervous on a few of his first at-bats and fly balls hit his way -- but "that's a good feeling."
"I feel great," Garcia said. "I feel really happy to come back this year. I've been working hard. I'm glad to be back here with the guys to help this team win. That's why I'm here."
The versatile outfielder sparked the first of three consecutive RBI at-bats in the tying sixth inning, followed by Dayan Viciedo and Paul Konerko, who hit a sacrifice fly and single, respectively.
But the Jays immediately responded with three runs on four hits in the seventh against White Sox reliever Matt Lindstrom, making his second appearance since returning from the disabled list on Tuesday.
Danks earned a no-decision Saturday, going six innings with three earned runs on seven hits. Danks boasted a 3.99 ERA with five wins and a no-decision in seven starts going into the All-Star break, but is 1-2 with a 8.37 ERA since.
"The way things have gone the last three, four, five starts, you take a six-inning start this time," Danks said. "For every other start, really, six innings is kind of a cop-out for us starters, the way we look at it. Six and three [earned runs], whatever, it's a good game I guess. But we would like to go seven, eight, nine take the pressure off [the bullpen]."
Eric Surkamp and Ronald Belisario each threw an inning after Lindstrom, who reassured his health is at 100 percent despite a sour outing.
"Everything is as normal as it's probably going to feel," Lindstrom said. "I can't really say I need to make my pitches because I did. They just didn't go my way tonight.
"It would've been nice to hold them right there [in the seventh], especially after our offense came back. I'm kind of angry at myself, I felt like I probably should've made the play on that first one, the chopper over my head. Other than that, it was just one of those baseball days."
Daniel Kramer is an associate reporter for MLB.com. This story was not subject to the approval of Major League Baseball or its clubs.