Blue Jays respond late to snap losing streak
Melky delivers two-run double in seventh after lead disappears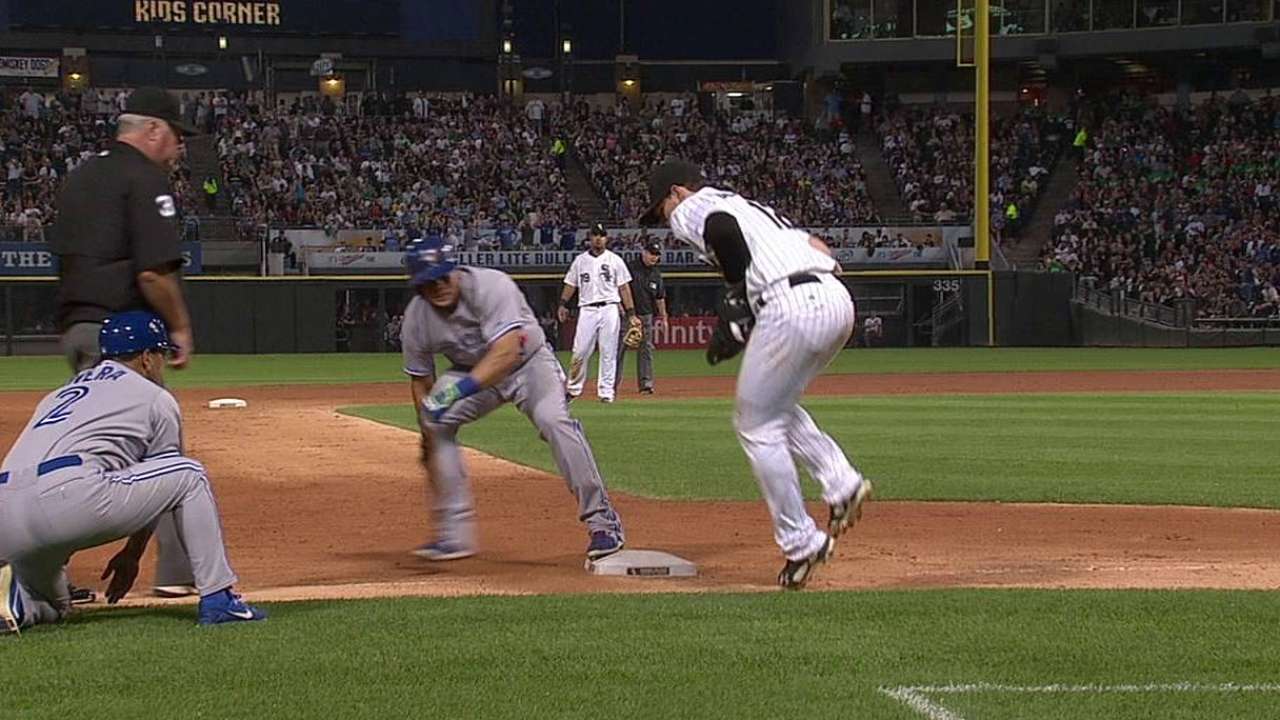 CHICAGO -- The Blue Jays were knocked down, but for the first time in quite a while, they managed to get back up and deliver a blow of their own.
Toronto's beleaguered lineup has gone through some well-documented struggles of late, but it finally showed some resilience in Chicago. On a night when the club could have easily quit, it proved there was still something left in the tank.
The Blue Jays blew a three-run lead but came back with three of their own to escape with a much-needed 6-3 victory over the White Sox in Mark Buehrle's return to U.S. Cellular Field on Saturday night.
"Once they tied it, it could have taken the wind out of our sails and kind of given up, but we came right back and scored three," Buehrle said. "There were a couple of balls that bounced our way and good things happened for us. Hopefully it carries over."
Toronto carried a 3-0 lead into the sixth inning only to see it disappear within a span of several minutes. The Blue Jays looked to be in serious danger of having their losing streak extended to five games, but instead found a way to bounce back.
Munenori Kawasaki led off the seventh with an infield single and then advanced to third on a double by Jose Reyes. Melky Cabrera followed with a two-run double and advanced to third on an error. He would score on a single by Jose Bautista.
It was the type of quick strike that has been absent from the Blue Jays of late. Toronto began the series in Chicago being outscored 60-30 in August but has tallied at least five runs in back-to-back games for the first time since July 30-31.
"What's been missing has been being able to score period," Blue Jays manager John Gibbons said. "Emotions change when you cough up a lead, but you have to bounce right back. We have the lineup to do it."
The victory will take on a special meaning for Buehrle even though he came away with a no-decision. This marked his return to Chicago, where he spent 12 years, was a four-time All-Star, won a World Series and pitched a perfect game.
The fans paid their respects to an all-time favorite with a standing ovation when he walked from the bullpen to the dugout prior to the game. Toronto's position players remained in the dugout while Buehrle warmed up in the bottom of the first inning and another standing ovation ensued.
The cheers from Chicago's faithful continued throughout the game. He responded by facing two batters over the minimum through five innings, but did get into some trouble in the sixth. Buehrle surrendered singles to three of the first four batters before manager Gibbons was forced to go to his bullpen with a 3-1 lead.
Right-hander Dustin McGowan entered and threw a wild pitch that should have been blocked by catcher Dioner Navarro but instead allowed the runners to advance to second and third. Both came around to score on a sacrifice fly and later an RBI single by veteran Paul Konerko as Toronto's lead evaporated.
"McGowan came up and apologized after we gave up a few runs and I said, 'Listen, we need to win this game,'" Buehrle said. "Obviously, you want to get the win, but we have plenty of innings left and time to score some runs. We came out and responded right away. Obviously, we've been struggling, it's not a secret, and we have to continue it into tomorrow."
The Blue Jays' first three runs all came off White Sox starter -- and one of Buehrle's best friends -- John Danks. Navarro had a sacrifice fly while Nolan Reimold and Reyes added RBI singles. Reimold, Reyes and third baseman Danny Valencia each finished with a pair of hits.
Toronto will look for the series victory when the three-game set against Chicago concludes on Sunday afternoon. The only other series the Blue Jays won this month came Aug. 8-10 against Detroit. Buehrle might not have got the victory in a game he had circled on his calendar for a long time, but the most important thing to him is that his team did.
"I had a little more nerves and a little more emotions going than I originally thought I was going to," Buehrle said. "Obviously, coming out of the dugout, running out, fans start chanting and going crazy, but I just tried to focus and realize what I had to do.
"The reception I got, I was kind of thinking it would be good, but what I did coming off the field, every time I ran out I'd hear people cheering, walking off, around the dugout, it was exceptional."
Gregor Chisholm is a reporter for MLB.com. Read his blog, North of the Border, and follow him on Twitter @gregorMLB. This story was not subject to the approval of Major League Baseball or its clubs.