Rallying Rays unable to rise above .500 mark
Smyly goes seven strong in home debut; McGee stung by Jeter in 9th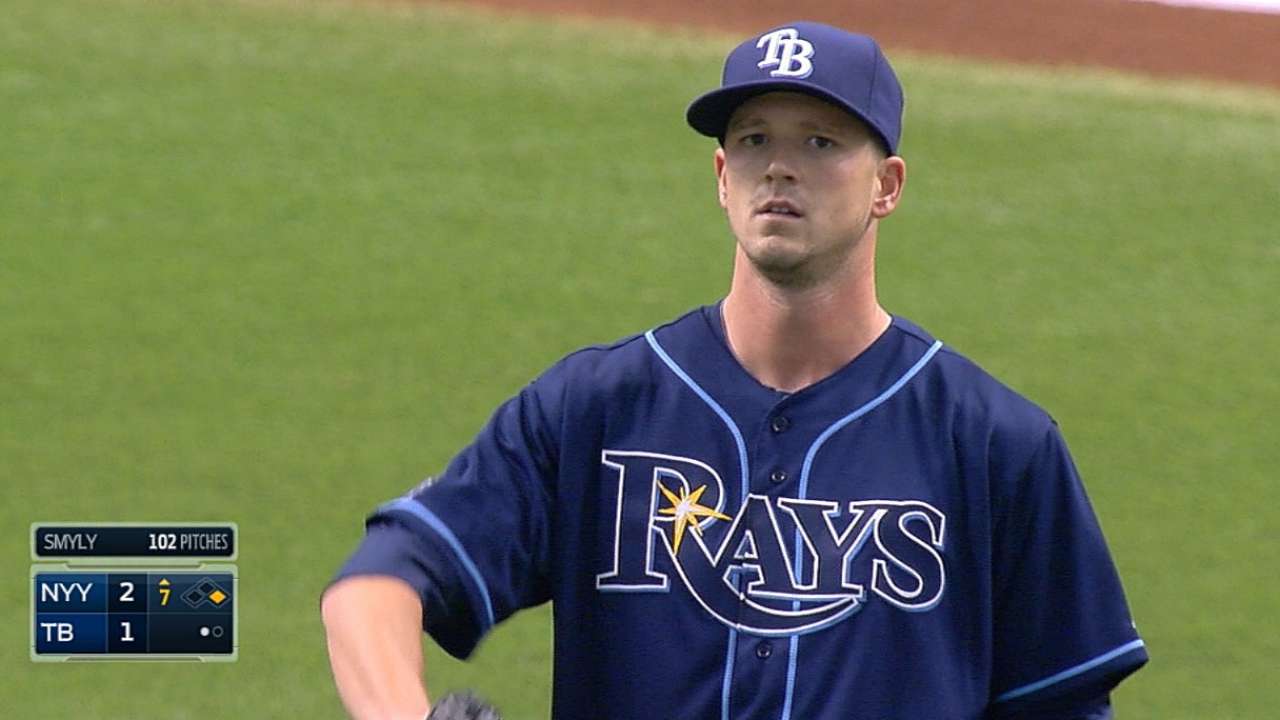 ST. PETERSBURG -- The Rays reached .500 on Friday night. Saturday afternoon, they dipped back below the break-even point when they took a 3-2 loss to the Yankees in front of a sold-out crowd of 31,042 at Tropicana Field.
The Rays (61-62) saw their winning streak snapped at three, but they still have won seven of their last 10 games heading into the rubber game of the series Sunday afternoon.
Jake McGee started the ninth, which is normally a good thing given how dependable the left-hander has been this season. But the inning got off to a bad start when Brett Gardner hit a shot back through the middle. McGee deflected the ball with his glove to Logan Forsythe, but the Rays second baseman threw wild to first. The ball ended up in the Rays' dugout, allowing Gardner to reach second.
"It was a tough play. ... I just rushed it, tried to be too quick," Forsythe said. "My feet didn't get in the right position, and I got under the ball. ... It was probably going to be bang-bang either way, but I just rushed it."
Rays manager Joe Maddon said he couldn't remember the last time Forsythe made a miscue.
"He made a mistake," Maddon said. "So what? This guy's been fabulous for us on defense."
Derek Jeter then stepped to the plate, drawing a loud ovation. The Yankees captain made like he was going to bunt until he had two strikes against him, then he drove a 2-2 pitch for a single just out of Forsythe's reach to drive home Gardner with what turned out to be the winning run.
"I had my normal stuff, I just wasn't locating well enough," McGee said. "Like the Jeter hit, I didn't locate where I wanted to. It kind of ran back over the middle of the plate."
Maddon called Jeter a competitor.
"Jake's throwing 95-96 [mph], he's behind in the count," Maddon said. "He's still trying to move the runner. That's all he was trying to do. And it misses Logan and goes into the outfield. So that's just a real competitive at-bat on his part."
Jeter noted that he enjoys being in the batter's box during clutch time.
"Doesn't mean I'm going to succeed; I've failed quite a bit, as well," Jeter said. "But I like those situations. [McGee] throws hard. There's no secret to what he's going to do. He's going to come after you. He's not a comfortable, easy at-bat. He throws extremely hard."
Maddon stood behind McGee, who took his first loss of the season.
"Don't be deceived," Maddon said. "Jake had a really good night. It just didn't work out. He threw the ball great."
Drew Smyly made his first start at Tropicana Field since coming to the Rays in the trade that sent David Price to the Tigers. The only problem experienced by the lefty came in the second after he issued a two-out walk to Chase Headley. Martin Prado made him pay by hitting an 0-2 fastball into the left-field stands. Prado's seventh homer of the season, and second with the Yankees, gave the Yanks a 2-0 lead.
"Drew Smyly was really, really good again today. The home run to Prado was it," Maddon said. "And I liked the pitch. I thought that was a good piece of hitting by Prado. You know, sometimes after the game you'll say the guy made one mistake. He didn't make a mistake. The guy did a good job of hitting. I thought it was a good pitch at that moment."
Smyly agreed with his manager.
"That was a good pitch," Smyly said. "That was right where I wanted it to be, [an] elevated fastball, two strikes. I was shocked he was able to hit it that far, but you've got to tip your cap."
That would be all the Yankees would get against Smyly, who allowed just four hits and a walk in seven innings en route to a no-decision.
Yankees starter Shane Greene, who struck out 10 in six-plus innings, held the Rays scoreless for 5 2/3 until Yunel Escobar singled to left to drive home Matt Joyce with two outs in the sixth.
The Rays tied the game in the seventh, when Curt Casali was hit by Greene and Kevin Kiermaier followed with an infield single after hitting a chopper to third baseman Headley, who looked to second where nobody was covering and made a late throw to first.
Shawn Kelley took over for Greene, and Desmond Jennings sacrificed the runners into scoring position before Ben Zobrist grounded out to drive home pinch-runner Forsythe.
"An entertaining, really good baseball game," Maddon said. "We still have a chance to win the series."
Bill Chastain is a reporter for MLB.com. This story was not subject to the approval of Major League Baseball or its clubs.