Leave it to Jeter: Captain lifts Yankees in ninth
Competitive AB helps snap five-game skid; Greene fans career-high 10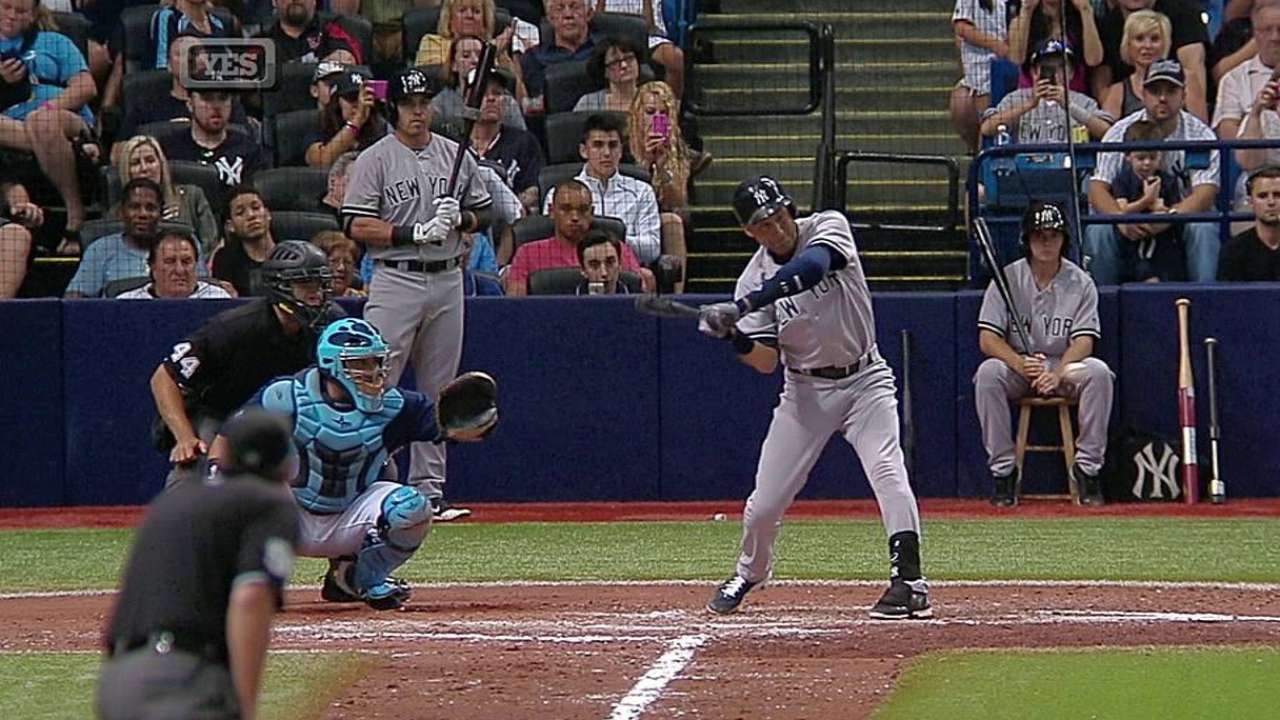 ST. PETERSBURG -- The initial plan was to drop a bunt onto the artificial turf, an assignment that proved more challenging than Derek Jeter had anticipated. The third attempt sent the Yankees captain sprawling to the dirt; the fourth crossed the plate for a called strike.
So Jeter came up with a better idea, delivering a key hit that the Yankees needed desperately. He lashed a run-scoring single to right field off Jake McGee, lifting New York to a 3-2 victory over the Rays that snapped the Bombers' five-game losing streak.
"I always like to be in those situations," Jeter said. "It doesn't mean I'm going to succeed; I've failed quite a bit as well, but I like those situations. I'm lucky it found a hole there."
Brett Gardner scored the go-ahead run as Jeter's grounder shot past second baseman Logan Forsythe, whose throwing error on Gardner's infield hit had allowed Gardner to move to second. That's the kind of opportunity that the Yankees say is important to take advantage of.
"It's really nice," Yankees manager Joe Girardi said. "We've had some tough losses in this stretch, and now we have a chance to win a series. That's what we've talked about. We have to play good tomorrow."
Jeter said that he had agreed with Girardi's strategy to move Gardner ahead with a sacrifice; he said that he didn't even have to look for a sign, as he was planning to bunt anyway. But squaring up against the hard-throwing McGee was no easy task.
The hit came on a 99-mph fastball and was rewarded with an ovation from much of the crowd of 31,042, the Rays' first sellout since Opening Day. Many were clad in Yankees gear, and they seemed delighted that the decisive hit was delivered by Jeter, whose permanent residence sits just across the bay.
"The fans have been awesome," Jeter said. "They've been awesome all year. They've been awesome here the first two games. There are a lot of Yankees fans down here, with Spring Training here. It seemed like quite a few were in the stands. It's almost like a home game."
"The cheers that you heard for him today, the chanting of his name, I'm not so sure I've heard his name chanted that loud at an opposing stadium this year," Girardi said. "You've heard some and you've heard standing ovations, but this was probably the loudest."
Rays manager Joe Maddon called Jeter's battle with McGee "a real competitive at-bat;" McGee said that he wanted the 2-2 pitch to Jeter to be more outside.
"I had my normal stuff, I just wasn't locating well enough," McGee said. "Like the Jeter hit, I didn't locate where I wanted to. It ran back over the middle of the plate."
Dellin Betances was credited with the victory, having pitched a scoreless eighth with a strikeout. David Robertson, pitching for the first time since Aug. 7, recorded the final three outs for his 32nd save.
Wielding a sharp cutter, rookie Shane Greene struck out a career-high 10 men over six-plus innings. He settled for a no-decision after the Rays mounted a soft seventh-inning rally that tied the game.
"I felt really good when I was long tossing, and then in the bullpen and in the game as well," Greene said. "I think it led me to overthrow a little bit on some pitches, but I felt really good."
Greene opened the seventh inning by hitting Curt Casali, and Kevin Kiermaier followed with a slow roller to Chase Headley, who pumped a throw to second base but saw no one covering; a mental error on the part of shortstop Brendan Ryan, according to Girardi.
"I think at first, for a second he reacted to the ball the way it was hit," Girardi said. "His responsibility is at second base. He has to get back to second base."
Kiermaier beat Headley's throw to first base, and Ben Zobrist knocked in the tying run with a one-out ground ball to first base off Shawn Kelley.
Yunel Escobar's sixth-inning RBI single accounted for the Rays' other run off Greene, who scattered seven hits with a walk in his seventh Major League start.
"He had everything today," Girardi said. "His sinker was really good, his cutter was good, his slider was good and his changeup was good. He used them really effectively."
The Yankees' offense had produced just seven runs in the last five games, but it showed signs of life early against left-hander Drew Smyly. Martin Prado provided a quick lead with a two-run homer to left in the second inning.
"I was down in the count [0-2], and I was just hoping that he could make a mistake," Prado said. "He actually threw a fastball, and he left it up. I put the best swing I could put [on it]."
Francisco Cervelli followed with a double but was stranded, and the bats went quiet; Smyly faced the minimum over the next five frames, permitting just four hits through seven innings.
Brad Boxberger set the Yankees down in order in the eighth, and Betances returned the favor in the home half before Jeter's hit momentarily turned The Trop into St. Jetersburg.
"We need all of them. I mean, we're getting down to crunch time," Jeter said. "Every game we play is important. This was a big one for us, but we have to come back tomorrow and play well tomorrow."
Bryan Hoch is a reporter for MLB.com. Follow him on Twitter @bryanhoch and read his MLBlog, Bombers Beat. This story was not subject to the approval of Major League Baseball or its clubs.