Carrasco backed by jacks in shutdown start
Santana, Brantley go yard as righty cruises through seven scoreless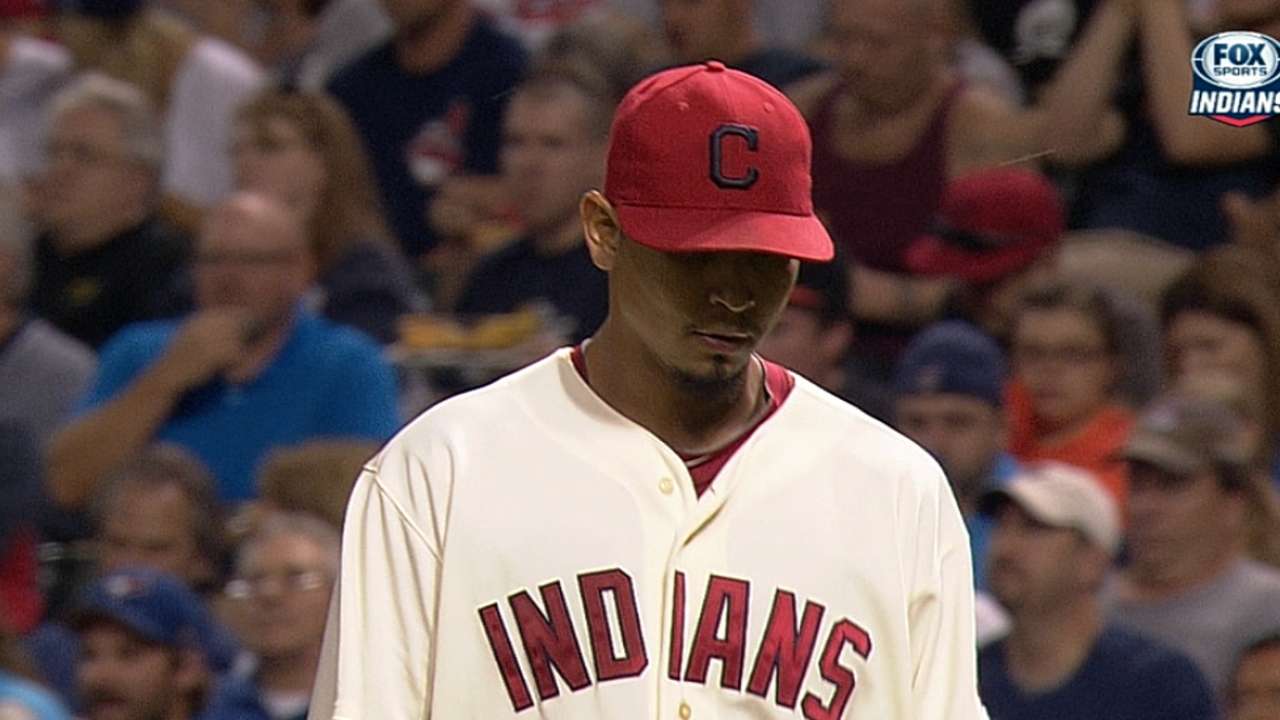 CLEVELAND -- This is why the Indians never abandoned the idea of using Carlos Carrasco as a starter. The combination of efficiency and power that the right-hander put on display on Saturday gave credence to Cleveland's patience.
The Indians turned to Carrasco out of necessity last week, pulling him out of the bullpen for yet another opportunity in the rotation. In a 6-0 victory at Progressive Field over the Orioles, Carrasco seized his chance for the second outing in a row, logging seven scoreless innings opposite a familar foe in Baltimore pitcher Ubaldo Jimenez.
A lot has changed for Carrasco since his early-April struggles as a starter.
"I think he's better equipped to pitch, whether it's in the bullpen or starting," Indians manager Terry Francona said. "I think he feels good about himself. I think being out in the bullpen helped him a lot. I think it let him settle in and get his confidence and kind of understand who he is.
"And he's taken the same mentality now into the starts. Man, it's a big lift for us."
The win helped the Indians send the Orioles to their first back-to-back losses since June 28-29 and gave Cleveland five wins in its past six games.
Carrasco earned the victory for the second start in a row, marking the first time the right-hander has won consecutive games as a starter since June 7-18, 2011. As it happens, this also represented the first time he turned in at least seven scoreless innings in a start since his win over the Yankees during that same stretch on June 13.
In each of the first three innings, Carrasco surrendered a hit, but the righty dodged harm after those early hiccups. After Orioles catcher Caleb Joseph came through with a leadoff double in the third, Carrasco cruised through the final 15 batters he faced on 50 pitches, allowing no more hits in the impressive showing.
When it was all said and done, Carrasco racked up five strikeouts, issued no walks and threw 57 of his 79 pitches for strikes. Combined with his start on Sunday in New York, the right-hander has given Cleveland 12 shutout innings with nine strikeouts, five hits and no walks.
"I did the same job that I did in New York," Carrasco said. "But this time I just went as hard as I could go with everything. I talked to [bullpen coach Kevin Cash] before the game and he told me, 'Go hard. That's it.' That made me feel good, and that's what I did."
Carrasco's teammates have been impressed.
"Are you kidding me? He's filthy," Indians outfielder Chris Dickerson said. "It's been awesome. He's just been so relaxed, calm and throwing strikes. Great tempo. Keeping everybody in the game. That's all you can ask for. He's just been flat-out lights out."
Facing Jimenez, who frustrated Tribe fans with his inconsistent performance in parts of the 2011-13 seasons, the Indians pounced for six runs and chased him from the contest with one out in the fifth inning. Carlos Santana launched a three-run home run off Jimenez in the first inning and Michael Brantley delivered a two-run blast in the fifth, causing the bulk of the damage for Cleveland.
Jimenez allowed three walks and five hits, ending with 91 pitches in only 4 1/3 innings in an outing that surely brought back bad memories for the Cleveland faithful.
"I've been here. I've been through a lot in my career," said Jimenez, who fell to 4-9 with a 4.83 ERA in his first season with Baltimore. "I've been at the top. I've been at the bottom. That's something I put in my mind: you have to forget about what happened, you have get ready for the next one."
One of the reasons the Indians decided against re-signing Jimenez over the winter was the belief that Carrasco could help fill the hole in the starting staff. The big righty began the season in the Indians' Opening Day rotation, but he was moved to the bullpen following four mediocre efforts. While working as a reliever, Carrasco established a routine, found a comfort zone and excelled on the mound.
When Cleveland encountered this August stretch with three off-days within an eight-day span, Francona felt it was a good time to begin Carrasco's transition back to a starting role.
"We've talked about him wanting a spot in the rotation in the spring," Francona said. "Now, he's gone out and earned it by what he's done pitching. That should be really rewarding for him, because he deserves it."
Dating back to April 30, including Saturday's performance against Baltimore, all Carrasco has done is turn in a 1.80 ERA, 0.87 WHIP and .198 opponents' average across 55 innings in 28 appearances for the Indians. It is the kind of showing that will surely lead to more chances for Carrasco down the stretch as the club tries to pull back into the playoff picture.
After his last two outings, starting is the only thing on Carrasco's mind.
"That's my job," Carrasco said. "I just want to stay there."
Jordan Bastian is a reporter for MLB.com. Read his blog, Major League Bastian, and follow him on Twitter @MLBastian. This story was not subject to the approval of Major League Baseball or its clubs.