Niese does it again, turns back Cubs
Left-hander records second consecutive quality outing to pace Mets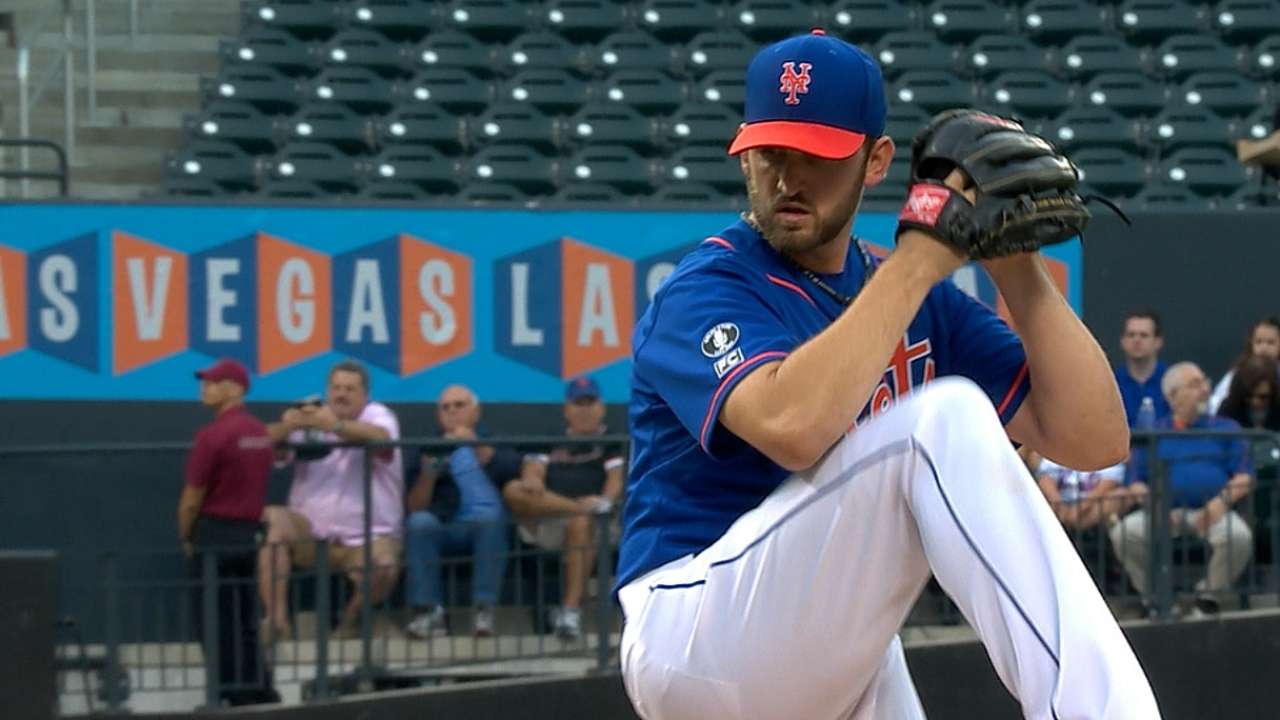 NEW YORK -- As Jon Niese struggled throughout the last month, seeking to regain the sub-3.00-ERA form he had before the All-Star break and before a disabled-list stint that he didn't want anything to do with, Terry Collins tried to reassure him. It'll come back, the Mets manager said: "Maybe it's the next time."
Saturday night against the Cubs might have been the "next time." In a 7-3 Mets win, Niese held the Cubs to three runs in six-plus innings, a showing that was especially impressive early before the New York bullpen bailed him out of trouble in the seventh. The left-hander ended up scattering seven hits and two walks while striking out six batters in the free-swinging Chicago lineup to collect his 50th career win.
Combined with a seven-inning, two-run effort Monday against the Phillies, Niese has back-to-back quality starts for the first time since late June.
"It's definitely not a step back," said Niese, who was on the DL with a left shoulder strain. "I felt really good tonight. Just still working, just was able to build off my last one."
Niese was strong early, with Welington Castillo's solo homer in the fifth representing the only blemish, but he unraveled in the seventh. Chicago's first five batters -- including a Justin Ruggiano long ball to lead off -- reached to score thrice and force Niese from the game.
Right-hander Vic Black extricated the Mets from the bases-loaded, no-out jam by retiring the top of the Cubs lineup -- Chris Coghlan, Javier Baez and Anthony Rizzo. It was the latest in a serious of impressive escape acts from the rookie reliever who started the season in Triple-A Las Vegas but has since become a late-inning regular.
"Terry said get a ground ball and I'm thinking, 'Ground ball at best is a double play and if it's not to home, that's a run scored,' " Black said. "I know what I would want there [if] that's my run."
The Mets touched up Niese's counterpart, Dan Straily, for seven runs (five earned) over 5 1/3 innings thanks to two big frames -- with only four hits on the night.
Wilmer Flores, minutes after ending the top of the second with a flashy diving stop and throw to first, highlighted a three-run bottom half of the inning with a line-drive single to left-center to plate Matt den Dekker and Juan Lagares. Lagares' ground-rule double had scored Travis d'Arnaud.
The Mets stayed quiet until the sixth, when they extended their lead with four runs on only one hit. Straily walked den Dekker with the bases loaded to score one, and two more came in when Chicago center fielder Arismendy Alcantara -- a recently converted middle infielder -- dropped Lagares' drive to right-center. den Dekker then scored on Niese's groundout.
In between those two rallies, Straily set down 12 consecutive batters.
"I was trying to keep them off balance," Straily said. "I didn't have my best stuff out there. I was able to keep them off balance until I couldn't find the strike zone in the sixth."
David Wright led off the big sixth with a hit-by-pitch in the back. He ran the bases, but then came out of the game and the Mets reported he had posterior shoulder soreness. He will likely sit out at least Sunday, though the Mets will wait to see how it feels in the morning before making that decision.
Arguably the biggest blow of the night, given the then-tight score and his relative struggles of late, was from Flores. It came hours after Collins said it's still too small of a sample size -- given that the team named him the No. 1 shortstop just over a week ago -- to judge whether he will be the offensive threat the organization has long projected him to be. Flores entered Saturday hitting .241/.267/.241 in eight games as the starter.
"I told him he's having tomorrow off, so I guess he said, 'I'm going to leave it on the field tonight,' " Collins said.
Collins also noted before the game that Flores, whom the Mets moved away from shortstop in 2012 before moving him back this spring, has made all the routine plays -- which is all he'll need to make to stick at the position if he can hit like most expect. As if in on that conversation, Flores flashed some leather in the second, ranging to his right to dive for Castillo's sharp grounder, then firing from the edge of the infield dirt to get the runner at first.
He waited for a moment for first-base umpire Will Little to signal out, then jogged off the field to a fist bump from Wright.
"I thought," Collins said, "it was a pretty good statement."
Tim Healey is an associate reporter for MLB.com. This story was not subject to the approval of Major League Baseball or its clubs.