Straily rolls an unlucky 7 in Cubs debut
Right-hander, traded by A's in July, shows promise but lasts only 5 1/3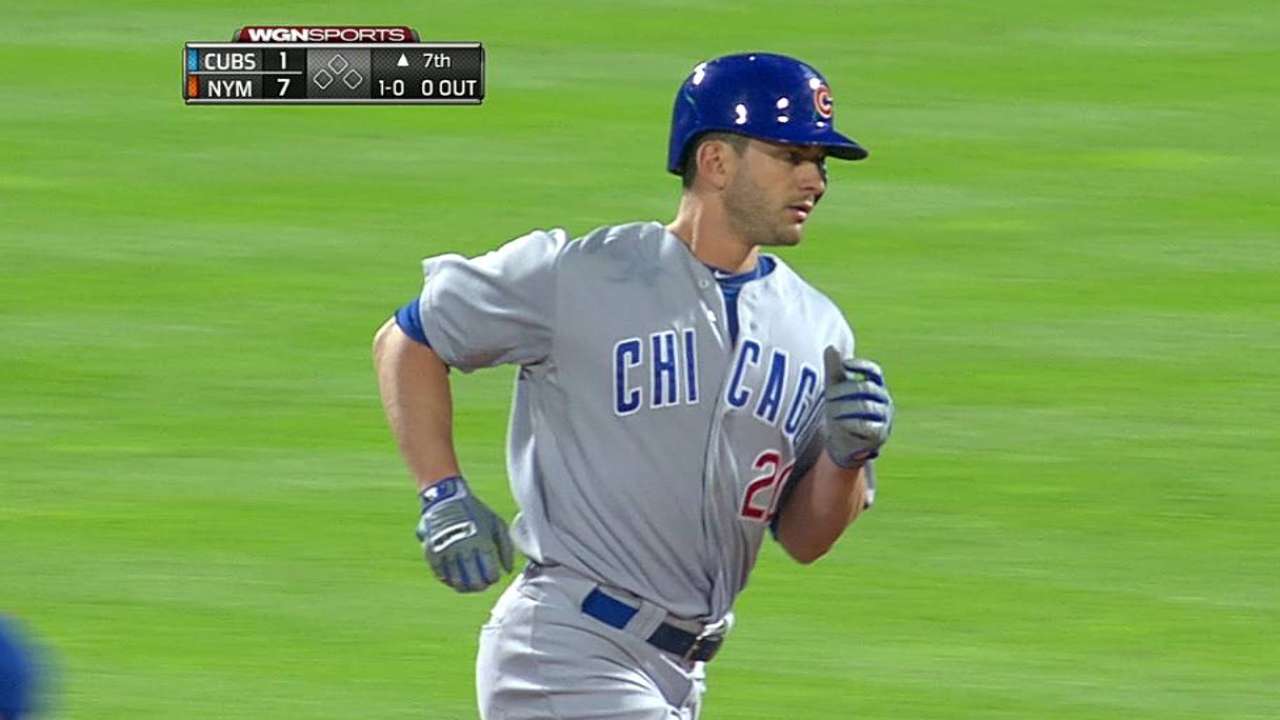 NEW YORK -- Dan Straily had never given up seven runs in a game at any level until Saturday, which wasn't exactly what he wanted to do in his Cubs debut.
Straily served up seven runs -- five earned -- over 5 1/3 innings as the Mets posted a 7-3 win Saturday night over the Cubs in front of 30,744 at Citi Field.
Welington Castillo and Justin Ruggiano each homered but it wasn't enough for Straily, 25, called up from Triple-A Iowa so the Cubs could give their other starters a breather. Acquired from the Athletics on July 4, Straily had not allowed an earned run over 19 innings in his last three starts with Iowa.
He still doesn't know the names of all his teammates, but won't have much time to learn who they are. He was headed back to Iowa on Sunday.
"It felt pretty new until I got going," Straily said. "Once I started playing catch, it was another day of baseball. All day today, it felt pretty new. The excitement of getting to pitch for a new team and all that good stuff that goes along with it. It's just not the way I want to finish."
The 10th pitcher to start for the Cubs this season, Straily retired the side in order in an efficient first. But the Mets had runners at first and second with one out in the second when Juan Lagares hit a ground-rule double to right. Wilmer Flores followed with a two-run single to open a 3-0 lead.
The Cubs began the day with the fourth-best batting average against left-handed pitchers in the National League, but couldn't muster much against Jon Niese, who allowed Castillo's leadoff homer in the fifth.
Then came the Mets' sixth. Straily retired the first batter, but hit David Wright with a pitch. He then gave up a walk, single and walk before being pulled. Lagares greeted Kyuji Fujikawa with a fly ball to center that Arismendy Alcantara got his glove on but dropped. Two runs scored -- one on a sacrifice fly, another on Alcantara's error -- and one batter later, Niese grounded out to drive in another run.
Straily "was probably one hitter away from getting out of that one inning when he mislocated and got Wright," Cubs manager Rick Renteria said. "He was really close to getting out of that inning."
Straily agreed.
"It went pretty well until I hit Wright, and things kind of unraveled for me," he said. "I had them on the ropes right there and then lost the fastball in. You can't follow it up with a walk, a hit and another walk. It's unaccepteable.
"I was trying to keep them off balance," he said. "I didn't have my best stuff out there. I was able to keep them off balance until I couldn't find the strike zone in the sixth."
As for Alcantara's play in center, it's still a work in progress. Alcantara did make a nice catch of Curtis Granderson's fly ball in the second, but muffed Lagares' ball.
"He asked if it was the right thing -- I was in the dugout, yelling, 'Dive, go for it,'" Renteria said. "He just short-armed it a little bit. Otherwise he makes that catch and it's a little bit different story."
Ruggiano led off the seventh with his home run and the Cubs then loaded the bases on three straight singles. Pinch-hitter Ryan Sweeney knocked Niese out literally and figuratively with a hard-hit comebacker. A run scored, and Niese was pulled.
Starlin Castro went 0-for-4 to end his hitting streak at 14 games, which matches his career high.
Straily will head back to Iowa, hoping to build on the stretch when he retired 12 in a row until Wright's HBP.
"I think that middle stretch of inings is more the type of guy I am," he said. "That was the most runs I've ever left the field giving up in my career at any level. It's not exactly the way you want the first one to go. There were definitely positives in the middle innings. The two big innings hurt me."
"I'm sure we'll see him again," Renteria said. "He gave us a good look."
Carrie Muskat is a reporter for MLB.com. She writes a blog, Muskat Ramblings, and you can follow her on Twitter @CarrieMuskat. This story was not subject to the approval of Major League Baseball or its clubs.