Bumgarner's strong start slips away from bullpen
Affeldt gives up rare homer to lefty to tie it; Phillies win in 10 innings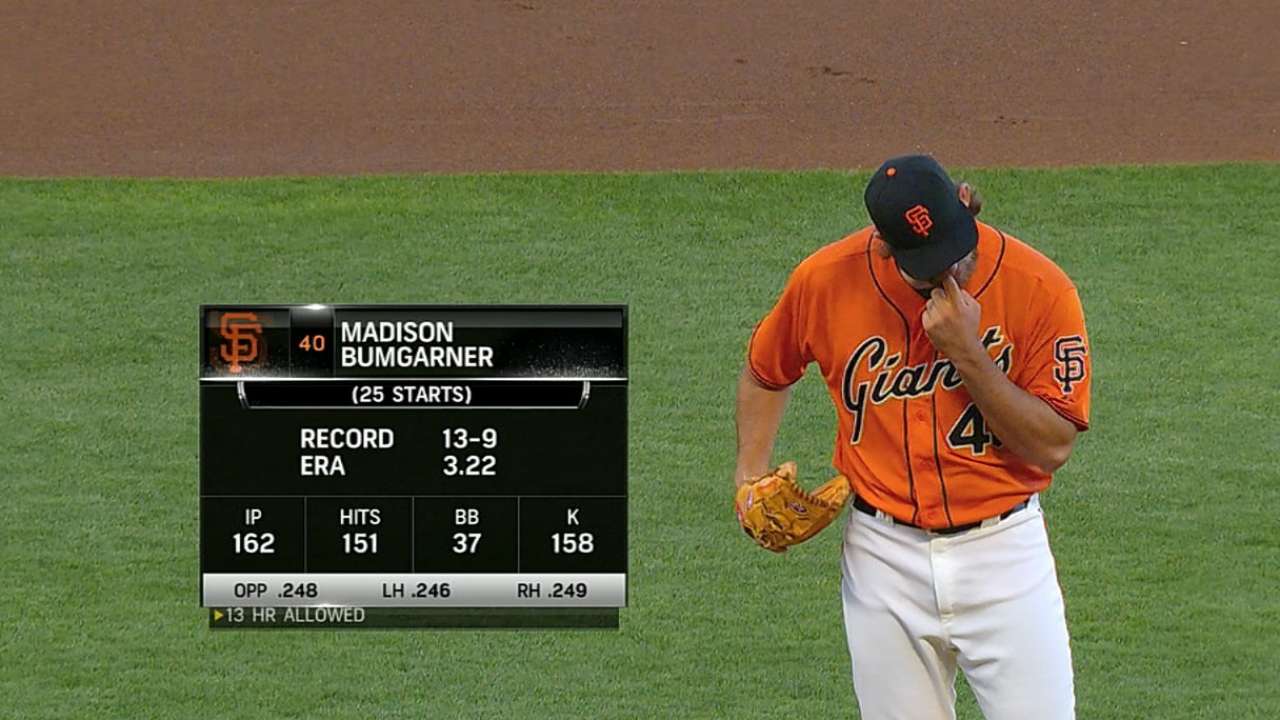 SAN FRANCISCO -- Bullpen struggles meant it was two steps forward, three steps back for the Giants in their 5-3 loss to the Phillies at AT&T Park on Friday night.
Mired in a two-month power outage, Michael Morse displayed the strength that endeared him to Giants fans early this season with a three-run home run in the fourth inning. Madison Bumgarner had a rare dominant start at AT&T Park. It was a pair of other unlikely happenings that led to the Giants' demise, though.
Cody Asche hit a game-tying two-run shot in the eighth off Jeremy Affeldt, who was pitching in relief of Bumgarner. The towering shot was the first allowed by Affeldt this season and first to a lefty since April 24, 2011. With the bases loaded in the 10th, Chase Utley's knee was grazed by a Javier Lopez pitch, which allowed Asche to score what proved to be the game-winning run. Ryan Howard added a sacrifice fly.
Entering play Friday, the Giants' bullpen had combined for the fourth-lowest ERA in the Majors since the All-Star break.
"No question," manager Bruce Bochy said when asked if this was one of the team's most disheartening losses. "Little things caught up with us. When you keep a game close like that, anything can happen, which you saw."
There was a botched safety squeeze by Brandon Crawford in the sixth, and then a baserunning blunder by Angel Pagan in the seventh. Pagan hit a leadoff double but was caught trying to take third base before Cole Hamels threw a pitch. With two outs in the eighth and Pablo Sandoval at second, Joe Panik hit a single to right. Third-base coach Tim Flannery waved Sandoval home, but Marlon Byrd's throw beat Sandoval by a sizable amount.
Affeldt slipping while throwing what became Asche's game-tying home run didn't help, either.
"I just put the ball on a tee and the guy hit it where he should've hit," said Affeldt, who didn't acknowledge the slip. "Frustrating that's where it ended up."
It's getting hard to not feel the same about the season as a whole. Three-quarters of the way through the season, the odds of the once-oh-so-promising season ending before October continue to climb.
"We're running out of time," Bumgarner said.
The rocket off Morse's bat was his first homer of the month and just the third in his last 57 games.
Bumgarner gave up one run on four hits and struck out nine while walking none in seven innings (110 pitches). Not an uncommon stat line for Bumgarner, unless you're talking about his performances along the shores of McCovey Cove this season. Entering Friday, he was 4-6 with a 5.60 ERA in 11 starts at AT&T Park this season. Friday night's outing was his first quality start at home since June 10 and just his third in 12 home starts this season.
"Seems like it's been forever," Bumgarner said.
Bumgarner also singled in the third, which at the time raised his batting average above each of his teammates who isn't named Pagan, Hunter Pence, Buster Posey or Sandoval.
The Phillies didn't record a hit until the fourth inning, when a Jimmy Rollins bloop to shallow right fell after Panik couldn't twist far enough to snag it. Byrd accounted for Philadelphia's first run when he homered into the first row of the left-field bleachers in the fifth.
With the loss, the Giants have lost 15 of their last 22 home games. They remained 5 1/2 games behind the National League West-leading Dodgers and a half-game behind the Pirates for the second NL Wild Card spot, but fell 1 1/2 games behind the Cardinals for the first NL Wild Card spot.
Ryan Hood is an associate reporter for MLB.com. Follow him on Twitter @ryanhood19. This story was not subject to the approval of Major League Baseball or its clubs.