Asche comes up big as Phillies win in 10th
Third baseman clubs game-tying homer, then scores go-ahead run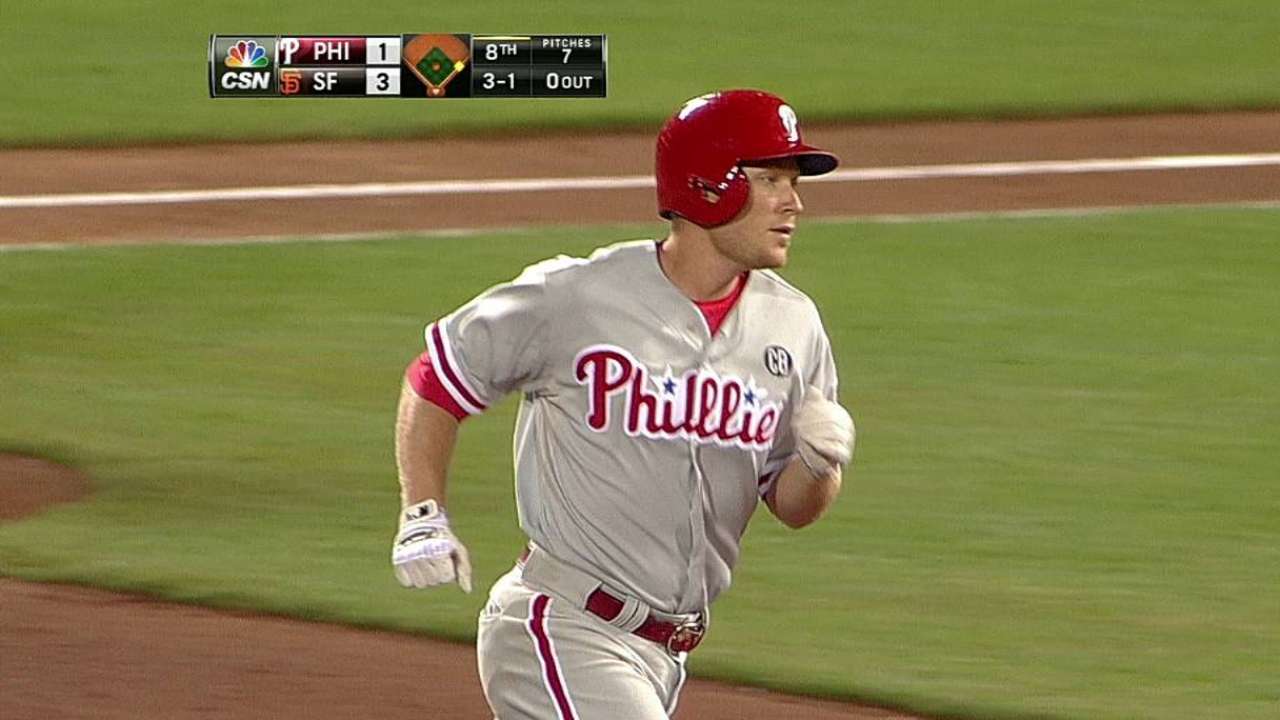 SAN FRANCISCO -- Ryne Sandberg has seen Cody Asche play almost an entire season at third base, but he hopes to see more.
More adjustments, more improvements, more reasons to believe he is part of the Phillies' future.
Asche offered a glimpse of what the organization thinks he can be Friday night in a 5-3 victory over the Giants in 10 innings at AT&T Park. He keyed a late-inning comeback with a two-run home run to right field against Giants left-hander Jeremy Affeldt in the eighth inning to tie the game and laced a double to left-center field against right-hander Santiago Casilla in the 10th, which led to him scoring the go-ahead run.
"About time, huh?" Asche said.
Asche is hitting .245 with 18 doubles, eight home runs, 39 RBIs and a .682 OPS (on-base plus slugging percentage) in 328 plate appearances. He entered the night with a .663 OPS as a third basemen, which ranked 23rd out of 26 qualifying third basemen in baseball.
He has shown promising flashes in his play at times.
He has struggled, too.
"Up and down," Asche said. "You guys see it. You watch it every night. Ups and downs of baseball. Trying to crawl my way back up there. Just stay productive in the lineup."
Asche had hit just .087 (2-for-23) in his previous seven games, so positive results Friday in a notorious pitchers' park could help his confidence. But simply being in the lineup against Giants left-hander Madison Bumgarner helped in that regard, too.
"Coming in today and seeing my name in the lineup definitely gave me a little boost of confidence," said Asche, who actually has been more productive against left-handers (.743 OPS in 61 at-bats) compared to right-handers (.666 OPS in 241 at-bats) this season. "[Sandbeg] saw something in me that made him want me in the lineup tonight."
The Phillies trailed, 3-1, in the eighth when Darin Ruf reached on a leadoff single. Asche then crushed a 3-1 fastball up in the strike zone to right field for a towering two-run home run. It was the first home run Affeldt allowed this season and the first he had allowed against a left-handed hitter since April 24, 2011, when he allowed one to Braves outfielder Jason Heyward.
Left-handers had hit .206 with a .537 OPS against Affeldt in 311 at-bats since.
"Off the bat, the way Hunter [Pence] was going after it, I thought to myself, 'Dang, I think it's going to get hung up,'" Asche said. "I didn't really run out of the box. I thought it was going to get caught. Off the bat I knew I hit it, but the wind is weird at night. Who knows? But I'm thankful it went over, that's for sure."
"I just put the ball on a tee and the guy hit it where he should've hit," Affeldt said. "Frustrating that's where it ended up."
Marlon Byrd threw out Pablo Sandoval on a play at the plate in the eighth to keep the game tied and Ken Giles threw two scoreless innings in relief, setting up the 10th.
Asche doubled to left-center field to start the inning against Casilla. Coincidentally, before the game Sandberg discussed how Asche sometimes get pull-happy when he hits a ball well to right field, instead of maintaining his outside plate coverage and taking the ball to the opposite field when needed. He did not fall victim to that Friday.
"That's hitting," Sandberg said. "Very good. I'll guarantee you on the home run he wasn't thinking pull there. So right after the home run, he got back to his approach. Full plate coverage and that was a great at-bat."
Andres Blanco followed Asche and reached on a sacrifice fielder's choice against Javier Lopez to put runners at the corners. Jimmy Rollins walked with two outs to load the bases. Lopez then nicked Chase Utley's right knee with a pitch to score the go-ahead run. Ryan Howard's sacrifice fly to left field scored Blanco to give the Phillies a two-run cushion.
"Just a little tick, we'll take it," Sandberg said. "Of course he's not going to jump out of the way, either. That's what I like about it."
Phillies left-hander Cole Hamels allowed three runs in seven innings, keeping his team in the game. It was the first time in more than a month he allowed more than one run in a start, snapping an impressive streak of five consecutive starts with seven or more innings and one or zero runs.
Todd Zolecki is a reporter for MLB.com. This story was not subject to the approval of Major League Baseball or its clubs.