One swing derails Martinez, Texas as rally falls short
Rookie has solid outing, but Calhoun's three-run HR is big blow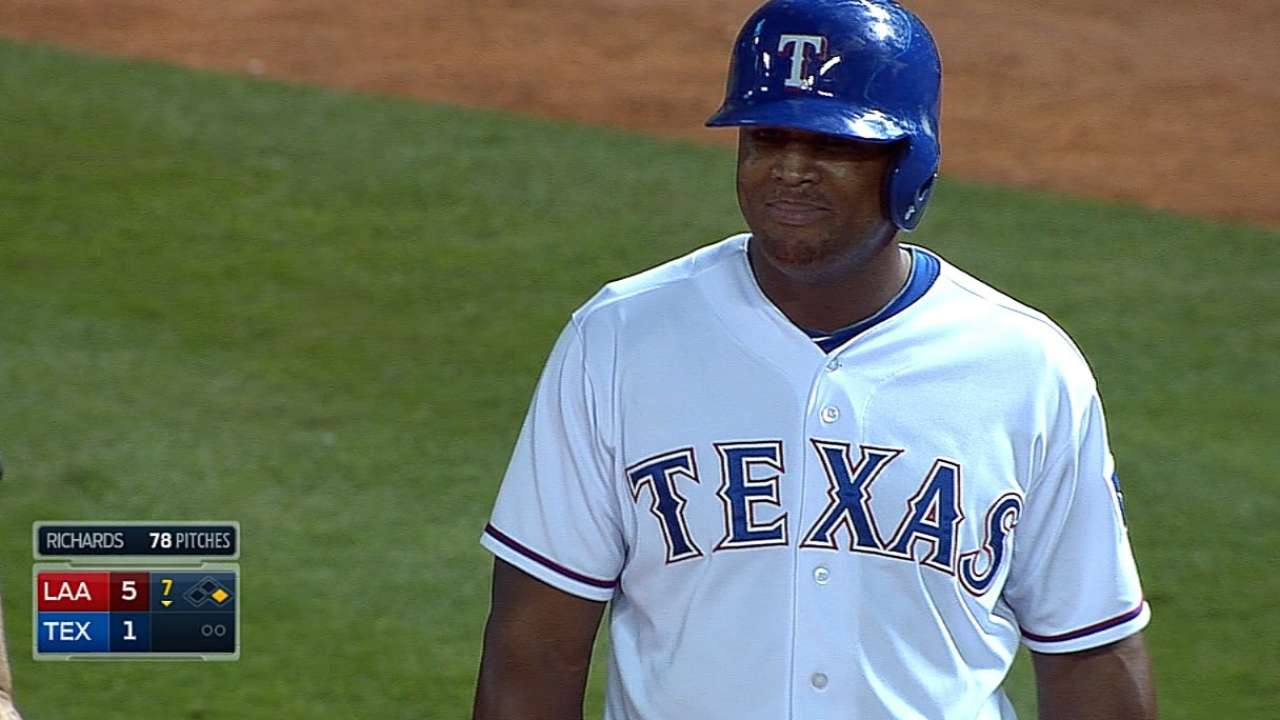 ARLINGTON -- Rangers third baseman Adrian Beltre had four hits on Friday night and also made a valiant effort breaking up a double play to keep an eighth-inning rally going.
It wasn't much consolation afterwards.
"I'd take a win over anything," Beltre said.
He didn't have that choice as the Rangers' late-inning comeback fell one run short in a 5-4 loss to the Angels. The Rangers have now lost eight straight to the Angels, including four straight on their home turf.
Rangers starter Nick Martinez did a good job against the big bats in the middle of the Angels lineup. He just had problems with the two guys at the bottom and the leadoff hitter, and that ended up costing him in a pitching duel against Angels starter Garrett Richards.
Kole Calhoun, hitting in the leadoff spot, delivered the biggest blow with a three-run home run in the top of the fifth inning.
"Just bad at-bats to Calhoun," Martinez said. "I threw some fastballs in the sweet spot in fastball counts. I felt like I made good pitches to most of their hitters. I attacked the heart of their lineup the right way. Again just bad at-bats to Calhoun."
Martinez allowed six hits in six innings. Calhoun was 3-for-3 off him while Chris Iannetta, batting ninth, was 2-for-2 and No. 8 hitter David Freese was 1-for-2. The rest of the lineup -- Mike Trout, Albert Pujols, Josh Hamilton, Howie Kendrick, Erick Aybar and Brennan Boesch -- were a combined 0-for-16 off Martinez.
"I thought he threw well," Rangers manager Ron Washington said. "One unexecuted pitch to Calhoun. He wanted to go down and away, and he left it across the plate. Other than that he did a swell job."
Calhoun's blast, coming with the score tied at 1, appeared to be more than enough for Richards. Through six innings, he appeared to have everything under control, holding the Rangers to one run on four hits. In the seventh, with the Angels up 5-1, the Rangers put two on with two out. Jim Adduci followed with a drive to deep right but Calhoun pulled it in at the wall just short of a three-run home run.
"Those guys over there, they can still swing the bats, even though they have some guys banged up," Angels manager Mike Scioscia said. "You saw how they can get back in the game. Garrett pitched a really strong game tonight, and we needed it."
Richards went back out for the eighth and the Rangers came up one hit short of running down the Angels. Richards struck out Rougned Odor to start the inning but Shin-Soo Choo singled to right and Kevin Jepsen came in to relieve him.
Elvis Andrus reached on an infield single, then Mike Carp and Beltre delivered run-scoring singles to make it 5-3. With runners at the corners, Alex Rios hit a slow grounder back to Jepsen, who threw to second attempting to start an inning-ending double play.
But Kendrick, the Angels second baseman, was a little slow at second and got dumped by Beltre sliding in hard. That forced Kendrick to throw wild to first. A run scored and Rios ended up at second.
"That's the way you play the game," Washington said. "If Beltre doesn't do that, they turn the double play. That's the way you play baseball. Adrian exemplifies that every day. He brings it every day."
Daniel Robertson pinch-ran for Rios and the Angels walked Leonys Martin intentionally. Scioscia then brought in Joe Smith and he got Geovany Soto on a grounder to short to end the threat. The Rangers went in order in the ninth against Angels closer Huston Street.
"The last few innings we had some good at-bats and had some big hits," Beltre said. "We just weren't able to finish the job. It felt good to come back. We just came up a little short. We just weren't good enough at the end."
T.R. Sullivan, a member of the Texas Baseball Hall of Fame, has been covering the Rangers since 1989, including for MLB.com since 2006.
This story was not subject to the approval of Major League Baseball or its clubs.