Comeback bid falls short as Pirates drop opener
Alvarez, Walker return as Bucs battle back after early deficit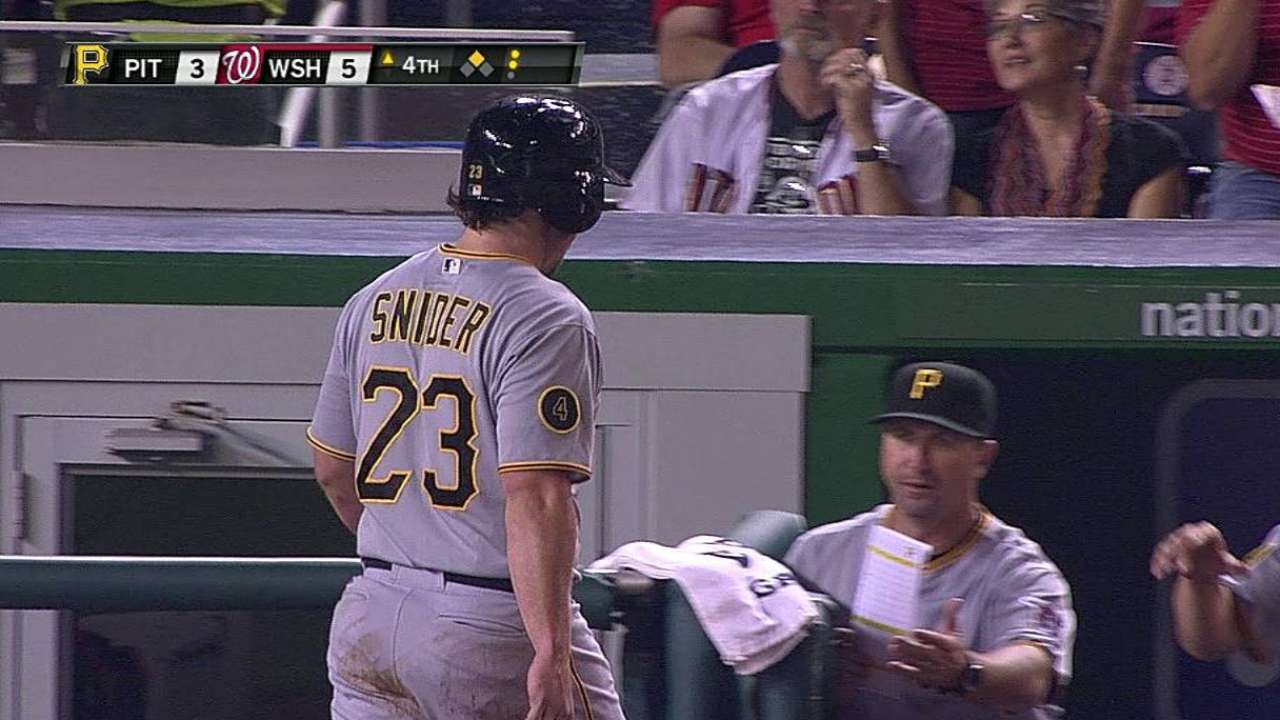 WASHINGTON -- The Pirates couldn't get the big comeback they really wanted Friday night, but happily settled for two minor comebacks that may yet play a major role in their pennant chase.
Many happy returns? Well, there were at least two of them: Neil Walker was back at second base, Pedro Alvarez was back at -- yes -- third base, and both contributed to the Bucs' efforts to recover from a short and lax Charlie Morton start.
Ultimately, a quick 5-0 hole to Washington was too deep, and the Bucs went down, 5-4, at Nationals Park for their third consecutive loss.
This is how close the Bucs came to a capital robbery: Not only did they get the potential tying run to third with two outs in the ninth, but Washington catcher Wilson Ramos virtually had his face in the netting behind home plate to catch Josh Harrison's foul pop for the 27th out.
"I just love the way we battled after being down early. We put ourselves in position to come back. We pushed it about as far as we could," said Pirates manager Clint Hurdle.
Hurdle most loved: Alvarez cutting the Nationals' lead to a run with a two-out single in the ninth off closer Rafael Soriano for his second RBI of the game.
"I think Pedro is in a good place, moving in the right direction," said Walker, a close friend. "We know he can carry this team at any time, and he's getting back to a place where he feels confident."
Hurdle least loved: Morton's worrisome start, putting the Pirates into a quick disadvantage against now 12-game winner Tanner Roark.
"We didn't see a lot of consistency in the sink, or break in the breaking ball," Hurdle said of the veteran righty. "The misfires ... even in the zone ... he got behind and was not able to recover. It just wasn't there for him."
For his part, Morton seemed genuinely puzzled by how badly things had gone.
"Yeah, you could say that," he whispered. "I don't feel like they were driving balls off me. But I missed a couple of spots ... it was just bad at-bat management."
Walker and Alvarez hit doubles in a three-run fourth inning against Roark that gave the Bucs life. Walker's was followed by Starling Marte's homer, and Alvarez drove in Travis Snider with his double after Snider had drawn a two-out walk.
Furthermore, Alvarez flashed a bit of his old aggressive hot-corner style. In the third, he handled a hot smash off Ian Desmond's bat and, more significantly, fired a strike to second for a force. Two innings later, with runners on first and second, he gloved Ramos' grounder, stepped on third for the force and fired across the diamond close enough to first for Ike Davis to make an easy pick and complete the double play.
"Those are all confidence-building plays. It was good to see him have a good night," said Walker, who also gave himself a thumbs-up.
"I was a little rusty," said Walker, kept by lower-back tightness to one start the last two weeks, in which he had lasted only a half game before a recurrence of the spasms. "I just have to get back in the swing of things, get my timing back."
Morton's harrowing start was a carryover from the end of his prior outing, a four-spot for San Diego in the fifth inning on Sunday. This time, he allowed three in the first before retiring anyone -- the only out in that sequence coming when Russell Martin nailed Denard Span attempting to steal third. Bryce Harper's two-run single was the big knock. At that point, reverting to the start against the Padres, 12 of the last 16 batters faced by Morton had reached base.
After a brief reprieve -- a perfect second -- the Nationals set after Morton again. Run-scoring singles in the third by Adam LaRoche and Ramos raised the damage to 5-0.
Morton was done after that, the three-inning start his briefest of the season. The five runs charged against him inflated his ERA to 3.84. It had been 3.40 through the first four innings of Sunday's start against the Padres.
Thereafter, the Nationals were held within sight by the Pirates bullpen, including their newest member. John Axford threw up a zero in the eighth in his Pittsburgh debut, with two strikeouts.
Except for the hiccup by Soriano at the end of the line, the Washington bullpen was doing a similar number on the Bucs. Jerry Blevins, Drew Storen and Tyler Clippard totaled 2 1/3 hitless innings to hand the ball to the closer.
"They all have weapons," Hurdle said of the Nationals relievers, after they'd trained those weapons on his guys.
Tom Singer is a reporter for MLB.com and writes an MLBlog Change for a Nickel. He can also be found on Twitter @Tom_Singer. This story was not subject to the approval of Major League Baseball or its clubs.