MLB.com Columnist
Jim Callis
Top amateur prospects set to show their skills
Seventh annual Under Armour All-America Game will take place at Wrigley Field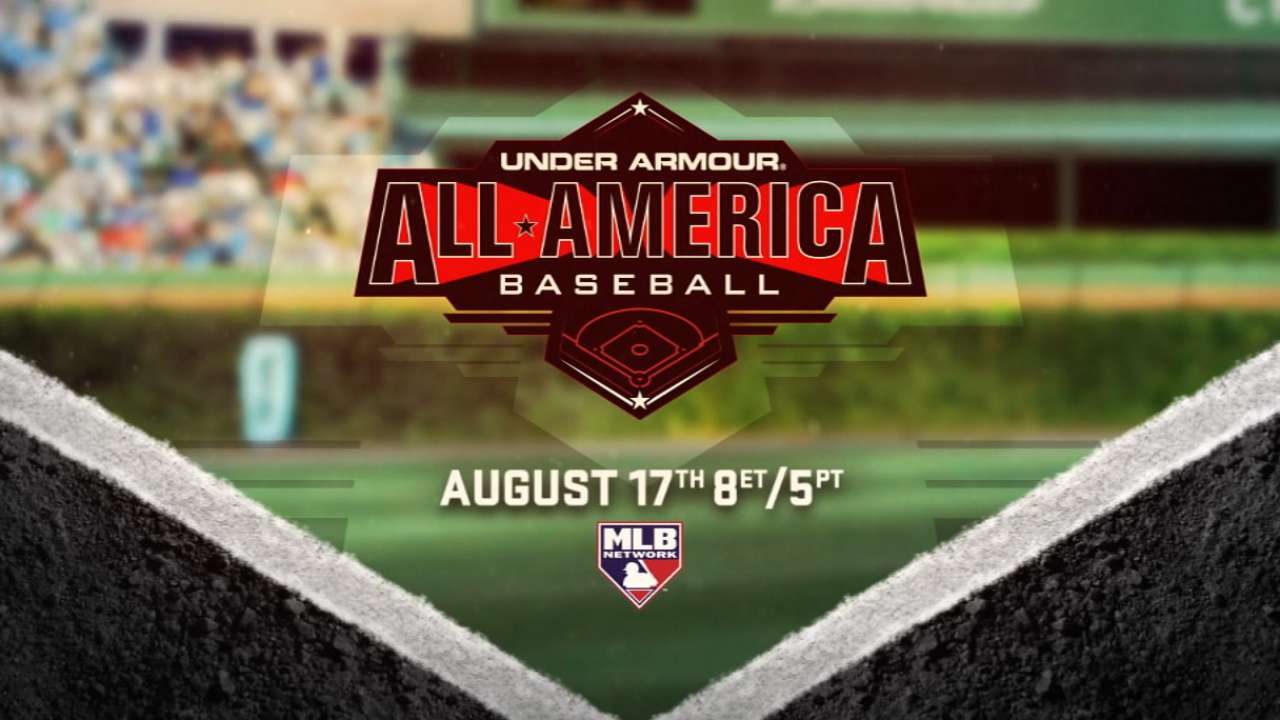 CHICAGO -- Wrigley Field observers often find themselves dreaming about the future. That definitely will be the case on Saturday, when 41 top amateur prospects will show their stuff in the seventh annual Under Armour All-America Baseball Game.
The last major event and one of the most anticipated on the summer showcase circuit, this year's Under Armour Game will be the first played at night at Wrigley Field. It will start at 7:05 p.m. ET and air Sunday on MLB Network at 8 p.m. ET.
"I think every guy who steps in the box or on the mound, you're going to like," a national crosschecker said. "You're going to like a lot of guys."
The previous six contests already have produced 11 big leaguers, including Kevin Gausman and Scooter Gennett, as well as the consensus top prospect in the Minors, Byron Buxton. Fifty-one players have used the UA Game as a stepping stone to the first round of the Draft, including the first four high school players selected in 2014: Brady Aiken (Astros, No. 1 overall), Tyler Kolek (Marlins, No. 2), Nick Gordon (Twins, No. 5) and Alex Jackson (Mariners, No. 6).
A similar scenario could unfold in 2015, as the five currently highest-rated high school prospects by MLBPipeline.com will play in Chicago: Lake Mary (Fla.) High shortstop Brendan Rodgers, Eagle's Landing Christian Academy (McDonough, Ga.) outfielder Dazmon Cameron, Cathedral High (Indianapolis) right-hander Ashe Russell, Stroudsburg (Pa.) High righty Mike Nikorak and De La Salle High (Concord, Calif.) lefty Justin Hooper.
"This is awesome, getting to play for the first time under the lights at Wrigley and in the 100th year of the ballpark," said Rodgers, who has uncommon power for a middle infielder and has performed well throughout the summer. "It's been a fun week, playing with all of the best players in the nation."
Thirty-five of the 41 players are U.S. high school seniors eligible for the 2015 Draft, while Lambert High (Suwanee, Ga.) outfielder Seth Beer and West Broward High (Pembroke Pines, Fla.) right-hander Anthony Molina are juniors who will have to wait until 2016. St. Joan of Arc Catholic Secondary School (Mississauga, Ont.) first baseman Josh Naylor and St. Matthews High (Orleans, Ont.) outfielder Demi Orimoloye are Canadian sluggers who will be part of next year's Draft. There also are two Dominican outfielders, Starling Heredia and Franklin Reyes, who can sign next summer.
The most famous player to this point is Cameron, the son of former All-Star and Gold Glover Mike Cameron. A center fielder with solid tools across the board, Dazmon was the Class of 2015's top-rated prospect until Rodgers surged past him this summer. He also appeared in the 2013 UA Game, as did another returnee who projects as a likely first-round pick, College Station (Texas) High outfielder Ryan Johnson.
Cameron is one of several players with big league bloodlines. Memorial High (Houston) infielder Kody Clemens' father Roger won seven Cy Young Awards. Concordia Lutheran High (Tomball, Texas) third baseman Ke'Bryan Hayes' dad Charlie and Highlands Ranch (Colo.) High shortstop Nick Shumpert's dad Terry each played 14 years in the Majors.
Allen (Texas) High infielder Kyler Murray's uncle Calvin was a first-round pick who spent five years in the big leagues, and his father Kevin was an All-America quarterback at Texas A&M who played briefly in the Minors. Also the top-rated dual-threat quarterback prospect in the nation, Kyler is the first player ever selected to both the UA All-America baseball and football games. Committed to Texas A&M for football, he accounted for 4,478 yards and 57 touchdowns in the fall while leading Allen to its second straight state 5-A football title.
Russell, Nikorak and Hooper all have reached the mid-90s with their fastballs this summer and lead a strong corps of pitchers. The biggest player in the game at 6-foot-7 and 230 pounds, Hooper throws consistently harder than any high school pitcher in the 2015 class and hit 97 mph at last weekend's Perfect Game All-American Classic. With his combination of stuff, strikes and mechanics, Russell has the best chance to become a frontline starter.
Russell, who stuck out three in one inning of work at the PG Game, said he relishes the chance to compete against the nation's best prep hitters.
"It actually makes you pitch," Russell said. "Sometimes in high school ball, you can just throw and get by with your fastball. In these games, you have to locate your pitches or you're going to see the ball go 400 feet over your head. It's really made me improve my changeup, and I might go five high school games in a row without throwing a changeup."
The players spent Friday afternoon working out in front of scouts at the University of Illinois-Chicago's Les Miller Field at Curtis Granderson Stadium. Oak Ridge High (Conroe, Texas) right-hander/first baseman Luken Baker, who won the Junior Home Run Derby at the big league All-Star Game, crushed five balls out of the park in 10 swings during qualifying for Saturday's home run derby.
Naylor and Orimoloye hit tape-measure shots during regular batting practice. Columbus (Ga.) High shortstop Alonzo Jones Jr., who's better known for his blazing speed, went deep from both sides of the plate during BP.
Jim Callis is a reporter for MLB.com and writes a blog, Callis' Corner. Follow @jimcallisMLB on Twitter. This story was not subject to the approval of Major League Baseball or its clubs.