Astros post first Fenway victory, equal '13 win total
Club celebrates after tying game on wild sequence, prevailing in 10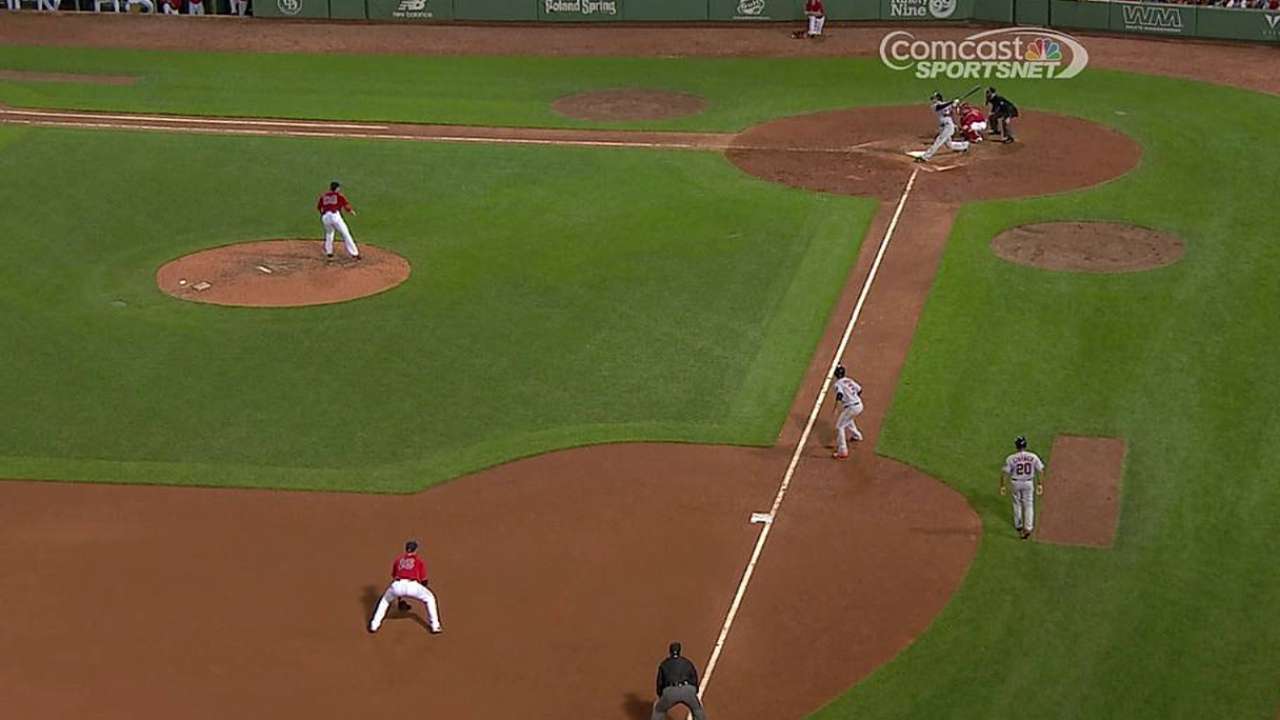 BOSTON -- There was no happier place Friday night than the visiting clubhouse at Fenway Park, where the Astros were laughing and thoroughly reveling in the kind of win that keeps you coming back to the ballpark every day.
For the Astros, their 5-3 win over the Red Sox in 10 innings was certainly a cause for celebration for a couple of reasons: it was their first win in nine tries at Fenway Park and their 51st win of the season matches last year's total.
"It's a huge credit to the players in that locker room, to that staff," Astros manager Bo Porter said. "They've worked extremely hard. We still have six weeks to go in the season. Again, let's continue to try to accomplish the goal in which we set out, to be the most improved team in baseball as far as the won-loss column goes."
No, there was no champagne, but matching last year's win total in their 123rd game is significant because it's tangible evidence the Astros are moving in the right direction and have put last year's 111-loss season behind them.
"It's nice, but we're not done," starter Dallas Keuchel said. "We know that we've come a long way from last year and how miserable it was day in and day out. I think coming from Spring Training, everybody kind of got together and said, 'Hey listen, let's inch our way closer to being .500 and being a legit playoff contender,' and I think we're headed in the right direction."
There were plenty of heroes on this night, including Keuchel, who held the Red Sox to three runs and six hits in seven innings. There was outfielder Jake Marisnick, whose two-run bloop double down the right-field line with two outs and the base loaded in the 10th gave the Astros the lead. And there was heads-up baserunning by Gregorio Petit and Dexter Fowler.
And don't forget about outfielder Robbie Grossman, who went 3-for-5 and drove in the Astros' first two runs, including a game-tying homer in the seventh. Relievers Jose Veras and Tony Sipp (3-2) threw three hitless innings.
"It was awesome, it was fun," Marisnick said. "Just the way the whole team played, up and down the lineup, the pitchers, baserunning. You can look at every aspect of that game and we did a great job to come out with a team win there."
The Astros, who were 2-for-14 with runners in scoring position, loaded the bases with no outs in the 10th, and they were still loaded with two outs when Marisnick came to the plate. Facing Junichi Tazawa, he poked a 2-0 pitch just inside the right-field line, and it bounced into the seats to allow Petit and Fowler to score.
"You're still looking for a good pitch," Marisnick said. "He threw a good pitch and I was able to put it in play and it fell in and got a couple of runs in."
The fact the Astros even were able to take the Red Sox to extra innings was improbable. They were trailing, 3-2, in the eighth when they pushed across the game-tying run on one of the season's most bizarre plays.
With runners at first and second base and two outs, Matt Dominguez hit a one-hopper to shortstop Xander Bogaerts, whose throw to get Fowler at second base was a hair late. Had Bogaerts thrown to first, he would have retired the slow-footed Dominguez.
Petit, who pinch-ran for Chris Carter at second base, was being waved home by third-base coach Pat Listach and thought the ball had gone through. But when he saw Red Sox second baseman Dustin Pedroia throwing to the plate, he knew he was in trouble.
"Obviously I was going to be out, so I was trying to at least trying to get in a rundown and see what happens," Petit said.
Boston catcher Christian Vazquez inexplicably took a couple of steps up the line, leaving Petit a lane to run past him. Vazquez threw to pitcher Burke Badenhop covering home, but he dropped the ball as Petit reached around him and touched the plate. The Red Sox challenged the plays at second and at the plate, but both calls stood.
"I think Pedey makes a heads up play even after the safe sign is called, and Christian's aggressiveness to run him back to third base, his momentum takes him inside the third base line and gives Petit enough room to elude a tag," Red Sox manager John Farrell said. "Unfortunately that's the tie ballgame in that spot."
Brian McTaggart is a reporter for MLB.com and writes an MLBlog, Tag's Lines. Follow @brianmctaggart on Twitter. This story was not subject to the approval of Major League Baseball or its clubs.