'Strange play' turns tide as Sox fall to Astros in 10
Bogaerts caught in between on soft liner as Houston ties it in eighth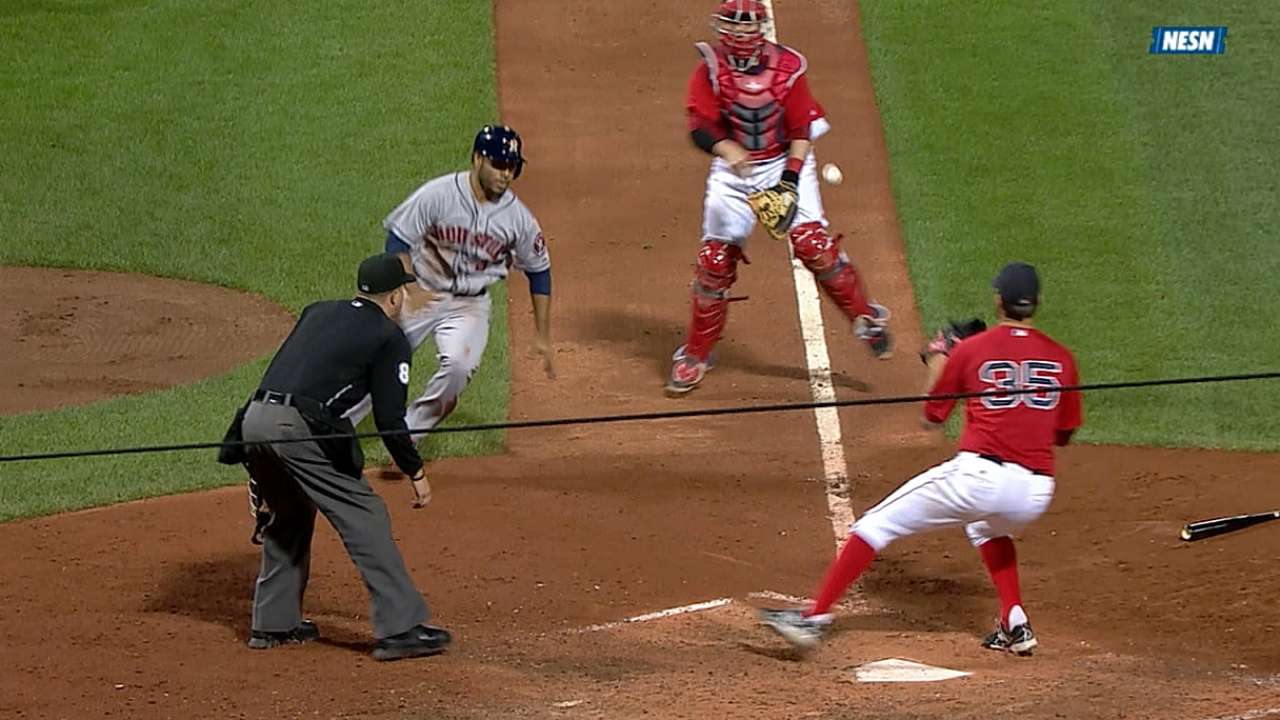 BOSTON -- The play that helped undo the Red Sox on Friday night at Fenway Park was a "strange play" in the words of manager John Farrell.
From the start, it was a play that had shortstop Xander Bogaerts caught in between.
Looking back on it, after the Red Sox had suffered 5-3, 10-inning loss, Bogaerts realizes he could have thrown across the diamond for the out.
But the game happens in real time and Bogaerts is 22 years old and finishing out his rookie season.
Here is what happened in the top of the eighth, with Houston runners on first and second and two outs.
Matt Dominguez hit a looping liner toward the middle of the diamond. Initially, Bogaerts hoped he could catch it in the air. But then it plunked down, and he realized he had to take it on the bounce.
Bogaerts didn't realize how quickly Dexter Fowler was steamrolling into second, so he tried to flip to Dustin Pedroia for the force. Fowler was safe there.
"It was a line drive," said Bogaerts. "I tried to come in and I saw I didn't have no play and I just backed up and tried to get a short one and flipped it to Pedey. It's over right now. There were a lot of ways I could have played that play -- I could've thrown to first."
But the story doesn't end there. Pinch-runner Gregorio Petit was off toward third, and with two outs, he just kept running, all the way home.
The always-alert Pedroia fired to the plate, where Petit seemed destined to be out. But rookie catcher Christian Vazquez took a weird step toward the mound, instead of toward third, where Petit started to retreat, perhaps because he had to avoid the bat he nearly tripped over.
That opened up a path for Petit to race back toward home, and Vazquez was too far away to tag him. Instead, he made a flip to pitcher Burke Badenhop, but the throw was off the mark, and Petit was safe to tie the game at 3.
"It's a tough play. I tried to do my best," said Vazquez.
The Red Sox probably won't see a play quite like that one any time soon.
"Yeah, a strange play with two outs," Farrell said. "Fowler at first base does a good job of getting to second base in a quick amount of time, in short order. Dominguez hits a little bit of a humpback liner that Xander's got to lay back on. If the anticipation might have been where the speed of Fowler doesn't give him a shot at the feed at second base, then does he possibly take the throw across the infield to get Dominguez, who is probably a little bit of a below-average runner.
"I think Pedey makes a heads-up play even after the safe sign is called and Christian's aggressiveness to run him back to third base, his momentum takes him inside the third-base line and gives Petit enough room to elude a tag and unfortunately that's the tie ballgame in that spot."
The way things went for the Red Sox in the late innings, it didn't seem all that surprising when Jake Marisnick blooped a two-out, two-run double just fair down the right-field line against Junichi Tazawa in the 10th.
"Yeah, you can't defend a bloop double on the line," said Farrell. "Taz comes in, we're trying to stay away from him for the third consecutive day and we end up being forced to use him. The first pitch popup to Dominguez looks like we've got a chance to get out of it. Marisnic dumps a double just inside the line for the difference."
It was the first win for the Astros at Fenway.
Clay Buchholz turned in one of his finest performances of the season, allowing seven hits and two runs over seven innings while walking two and striking out nine.
"I felt pretty good throughout," said Buchholz. "If it wasn't for that home run in my last inning, I felt like we'd have had a better chance of winning. Guys battled back and got a run in the bottom of that inning to push forward. It didn't happen."
Vazquez drilled a single up the middle with two outs in the seventh and moved to second on a wild pitch. That put Brock Holt in position to deliver an RBI single to right for a 3-2 Red Sox lead. Holt got hung up between first and second to end the inning.
Yoenis Cespedes brought the Fenway faithful to life with one swift flick of his wrists in the fourth, when his laser shot cleared the Monster to make it a 2-0 game. David Ortiz set the table with a leadoff walk.
It was the third homer for Cespedes since he joined the Red Sox, but his first at Fenway.
"Yeah, when he squares a ball up, as strong as he is, as much batspeed as he has, he's going to hit some balls hard," said Farrell. "It's been impressive what he's been able to do in the short time he's been here. He's s strong guy with a good swing."
In the fifth, Houston produced a rally with two outs. Marisnick and Marwin Gonzalez started it with singles. Robbie Grossman's single up the middle slice the Boston lead to 2-1.
Grossman again came up big for the Astros in the seventh, this time lifting a game-tying, two-out solo shot to right.
The loss snapped a modest four-game winning streak for the Red Sox.
Ian Browne is a reporter for MLB.com. Read his blog, Brownie Points, and follow him on Twitter @IanMBrowne. This story was not subject to the approval of Major League Baseball or its clubs.