Wheeler's 10 K's, Campbell's blast lift Mets
Righty turns in ninth straight quality start; left fielder hits three-run shot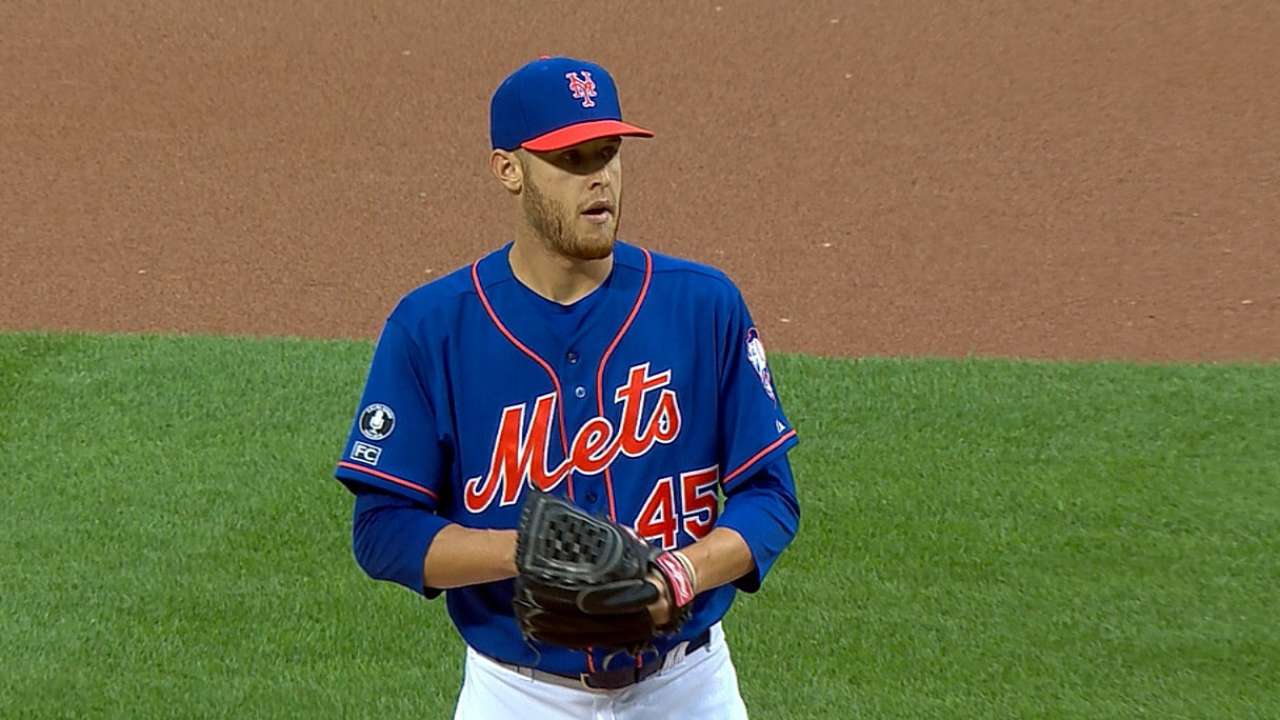 NEW YORK -- When the Mets cut ties with Chris Young and called up Matt den Dekker last week, they did so with clear intent: Give the younger outfielder a shot in the Majors. den Dekker was demolishing Pacific Coast League pitching, and the organization had long thought highly of his glove, so it was time to see what he could do.
The secondary benefit concerned Eric Campbell, who has consistently produced since his May callup, but rarely got the chance to do so given the glut of outfielders and corner infielders on the Mets' roster. Campbell would get a chance to play against lefties regularly.
Friday night at Citi Field, with a southpaw on the mound in the form of the Cubs' Travis Wood, that secondary benefit became the primary one for the Mets. Campbell's three-run homer in the fourth inning gave them a permanent lead in a 3-2 win, the opener of a four-game series. It was a refreshing change of pace for New York after getting swept by the National League East-leading Nationals earlier this week.
"[Wood] was struggling with his command that inning, so I figured if he's going to throw a strike, it's probably going to be something toward the middle, just trying to get one over. And he did," Campbell said of his game-winning homer. "He left one out over the plate and I got the barrel out there."
It was Campbell's second hit in 17 at-bats on the month and his first home run since May 21. David Wright and Lucas Duda both drew walks and scored on the long ball that landed in the Party Deck in left field.
"Walks killed me. If you take out half the walks, it'd be a pretty solid game," Wood said. "That was the game. I had the two walks to start the fourth and the guy [Campbell] hit the ball out of the park. I gave up four hits, and one of them happened to be a long ball with two walks and that was the game."
Right-hander Zack Wheeler and the Mets' bullpen took it from there. Wheeler lasted 6 2/3 innings, striking out 10 -- including five in the first two innings -- while allowing two runs on four hits and four walks.
Wheeler's 120 pitches were a career high, and he made it through his last 3 2/3 innings without allowing a hit after early trouble. The Mets' late-inning triumvirate of Vic Black, Jeurys Familia and Jenrry Mejia kept Chicago hitless the rest of the way.
For Wheeler, it was the latest in a series of successful starts in what is becoming an impressive sophomore campaign. He owns a 2.02 ERA in his last nine games, a stretch of quality starts in which he has allowed more than two earned runs just once.
That streak appeared to be in danger when Wheeler found himself at 59 pitches through three innings. Then he settled down.
"[Wheeler] can overpower some teams," Mets manager Terry Collins said. "He was throwing the ball very well early. He got some strikeouts early, and I think he went back to pitching to contact where he got some easier outs. He got some outs with two and three pitches as opposed to seven."
Wheeler said he indeed made more of an effort to pitch to contact, so he had a better chance of lasting longer.
"Obviously everybody knows my pitch count is always high," Wheeler said. "I always try to pitch to contact early, but sometimes I catch myself trying to do too much sequence-wise or command-wise. So sometimes you'll catch yourself with a lot of pitches at the beginning of the game, so you try to pitch a little more to the outer and inner thirds instead of just the corner."
The Cubs reached Wheeler for a pair of runs in the third. When Javier Baez -- Chicago's rookie sensation -- singled to center, Wood tested Juan Lagares' arm and safely went from first to third. Anthony Rizzo grounded out to plate Wood, and Starlin Castro singled to bring Baez home.
Wheeler escaped that frame without further damage an inning after striking out the side when the Cubs put their first two batters on.
For Collins, that is a tangible sign of growth from Wheeler, who might not have reacted in the same fashion as a rookie a year ago.
"That's what he can do," Collins said. "He'll get in a jam, and he'll all of a sudden take over the inning. A year ago, he would try to maneuver his way through. He just said, 'Listen, I may not be here in the seventh inning, but they're not scoring this inning' and take over the inning and dominate it and get some strikeouts and get out of it."
Tim Healey is an associate reporter for MLB.com. This story was not subject to the approval of Major League Baseball or its clubs.