Win eludes Wood as Cubs keep whiffing
Southpaw gives up three runs in 5 1/3; Chicago strikes out 14 times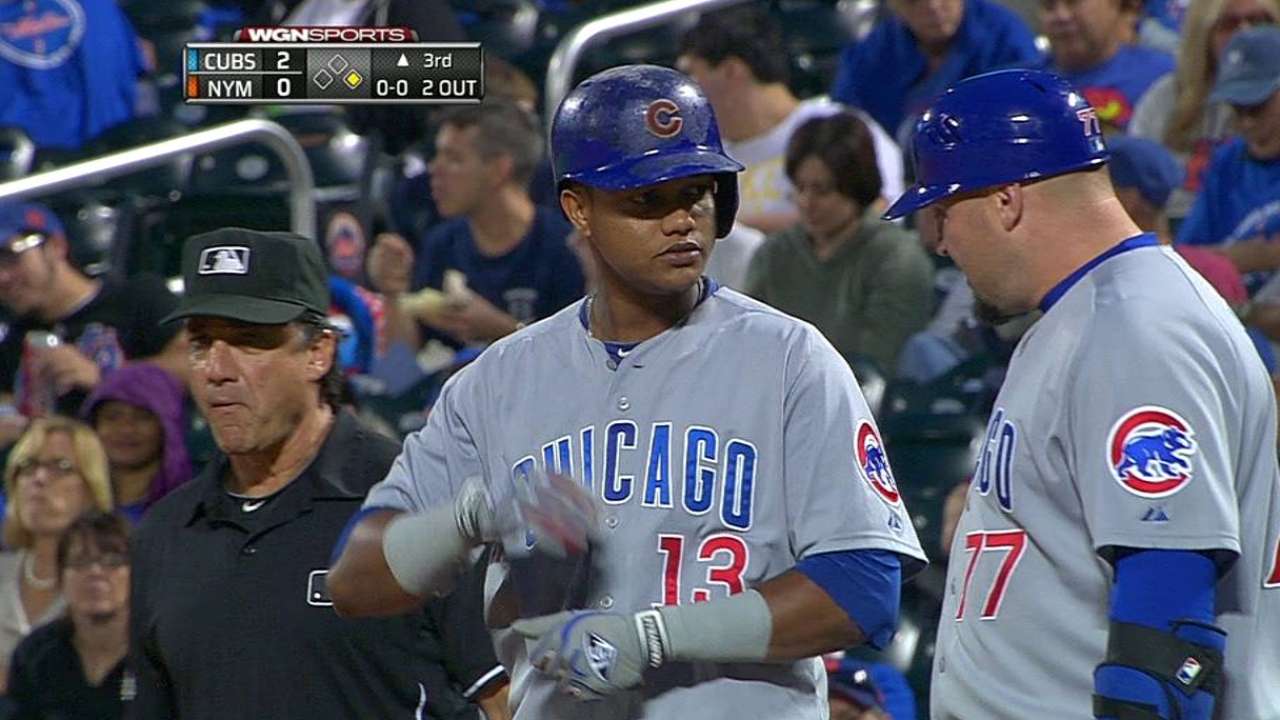 NEW YORK -- The last pitcher the Cubs needed to see was Zack Wheeler.
Rookie Eric Campbell belted a three-run homer to back Wheeler's 10-strikeout game and lead the Mets to a 3-2 victory Friday night over the Cubs and Travis Wood, who has not won since June 15.
The Cubs had struck out 77 times in seven games prior to Friday's series opener against the Mets. Wheeler ranks among the top 20 pitchers in the National League in strikeouts, which created a bad combination. The right-hander struck out 10 over 6 2/3 innings for his third career double-digit strikeout game. It's the fifth time in the last eight games the Cubs batters have reached double-digit K's.
"I think the strikeouts are coming across the board with everyone," Cubs manager Rick Renteria said. "What can you [do to] help minimize [them]? Probably [face] pitching that isn't as good as it's been. We've been facing some pretty good pitching.
"This guy [Wheeler] today was pretty good," Renteria said. "I thought we had a lot of really strong at-bats in terms of driving his pitch count up. They left him out there for 120-plus pitches. The at-bats they had were good at-bats. ... These [pitchers] have good pitches to finish hitters with."
The Cubs had an opportunity in the second when Starlin Castro and Welington Castillo both singled. But Wheeler then struck out the next three batters, including Arismendy Alcantara, who was trying to bunt for a base hit.
"He can overpower some teams," Mets manager Terry Collins said of Wheeler. "He was throwing the ball very well early, he got some strikeouts early, and I think he went back to pitching to contact where he got some easier outs. He got some outs with two and three pitches as opposed to seven. He cut down on his pitch count and was able to get deeper into the game."
The Cubs did take the lead in the third. Wood walked to lead off and one out later, reached third on Javier Baez's single before scoring on Anthony Rizzo's groundout. Castro then singled to drive in Baez to take a 2-0 lead.
But Wood walked David Wright and Lucas Duda to start the Mets fourth, and one out later, Campbell launched a fastball that the Cubs lefty left over the plate into the left-field seats for his second home run.
"Walks killed me," Wood said. "If you take out half the walks, it'd be a pretty solid game. That was the game. I had the two walks to start the fourth and the guy hit the ball out of the park. I gave up four hits, and one of them happened to be a long ball with two walks, and that was the game."
Wood had posted quality starts in his two previous outings, but couldn't finish the sixth on Friday, and served up four hits and walked four over 5 1/3 innings. The lefty is 0-5 with a 5.40 ERA (36 earned runs over 60 innings) in his last 11 starts.
"I had a really tough time getting the ball down in the zone today, and that's what ended up leading to the homer and the walks," Wood said. "Other than the walks, hits are going to happen, homers are going to happen. I threw a bad pitch and the guy hit it and made me pay for it. It's just unfortunate that I walked two before that."
This series is the Cubs' last against an NL East opponent, and they now are 14-15 for the season.
Cubs general manager Jed Hoyer said before the game that the staff will try to map out how to use certain pitchers in the final month of the season so they can get a look at some of the potential starters, including Felix Doubront, Dan Straily and Jacob Turner. Straily will make a spot start on Saturday against the Mets.
Straily is also getting the start so the others in the rotation can get a little breather.
"I don't need one," Wood said. "I'm a routine guy who likes pitching on the fifth day. If they need to see guys, we'll see them, and get them in here. We'll see what we've got."
Wood does like what he's seen so far with the young players who have been promoted from the Minors.
"You see how Alcantara is doing, Baez, [Kris] Bryant is still killing it in the Minors," Wood said. "To see them get their big league experience can only benefit for next year. Straily is going tomorrow and hopefully he'll have a good game and continue to learn."
Carrie Muskat is a reporter for MLB.com. She writes a blog, Muskat Ramblings, and you can follow her on Twitter @CarrieMuskat. This story was not subject to the approval of Major League Baseball or its clubs.