Rockies' bullpen corps keeps game close
Fill-in starter Belisle and five relievers can't match Cueto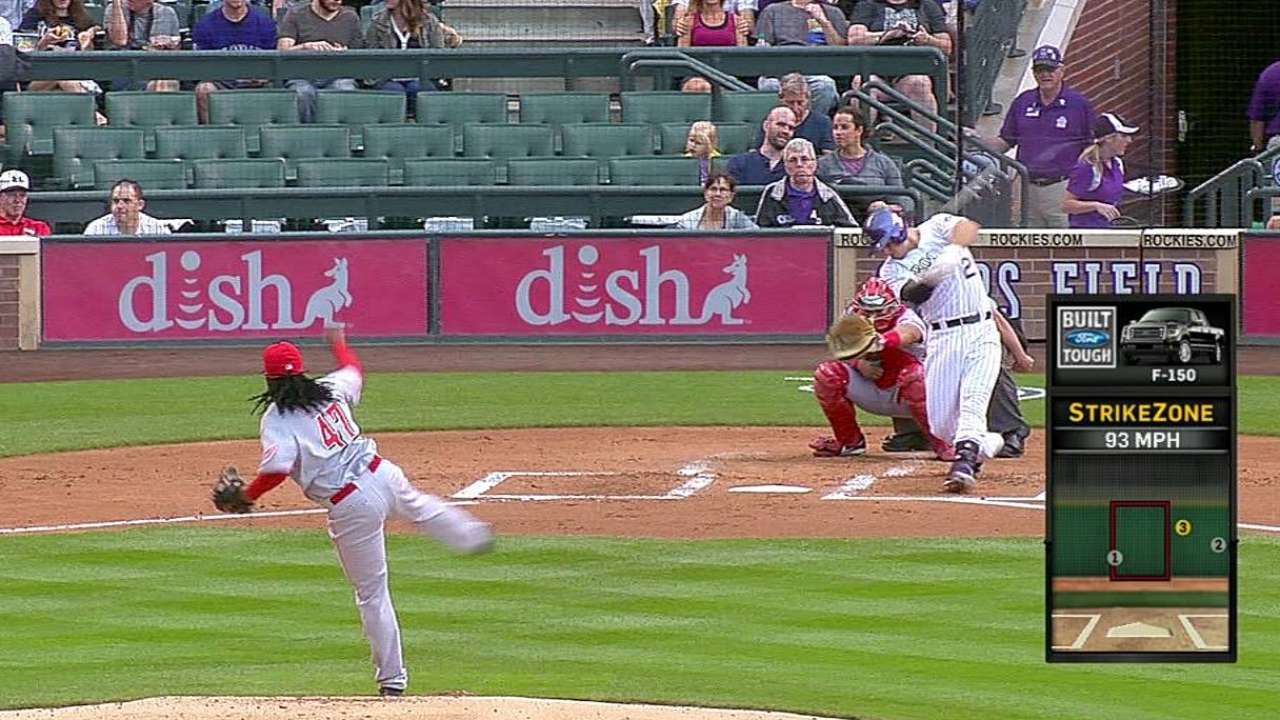 DENVER -- Whom do you spot start when you have no spot starter? The Rockies answered that conundrum Friday by sending right-hander Matt Belisle to the bump after left-hander Franklin Morales was a late scratch after his wife went into labor.
Entering with the worst bullpen ERA in the National League, Belisle and five other Rockies relievers teamed up for an admirable performance. Yet, as Reds right-hander Johnny Cueto proved, not even the greatest army of arms is enough to outdo an ace as Cincinnati edged out the Rockies for a 3-2 victory at Coors Field.
"Really proud of the guys the way they stepped up tonight," manager Walt Weiss said. "We were in a really tough spot. The bullpen did a hell of a job giving us a chance to win against a Cy Young-caliber guy."
Cueto struck out six over eight innings before right-hander Adam Ottavino, the Rockies' fifth reliever of the night, served up the go-ahead single to Kris Negron in the ninth. The hit was his fourth of the evening -- a career high.
"It felt good," Negron said. "I've had a couple of opportunities to come up with a hit towards the end of the game. It felt good to finally get one through."
Belisle's last start came with the Reds in 2008 and he came out firing against his former team, with 37 of his 49 pitches registering as strikes over three innings.
"When you sign the contract, they don't tell you when you're going to pitch," Belisle said. "So I looked at it as a great opportunity to get out there and attack the zone to see if we could get a good tone set."
After the first two Reds reached against him, Belisle buckled down with one out and runners on second and third to exit the first inning unscathed.
Two innings later, Belisle found himself in the same predicament. This time, Jay Bruce broke through to tie the game at 1 following Nolan Arenado's solo shot in the previous frame.
Before Bruce's RBI-groundout, Weiss had predetermined that he would be the last batter Belisle would face. And after he walked the next batter, Ryan Ludwick, Weiss came out for a team meeting on the mound with Belisle.
"He said, 'Matty, I was hoping that was your last hitter,'" Belisle said. "And I was like, 'Well, let's make this one the last hitter and if it's not, don't worry about it, I got this, I'll get out of the inning.' And he goes, 'OK.'
"I didn't want him to take that ball from me," said Belisle, who get Brayan Pena to line out in the next at-bat, "Not in a day like that. You've just got to go, go, go."
Right-hander Nick Masset took the torch from there and his first inning was a shaky one. Jack Hannahan led off the fourth with a double before the very next batter, Ramon Santiago, brought him home with a first-pitch single.
But Masset retired three straight after the Reds took a 2-1 lead and kept the score there when he came back out for the fifth.
In the sixth, Justin Morneau battled back from an 0-2 count to draw an eight-pitch walk off Cueto. After Arenado's bloop single put two on with one out, Corey Dickerson tied the game at 2, extending his hit streak to a career-best 10 games with a double down the left field line.
Wilin Rosario's intentional walk then gave last night's offensive hero Charlie Culberson a chance to deliver another finishing blow. But Cueto struck Culberson out swinging before dishing out the same fate to DJ LeMahieu to end the bases-loaded threat.
"He's really good, one of the best in the league and he's an animal," said Arenado. "As the situations or the innings got a little tighter, he got even better. So you've got to give him a lot of credit."
Along with his long ball in the second inning, Arenado would send two flyouts to the warning track against Cueto. After flirting with a homer in the eighth, Cueto shouted, "You just missed that," to Arenado. The Gold Glove third baseman replied with a chuckle, adding, "I almost had you."
"I wouldn't say I saw [the ball] good, I was just looking in certain spots and I was able to take advantage in the spots I was looking," Arenado said. "But other than that, you never see that guy good."
The Rockies had two more close calls in the ninth against left-hander Aroldis Chapman. After Billy Hamilton stole Rosario's hit with a diving grab in center, a pinch-hitting Michael McKenry sent a screamer down the right field line. But before it could get past the bag, Pena somehow picked it out of the air and promptly doubled up Culberson at first to end the game.
"I've never seen a line drive coming at me that hard, even when I'm behind home plate," Pena said. "I'm still in shock I caught the baseball."
Cody Ulm is an associate reporter for MLB.com. This story was not subject to the approval of Major League Baseball or its clubs.