Cueto delivers, becoming MLB's first 15-game winner
Rookie Negron notches four hits, including a ninth-inning RBI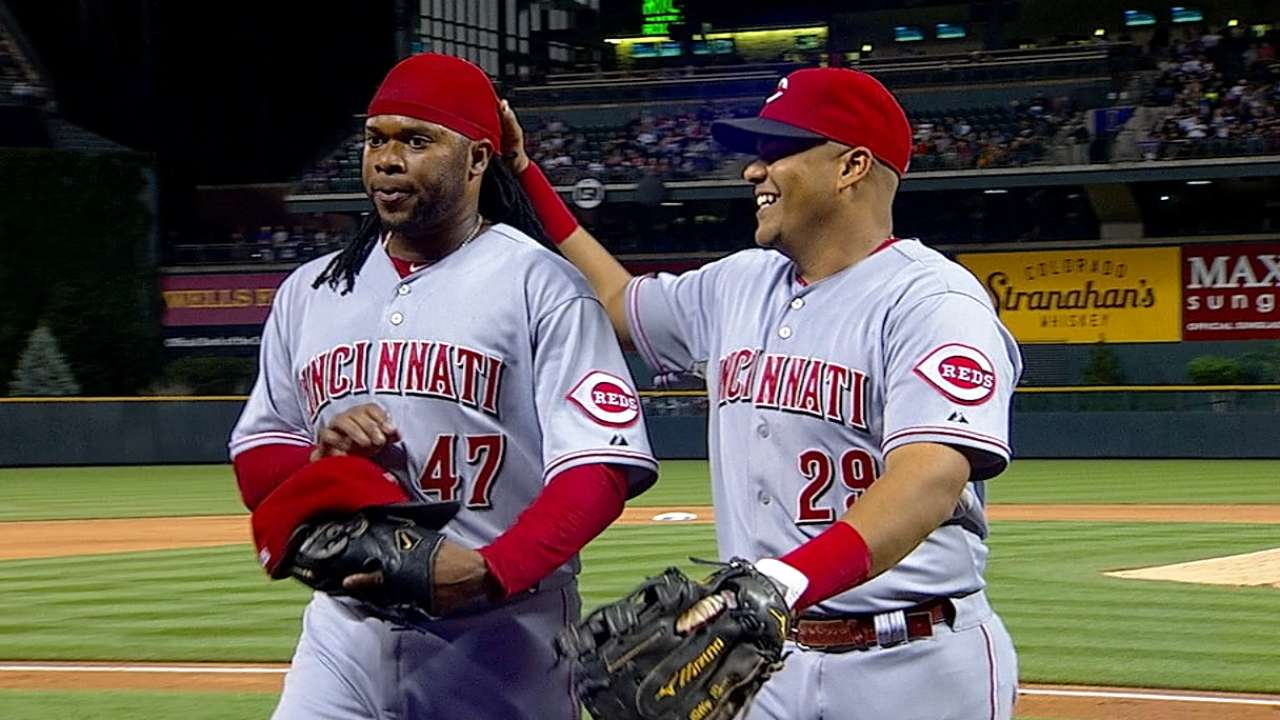 DENVER -- There have been 17 occasions this season, including Friday vs. the Rockies, where Johnny Cueto has taken the mound for the Reds following a team loss.
In this case, the Reds were coming off three straight losses. Once again, they needed their ace to be their stopper and come through. Cueto did just that for eight innings before the big go-ahead run finally came in the ninth inning from Kris Negron's career-high fourth hit -- an RBI single -- for a 3-2 victory over Colorado.
"Any time we've got Johnny on the mound, good things happen," said Reds catcher/first baseman Brayan Pena. "That's the reason he's an All-Star and that's one of the reasons he is our ace."
Cueto, who became the Major Leagues' first 15-game winner, gave up two earned runs and six hits with two walks and six strikeouts. He established a career high with six straight wins and is now 15-6 with a 2.06 ERA in 26 starts. He leads the Majors with 187 2/3 innings pitched.
"As a manager, it's very comfortable just being able to put all of your stock in one guy. You go all in with Johnny," Reds manager Bryan Price said. "You don't fear losing the game late. When he's in there, he's the best guy to be out on the field. He's so competitive. He doesn't give in."
Cueto is now 10-3 with four no-decisions in 2014 when he gets the ball following a Reds loss. Cincinnati has only 10 wins in 27 games since the All-Star break and Cueto was the victor in five of them.
"Every time I come to play, I'm thinking [I have to be a stopper]," Cueto said via translator Tomas Vera. "Especially when the team is going through that bad streak I have to stop. I put all of my effort in."
Because scheduled starter Franklin Morales was scratched to be with his pregnant wife in labor, the Rockies needed six relievers to match Cueto's effort. Credit them for nearly pulling it off. Despite entering the night with the worst bullpen ERA in the National League at 4.91, they kept the slumping Reds quiet much of the night.
A Reds run scored in the second inning on a Jay Bruce groundout and another came in the fourth when Jack Hannahan snapped a 0-for-14 skid with a double and scored on a Ramon Santiago RBI single up the middle.
"It was tough to get into a rhythm a little bit because there was a new pitcher coming in every few innings," Negron said. "The whole team, we grinded the whole game."
That made Cueto's effort all the more important. He gave up a Nolan Arenado home run to begin the second inning. Trouble didn't surface again until the sixth.
With one out, Cueto issued a walk and back-to-back singles -- including Corey Dickerson's game-tying RBI hit to left field. An intentional walk loaded the bases.
Cueto needed 30 pitches to get through the inning but came up big in the process. He struck out Charlie Culberson and DJ LeMahieu -- both on 95 mph fastballs to get away without more damage.
"I was thinking about a ground-ball double play the whole time but things went different," Cueto said. "Thank God I was able to strike out both guys."
It was the 11th time this season Cueto pitched at least eight innings and gave up two earned runs or fewer. Achieving the feat at expansive Coors Field in the thin mile-high air was hardly routine, however.
"You can't even breathe here. You feel like there's a lack of oxygen," Cueto said.
Facing Adam Ottavino in the ninth, Santiago hit a leadoff single to right field and advanced on a Zack Cozart sacrifice. Following pinch-hitter Skip Schumaker's walk, Negron delivered a line single to center field to cap his 4-for-4 night.
In the bottom of the ninth with Aroldis Chapman on to close, a one-out walk was issued to Culberson. Pinch-hitter Michael McKenry followed with a scorched line drive to first base. Pena, who moved from catching to first base in the eighth inning, was in perfect position to catch the ball. Culberson had no chance to get back as Pena touched the bag for the final out.
Chapman got his 26th save but saw his Major League record 49-game strikeout streak come to an end.
More importantly after losing three-straight and five of six, the 61-61 Reds could exhale a little bit.
"It was a hard-fought 3-2 win," Price said. "If this is what we've got to do the last 40 games of the season to get into the postseason, then that's how it's going to be. We'll fight all the way to the very end."
Mark Sheldon is a reporter for MLB.com. Read his blog, Mark My Word, and follow him on Twitter @m_sheldon. This story was not subject to the approval of Major League Baseball or its clubs.