Brewers stun Dodgers with five-run eighth
Overbay's two-out, three-run, pinch-hit double turns tables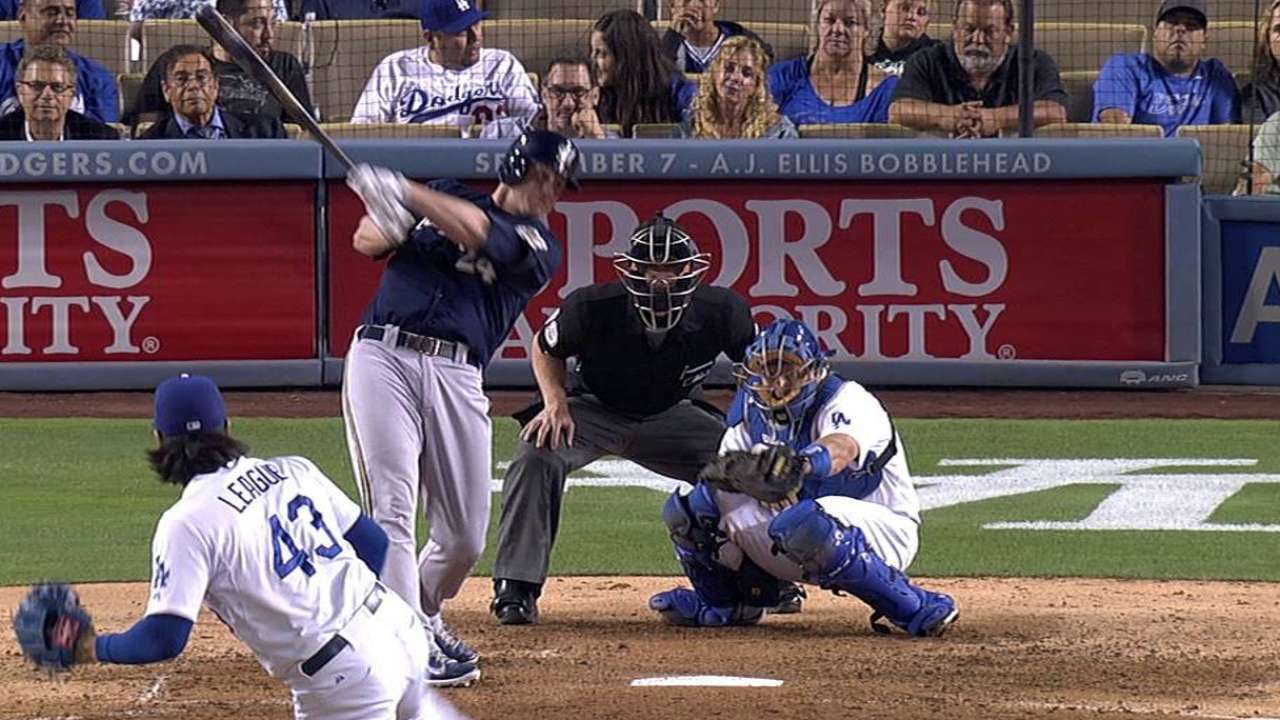 LOS ANGELES -- Held hitless from the second inning through the seventh, the Brewers broke free in the eighth on Friday for five runs on five hits. The biggest by far was the pinch-hit, two-out, three-run double from Lyle Overbay that gave the visitors their first lead and sent Milwaukee to a 6-3 win at Dodger Stadium.
"To steal one, pretty much take it out of their pocket, is huge for us," said Brewers closer Francisco Rodriguez, who matched Rollie Fingers for 11th all-time with 341 saves.
But just as big, manager Ron Roenicke noted, was what Brewers batters did do while they weren't getting hits. They let Dodgers starter Zack Greinke throw 99 pitches over only five innings on an uncharacteristically wild night, working five walks with two outs over one strange stretch from the third inning through the fifth. None produced any runs, but the result in the second half of the game was four innings of at-bats against a Dodgers bullpen that has been the club's weak spot of late.
In the eighth inning, Brewers hits started falling. Veteran Dodgers right-hander Jamey Wright was touched for five runs and four hits in one-third of an inning. His relief, sinkerballer Brandon League, surrendered the Overbay hit that decided the game. Carlos Frias surrendered another Brewers run in the ninth.
The Brewers remained two games ahead of the second-place Cardinals in the National League Central, with the Pirates 3 1/2 games back.
"We had a lot of really good at-bats," Roenicke said. "I know we didn't get a lot of hits off Zack, but the guy knows what he's doing. Just working the count, I thought, was really important."
He added: "We don't do that very often."
The Brewers usually look more like the lineup that was swinging away in the eighth inning. Scooter Gennett hit the third pitch he saw from Wright for an RBI single that put the Brewers on the scoreboard. Davis followed by hitting the second pitch for a tying double.
Later in the inning, with two outs and the bases loaded, Overbay delivered the big blow. He served League's fastball down the left field line for a 5-2 lead, Overbay's eighth hit in 18 pinch-hit at-bats this season.
"We don't panic," Overbay said. "We'll grind it out and find ways to win, and we did."
Dodgers manager Don Mattingly lamented not beginning the eighth inning with League.
"I think if I could look back and do anything different, that's what I would do," Mattingly said. "Jamey had been throwing the ball good. But if I could do anything different, I think it would've been to flip that and give [League] those guys."
The rally made a winner of Brewers reliever Brandon Kintzler but came too late for rookie right-handed starter Jimmy Nelson, who keeps pulling aces. In his first extended stint of starts in the Major Leagues, Nelson has matched up against the Cardinals' Adam Wainwright, the Reds' Homer Bailey, the Mets' Jacob deGrom, the Giants' Tim Lincecum and the Dodgers' Clayton Kershaw and Greinke, a mix that has produced five Cy Young Awards and five of baseball's last seven no-hitters.
Nelson delivered his fifth consecutive quality start, holding the Dodgers to two runs on six hits in six innings, with a walk and four strikeouts. But he has won only once in those games -- against Lincecum on Aug. 5 at Miller Park, when Nelson surrendered three runs in seven innings and the Brewers scored in the seventh inning to win, 4-3.
The Dodgers followed a formula to score against Nelson on Friday: Get Major League Baseball's top stolen-base threat on board and let him go to work. In the first inning, Dee Gordon singled, stole second base and took third on Brewers catcher Jonathan Lucroy's errant throw before scoring on Yasiel Puig's single. In the fifth inning, Gordon reached on a fielder's choice, stole second base -- after Nelson threw over five times -- and scored on another Puig single.
Each time, Nelson limited the damage to that lone run.
"Jimmy was good. I liked his command," Roenicke said. "His fastball was mostly down in the zone. He threw some really good sliders. So yeah, I thought that was one of his better games."
The Brewers had their chances against Greinke, who matched a season high with five walks -- only the eighth time in 284 career starts he'd walked that many. All five came with two outs from the third inning to the fifth. In the fourth inning, Greinke walked three consecutive batters with two outs to load the bases.
Each time, Greinke escaped with a strikeout and kept the Brewers off the scoreboard.
"Obviously, the last two innings didn't go very well for us," Mattingly said. "They did get to [Wright]. He'd been throwing the ball really well. He'd been asked a lot of lately."
Adam McCalvy is a reporter for MLB.com. Read his blog, Brew Beat, and follow him on Twitter at @AdamMcCalvy. This story was not subject to the approval of Major League Baseball or its clubs.