Dodgers' bullpen stung by Brewers' rally
LA feels effects of depleted pitching in five-run eighth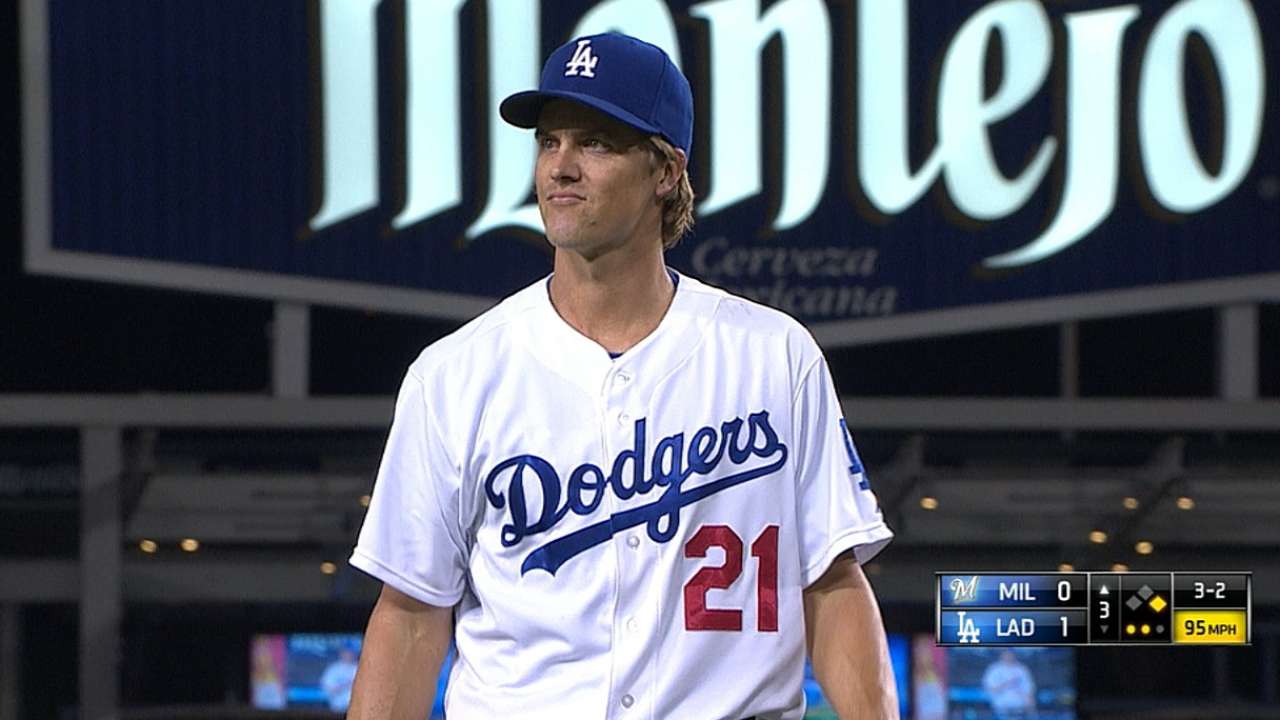 LOS ANGELES -- The Dodgers felt the domino effect of placing five pitchers on the disabled list this month by letting one get away late to the Brewers on Friday night, 6-3, while also possibly losing third baseman Juan Uribe to another hamstring injury.
With an extra day of rest for his elbow, starter Zack Greinke came out firing 95-mph fastballs. He needed 99 pitches to get through only five scoreless innings on two hits and was relieved with two scoreless innings from rookie Pedro Baez.
But 39-year-old setup man Jamey Wright, who pitched 2 1/3 scoreless innings on Wednesday, allowed four consecutive one-out hits (including one broken bat, one not leaving the infield) in the eighth inning before Brandon League was stung by a tiebreaking three-run double from left-handed pinch-hitter Lyle Overbay, all five runs charged to Wright.
"To steal one, pretty much take it out of their pocket, is huge for us," said Milwaukee closer Francisco Rodriguez.
Manager Don Mattingly said closer Kenley Jansen (four-out save Thursday) and Brian Wilson (tagged for three runs Thursday) were unavailable. J.P. Howell (rested since Tuesday) never warmed up either, and for that Mattingly second-guessed himself for starting the eighth inning with Wright instead of League.
"I think if I could look back and do anything different, that's what I would do," he said of reversing their use. "Jamey had been throwing the ball good. But if I could do anything different, I think it would've been to flip that and give [League] those guys. I think we would've use J.P. there. If we used Brandon in the eighth there, I would've used J.P. in the ninth."
Mattingly said he didn't like the matchup of the left-handed Howell against the right-handed heart of Milwaukee's order in the eighth. He said he was saving Howell to pitch the ninth, so Howell wasn't warmed up to face the left-handed Overbay in the eighth with the game tied at 2-2.
"That section in the eighth wasn't good for him," said Mattingly, who used Howell for only one batter in the three-game series in Milwaukee last weekend. "We didn't feel it was the right spot for him."
Mattingly wasn't the only Dodger questioning himself. Greinke conceded he might have been too tentative pitching to the Brewers' loaded lineup that scored four runs off him last week, leading to the high pitch count and early exit Friday night.
"I was probably being too fine on some of the walks, but they battled and made it tough for me," said Greinke. "Maybe I was too worried about giving up home runs with as much power as they have in the lineup. But I pitched too much to avoid mistakes than with confidence. Mainly, I didn't attack enough.
"They've got a bunch of power. I shouldn't give them too much credit, but you can't blindly attack either."
Greinke, who confirmed his arm hasn't been strong in recent starts, said he felt "really strong" in this game, confirmed by velocity readings of 95 mph.
"I'm starting to feel better, now I hope I start pitching better," he said. "It's been a month-and-a-half tough stretch against good teams and good offenses. I've been trying to keep it together and not get out of whack."
To open the nine-game homestand, Yasiel Puig had three hits, drove in two runs and scored the other. Dee Gordon had two hits, two runs and two stolen bases.
Gordon repeated his Maury Wills act for the first run. He reached on a perfectly placed infield single leading off the bottom of the first, stole base No. 55, continued to third when catcher Jonathan Lucroy's rushed throw sailed into center field and scored on Puig's sharp single up the middle.
The Dodgers batted for Greinke in the bottom of the fifth inning with Darwin Barney, who was hit by Jimmy Nelson's first pitch, then erased on Gordon's fielder's-choice comebacker. That put Gordon on first base, only until he stole second (No. 56), and Puig's single up the middle brought him home again.
After the Dodgers fell behind by three runs, Puig led off the eighth inning with a double, took third on a wild pitch and scored on Matt Kemp's sacrifice fly. But the Brewers tacked on an insurance run off rookie reliever Carlos Frias.
Uribe left the game after six innings with tightness in his right hamstring. He missed more than a month with the same injury earlier this year.
Ken Gurnick is a reporter for MLB.com. This story was not subject to the approval of Major League Baseball or its clubs.