Porcello, Tigers fall out of playoff spot with loss
Righty allows five earned runs in six innings vs. Seattle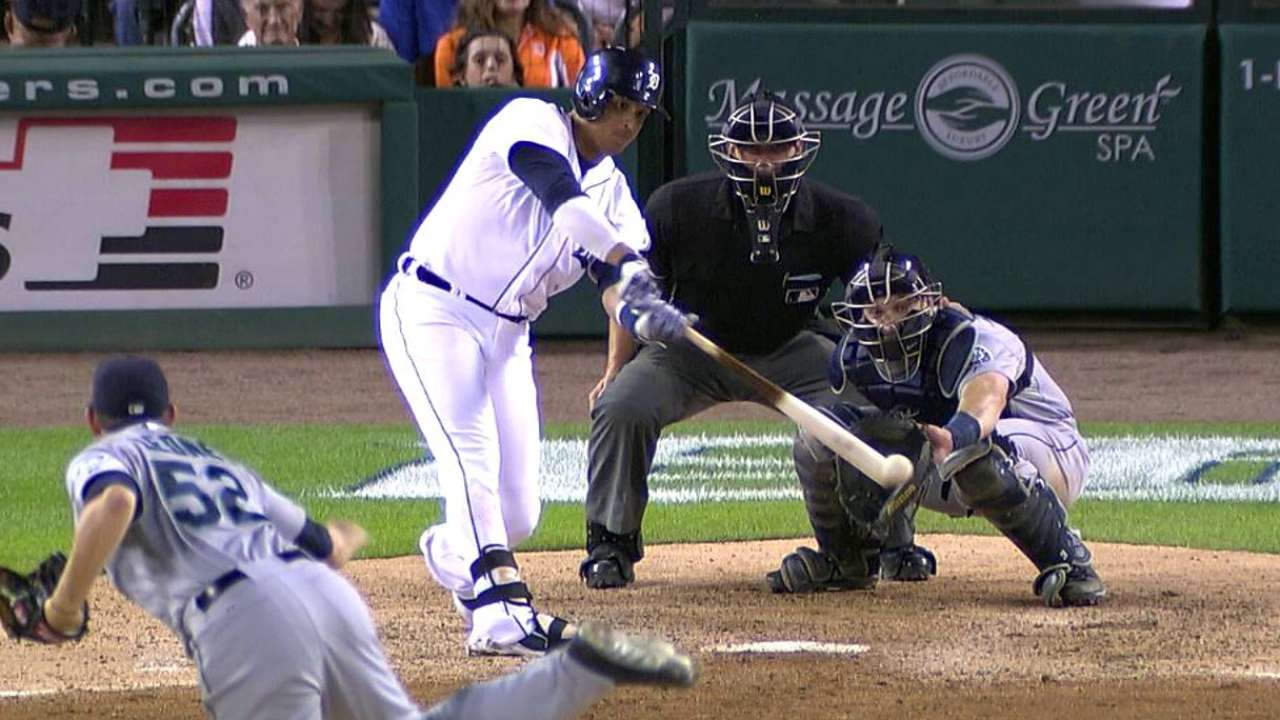 DETROIT -- If the playoffs began now, the Tigers wouldn't be in them.
If the playoffs began now, the World Series would also be done by the time football season kicked off. The Tigers would also have played a game or two fewer than any other team in the Majors thanks to makeup games to come.
Still, for a team two weeks removed from a trade designed for a World Series run, the point stands after Friday's 7-2 loss to the Mariners knocked the Tigers 1 1/2 games behind the Royals in the AL Central and one-half game behind Seattle for the second Wild Card spot.
The M's and Tigers have the same number of losses (55), but Seattle has one more win (66). They have a lot of season left, and the Tigers still technically control their own destiny on a playoff spot.
They also have a lot of work to do to get there.
"I'd much rather be in first place up by 15 games, but that's not the case," manager Brad Ausmus said. "We're just going to keep going. There's a ton of baseball left. We didn't win tonight, but we can't change it, so we'll come back tomorrow against a very tough pitcher. But luckily for us, they're going against a tough pitcher as well."
That's the first-ever matchup between David Price and Felix Hernandez, which the Tigers need to win to have a chance of taking the series.
If the red-hot Royals weren't enough for the Tigers to endure in the standings, the surging Mariners present a direct challenge this weekend. Seattle's 2.94 ERA represents the entire pitching staff for the season, not just a hot streak for the rotation, or just Hernandez's work. It includes the limited work of rookie left-hander James Paxton, whose fifth outing this year saw him hold Detroit to a run on five hits over six innings despite just two strikeouts.
The combined efforts for such an ERA gives opponents little margin to withstand a bad start. Five days after Rick Porcello kept the Tigers alive in Sunday's 19-inning marathon by holding off the Blue Jays for two innings, he was just about out of the game after two innings Friday.
"I was up in the zone the whole night, didn't make the proper adjustments to get the ball down. Just didn't pitch well at all," he said. "This wasn't a good performance on my part, put us out of the game early."
Porcello has put together a career season in no small part by avoiding the big inning that used to trouble him in past years. He had allowed only one three-run inning in the past two months, a sign of his recent ability to make adjustments on the fly.
On Friday, the big inning got him with a three-run second, and it came against the bottom half of the Seattle order without an extra-base hit. A two-strike hit-by-pitch to Mike Zunino came back to haunt Porcello amidst a flurry of four singles, two of them for RBIs.
One of those singles was a bunt by rookie shortstop Chris Taylor that was seemingly spinning towards the foul line when it hit the ground. Rookie third baseman Nick Castellanos scooped it and tried to make a play at first, but Taylor had the base easily.
"My instinct watching it was that it was going to roll foul," Ausmus said. "I think the spin on the ball caught Nick a little bit off guard and his instinct was to grab and throw it. … I think if that same play occurred again with Nick, I think he'd probably end up letting it go and take his chances that the ball would go foul because he wasn't going to get him at first anyway."
Considering the third run came in on an Austin Jackson double play with the bases loaded and no outs, Porcello could have given up more. He did once Robinson Cano turned on a hanging curveball on the first pitch of the third inning for his 11th home run of the year and a 4-0 Mariners lead.
Porcello's six runs, five earned, marked his highest total since the Rays roughed him up July 6. Melvin Mercedes pitched two perfect innings in his Major League debut before Ian Krol gave up a run that scored from third while Miguel Cabrera and Eugenio Suarez had a pickoff rundown at second.
"It's a play they clearly had set up," Ausmus said of the Mariners, managed by former Tigers hitting coach Lloyd McClendon. "I think as a team on defense, we have to be aware of that."
Jason Beck is a reporter for MLB.com. Read Beck's Blog and follow him on Twitter @beckjason. This story was not subject to the approval of Major League Baseball or its clubs.