Mariners down Tigers, take over Wild Card spot
Rookie southpaw Paxton goes six; Cano goes 2-for-4 with a solo shot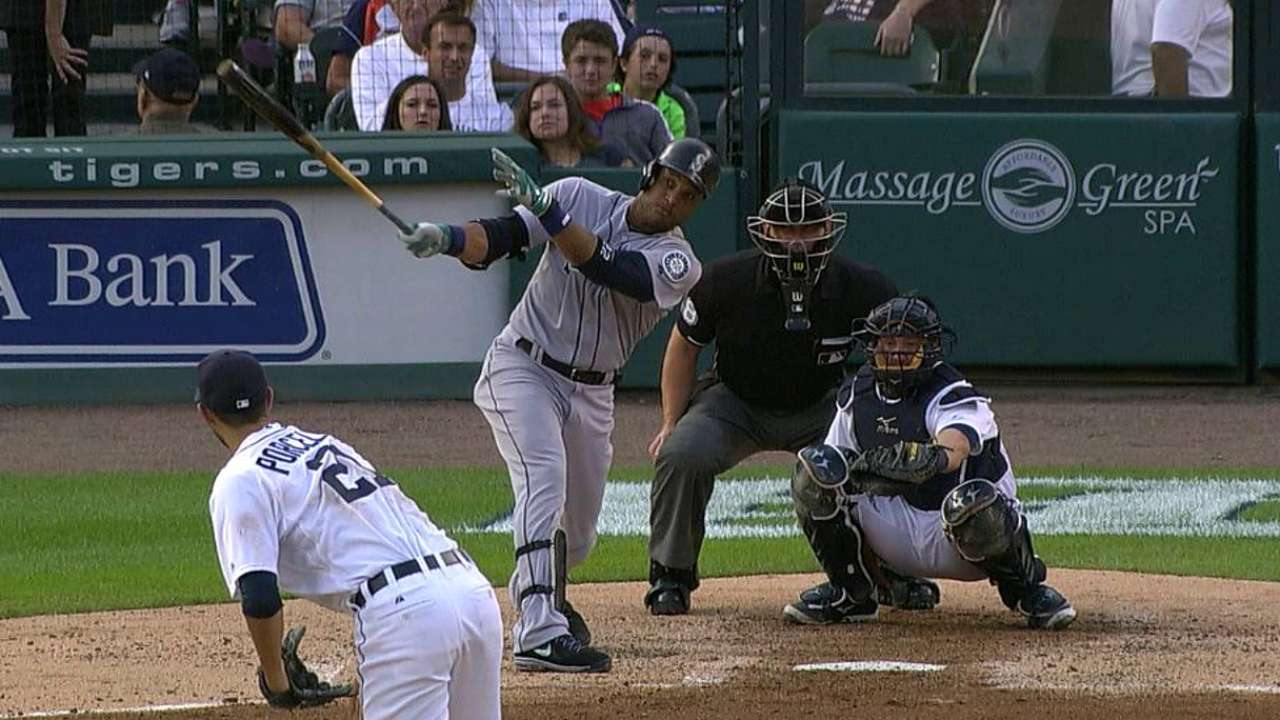 DETROIT -- The "welcome back" ovation Seattle's Austin Jackson received in his first at-bat was only the beginning of an enjoyable night for the Mariners.
Their second inning off Detroit starter Rick Porcello began with five consecutive baserunners and ended with Seattle having staked its starter, rookie James Paxton, to a three-run lead.
The early run support was plenty for a team that hasn't allowed more than three runs in 13 consecutive games. The Mariners took the first game of the weekend series with important playoff implications, 7-2.
The win allows Seattle, which has won five straight and nine of its last 10, to leapfrog the Tigers for the American League's second Wild Card spot.
It was clear early that Paxton, the southpaw, didn't have adequate command of his curveball. He trudged his way through the Tigers' lineup, though, relying heavily on his primary pitch -- the fastball. In six innings, he allowed just one run off five hits.
"It was definitely a battle tonight," Paxton said. "I just didn't have a good feel for my release point on my offspeed stuff. Fastball was feeling good. I'm lucky it was."
A handful of times, when Paxton reached for the breaking ball, it landed several feet in front of his catcher, Mike Zunino. He said he'll need to focus on the release point problem before his next start.
Despite the command issues, Paxton walked just one batter. He simultaneously kept the ball on the ground and his shortstop busy. Chris Taylor had eight assists on the night, including a diving stop of a would-be RBI hit from Victor Martinez.
"The defense was great behind me today," Paxton said. "They made some amazing plays, and that helps."
Zunino said Paxton's ability to sprinkle in another pitch, a changeup, for strikes was key to his success Friday. Paxton apologized to Zunino for the hard work on the curveballs in the dirt, but Zunino wouldn't hear any of it.
"I said, 'It works, don't apologize,'" Zunino said.
It certainly worked against Jackson in his homecoming. The center fielder went 0-for-5 in his first game at Comerica Park as a visitor after being dealt from Detroit at the non-waiver Trade Deadline. Though the brightest moment of his night, the ovation, came before he even stepped into the batter's box, one of the Mariners' three second-inning runs scored when he grounded into a double play.
"It was fun to come back and get that standing ovation," Jackson said. "Special moment."
The twin killing that Jackson hit into ended Seattle's parade to first base in the second inning. After a Kyle Seager single, Zunino was hit by a pitch for the league-high 13th time. Logan Morrison, Endy Chavez and Taylor each followed with a single.
The outing was the worst of Porcello's second half. In six innings, he allowed five earned runs off 10 hits. Whatever the tall righty threw at the Mariners, they batted it right back at him. Half of their hits off Porcello went straight up the middle.
"Rick didn't have his best stuff tonight," Seattle manager Lloyd McClendon said. "Probably elevated a little bit. We had some good at-bats."
A couple of those solid at-bats came from Robinson Cano, who extended the Seattle lead to 4-0 in the third with a solo home run to right field. In the fourth, Morrison doubled then scored on a single by Taylor. The Mariners scored for the fourth consecutive inning in the fifth when Seager singled to right, scoring Cano, who also had singled.
The Tigers got one run back in the eighth. Martinez singled home Miguel Cabrera off Dominic Leone. But the lead went back to five runs in the ninth, thanks to a Brad Miller triple, and Danny Farquhar slammed the door shut in the home half.
Matt Slovin is an associate reporter for MLB.com. This story was not subject to the approval of Major League Baseball or its clubs.