Braves smack four homers to cruise past A's
Wood delivers quality start, giving up two runs over six frames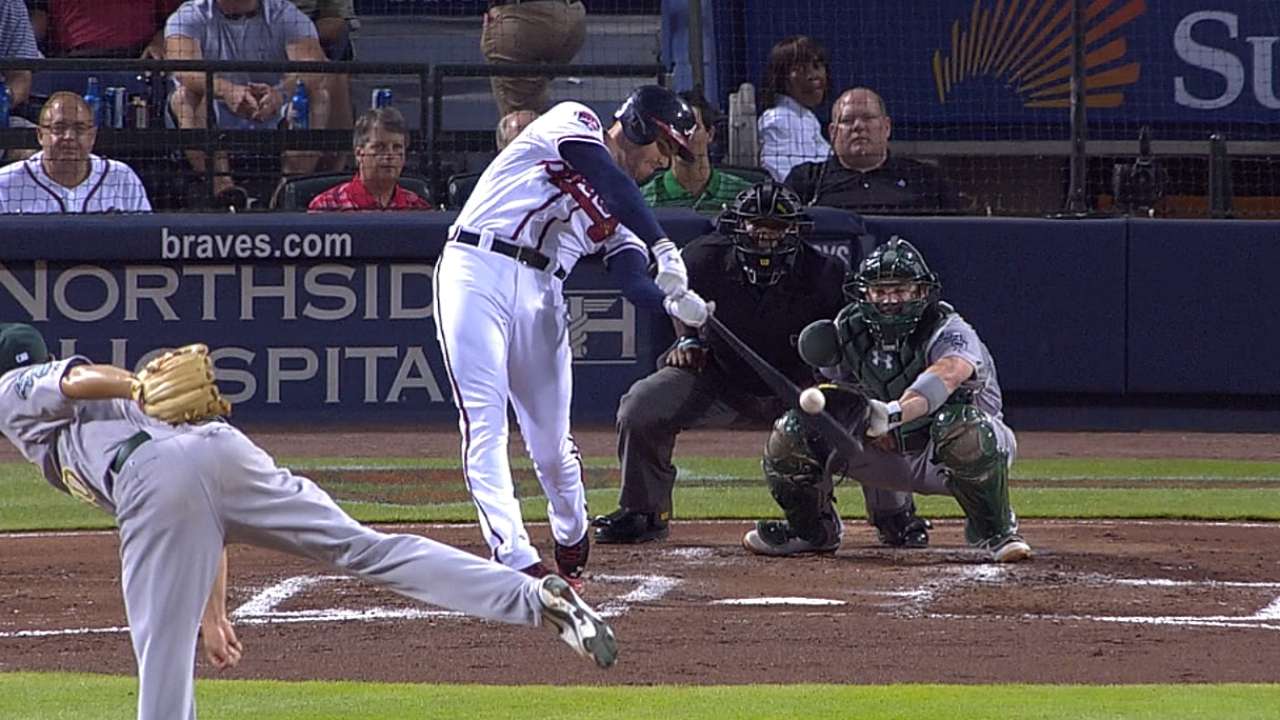 ATLANTA -- Having lost three of four to the Los Angeles Dodgers to start the week and heading into a weekend series with the Oakland A's, the Atlanta Braves were left for dead by some.
How fitting, that the Braves offense came to life on Zombie Night at Turner Field.
Fitting and quite welcome.
Freddie Freeman, Justin Upton, Evan Gattis and Phil Gosselin homered as the Braves jumped out to a 5-0 lead after three innings. Alex Wood threw six strong innings to continue his strong second half, as the Braves buried the A's, 7-2, in the opener of their three-game weekend series.
"We swung the bats well, got on the board early and we were able to add on some runs from the home run, obviously, we hit four," said Braves manager Fredi Gonzalez, whose team raised its record to 42-18 when hitting a home run. "April, May, it's a marathon. But all of a sudden you're in the middle of August and it's a sprint. We've got to get going. We've talked for three or four games now about how the approach has gotten better, maybe not the results. Today we hit some balls hard. Even some outs that were hit were hit hard."
Atlanta's offense, which showed signs of coming to life on Thursday afternoon, in the finale of its four-game set with the Dodgers, started booming in the second inning. Upton, who left Thursday's game in the eighth inning with a mild left hamstring strain, left no doubt that he was OK, blasting an 0-1 offering from Hammel out to left-center for his team-leading 22nd homer of the season. One out later, Gattis crushed a 1-0 pitch out to center for his 18th homer and only his second since coming off the DL on July 21.
"That's big," said Freeman. "That DL stint kind of got him off track. The home run to center field usually is a telltale sign that he's starting to feel good again."
The next inning, Jason Heyward smashed a one-out single to center, Gosselin, starting at short for Andrelton Simmons, followed with a single up the middle and Freeman launched home run No. 17 over the wall in center.
Gosselin, making his first career start at shortstop, added his first career homer, a two-run shot in the sixth, to extend the lead to 7-2.
"It was awesome," he said of his second career multi-hit game and first since last Aug. 18 against Washington. "Just to be able to contribute to a win tonight and get the series off on the right foot. It was fun to be out there."
It also was fun playing behind Wood.
"A lot of ground balls, kept us involved in the field and he worked quick," Gosselin said. "Me and [second baseman] Tommy [La Stella] were saying it's so fun to play behind him because he just gets it and goes and goes right at guys. It was a lot of fun to watch him tonight."
Wood won his second straight start and held opponents to two or fewer runs for the seventh time in his 10 outings since rejoining the rotation in late June. It's only the second time the Braves scored as many as five runs with him in the game. Wood allowed four hits and two runs, both scoring on a fourth-inning Nate Freiman homer. He threw 58 strikes out of 96 pitches, 10 more than Gonzalez had planned.
"I don't even know why you guys are talking to me," Wood said. "The offense was so good tonight. They scored a bunch of runs. It felt like old times tonight. Hopefully that's a good sign for things coming the rest of the weekend and down the stretch."
Signs didn't appear to be pointing to a long night for him early on, as his pitch count got way up early. But he fought through.
"Those guys were pesky and kept fouling balls off," said Gonzalez. "The pitch count kept getting up and up, but he caught up. He caught up the last couple of innings and he was able to maintain the pitch count."
Wood, who had faced only Jonny Gomes previously on the A's roster, pitched out of a minor jam of his own making in the first inning, with a little help from a video review. After walking Gomes and third baseman Josh Donaldson with one out, Wood tried to pick Gomes off second. Originally, the A's left fielder was ruled safe, but the call was overturned on review. Oakland would leave two men on in the inning and couldn't get much going against Wood thereafter, as he retired the final eight hitters he faced, including two on a 9-6 double play that ended the fourth.
"We have a really active middle infield. That's one of the ways we limit the running game, our active middle infield and keeping guys from stealing a lot of bags," Wood said of the pickoff. "That early in the game, that big a lead at second base, we kind of went for it and kind of took us out of a sticky situation."
The Braves went 1-2-3 in the first, but then broke things open against Hammel, who lasted three-plus innings, his shortest start of the year, allowing five runs on six hits, three of them homers. The three homers tied his season high and were the most since coming over to Oakland. He's now allowed multi-homer games in three of his last six starts. He had one in his first 17.
The damage must have looked all too familiar to Hammel. Wanna talk about how familiarity breeds contempt?
Freeman (4-for-5, .800), Gattis (2-for-3, .667), Heyward (7-for-12, .583) and Upton (7-for-27, .259, one homer, seven RBIs) came into Friday a combined 20-for-47 (.426), with both home runs and nine of the team's 13 RBIs against Hammel. Each had a hit, including the three homers, they scored three of the runs his five runs and all five RBIs.
Chris Johnson, who came in hitting .750 career off Hammel, also had a hit, adding a ground-rule double in the third, that center fielder Coco Crisp lost in the lights.
"It was a good night," said Freeman. "We came at them real tough early and kept going all game. That's what we need to keep doing from this day out."
Jon Cooper is a contributor to MLB.com. This story was not subject to the approval of Major League Baseball or its clubs.