Hammel falters as Braves power past A's
Righty allows three homers over three-plus innings in series opener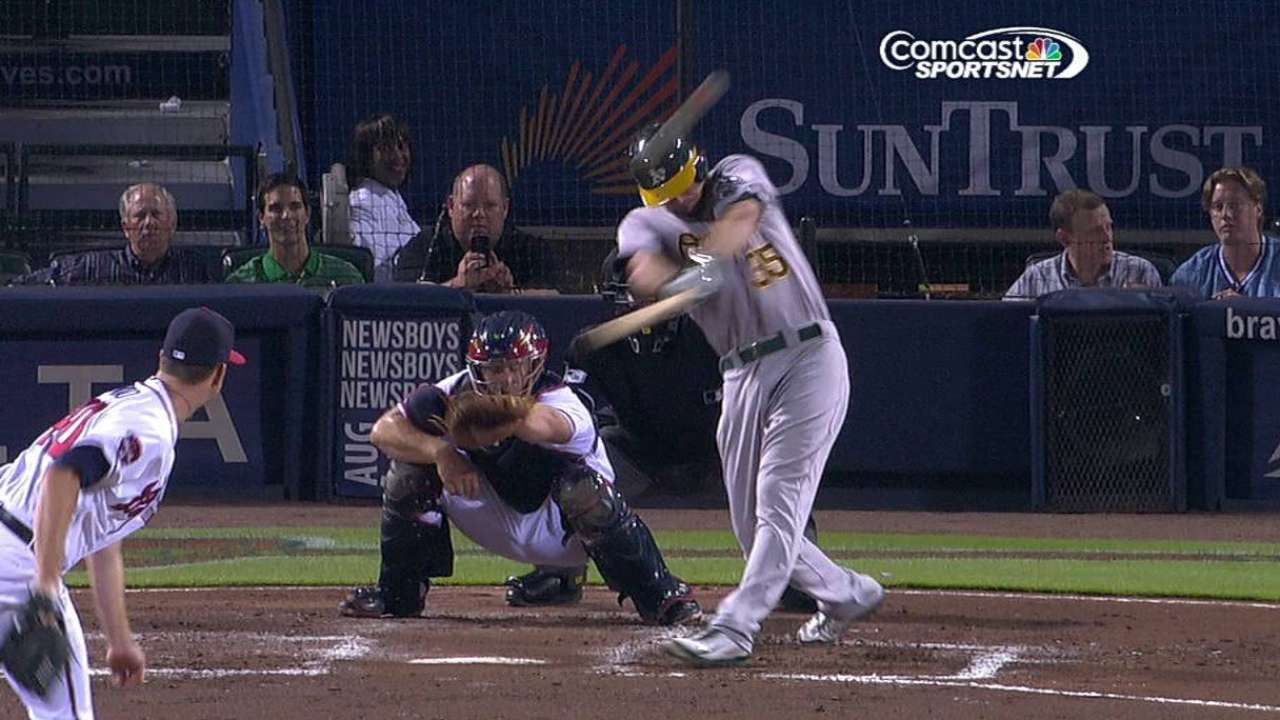 ATLANTA -- Jason Hammel's struggles since joining the A's continued as he gave up three home runs in a 7-2 loss to the Braves on Friday night at Turner Field. The defeat shrinks Oakland's lead in the American League West to only one game.
The A's have lost three straight games, their longest losing streak since the Tigers swept them in three contests from June 30 to July 2 in Detroit.
"Honestly, it's just going to be forgotten about. Quick memory tonight," Hammel said. "It [stinks]. It's not acceptable."
Hammel and Jeff Samardzija joined the Athletics as part of a five-player trade with the Cubs on July 5 that positioned Oakland as a World Series frontrunner. Samardzija has delivered with a 3.21 ERA in eight starts, but Hammel has floundered.
After holding opponents to a .222 batting average and compiling a 2.98 ERA and a 4.52:1 strikeouts to walks ratio in 23 starts with Chicago, Hammel has seen those numbers slip to .319, 6.75 and 1.24:1 in seven outings with Oakland.
Hammel's rough night came on the heels of two straight strong starts during which he limited the Rays and the Twins to one combined run in 12 innings. Hammel feels those outings are his true form and is confident that Friday was just a setback.
"It's not like I wasn't doing it [pitching well lately]," Hammel said. "The last two games were great, so chalk it up to a bad one and we'll get back to work."
His season-high-tying three homers allowed accounted for five earned runs in three-plus innings as Hammel tossed 60 pitches. That was only two more than the season-low 58 he threw against the Orioles on July 19.
Nine of the 19 home runs Hammel has surrendered this year have come with the A's. The first two were solo shots by Justin Upton and Evan Gattis in the second before Freddie Freeman blew the game open with a three-run shot in the third.
"The balls they hit out of the ballpark were up," Melvin said. "When he's down, he's really effective, which is probably consistent with any pitcher."
"I've got to keep the ball in the yard. That's the bottom line," Hammel added. "Two fastballs that were outer third that were hittable and then a slider to Freeman with guys on base. Three-run homers do some damage, solo homers you can deal with. That third one was obviously a big one, so once again, the execution on those three pitches just wasn't good."
Phil Gosselin added a two-run homer, the first of his career, off Jesse Chavez in the bottom of the sixth after Nate Freiman botched a two-out grounder to first off the bat of Jason Heyward in the previous at-bat.
Gosselin's two-run shot negated the damage done by Freiman's own two-run blast off Alex Wood two innings earlier in the top of the fourth, his second of the season and his sixth career homer in 252 plate appearances.
"I didn't come and get it aggressively enough," Freiman said of Heyward's grounder. "It was hit slow, and I just allowed it to take one too many hops before it got to me and that last hop got me. I needed to get in there a little quicker and take that last hop away.
"I think nights can change quickly. I think that error with the home run gave them back some momentum we had after closing the deficit to three, so even though we ended up getting those runs back, I think that was a big momentum shifter."
Freiman's home run was one of four knocks on Wood in six innings as the Atlanta lefty kept Oakland from capitalizing on its other five baserunners. One of those, Jonny Gomes, was picked off by Wood at second in the top of first.
Gomes was one of three A's baserunners in the first inning, but Oakland failed to capitalize on the quick start. The Athletics only put three men on base for the remaining eight innings.
"I really thought in the first inning we were going to have a nice offensive day because we made him work," Melvin said. "We were taking pitches, we were doing a lot of things we do when we play well and then we just couldn't sustain it."
One of those baserunners was Alberto Callaspo, who was doubled off by Heyward after an Andy Parrino flyout in the fourth.
"[Callaspo] thought the ball was down for a hit," Melvin said. "So, it's not like he forgot the outs."
Oakland will end its current road trip with a losing record, marking only the second time the club has done that this season. The A's have also lost five of their last six as they try to soldier on without injured contributors Craig Gentry, Nick Punto and Jed Lowrie.
With the Angels' win over the Rangers on Friday, Oakland's lead in the AL West is down to one game.
"We were bad," Melvin said. "We didn't play very well in pretty much all facets tonight."
Joe Morgan is an associate reporter for MLB.com. This story was not subject to the approval of Major League Baseball or its clubs.