Thrill of the climb: Cobb leads Rays back to .500
Club, 18 under on June 10, evens record for first time since April 22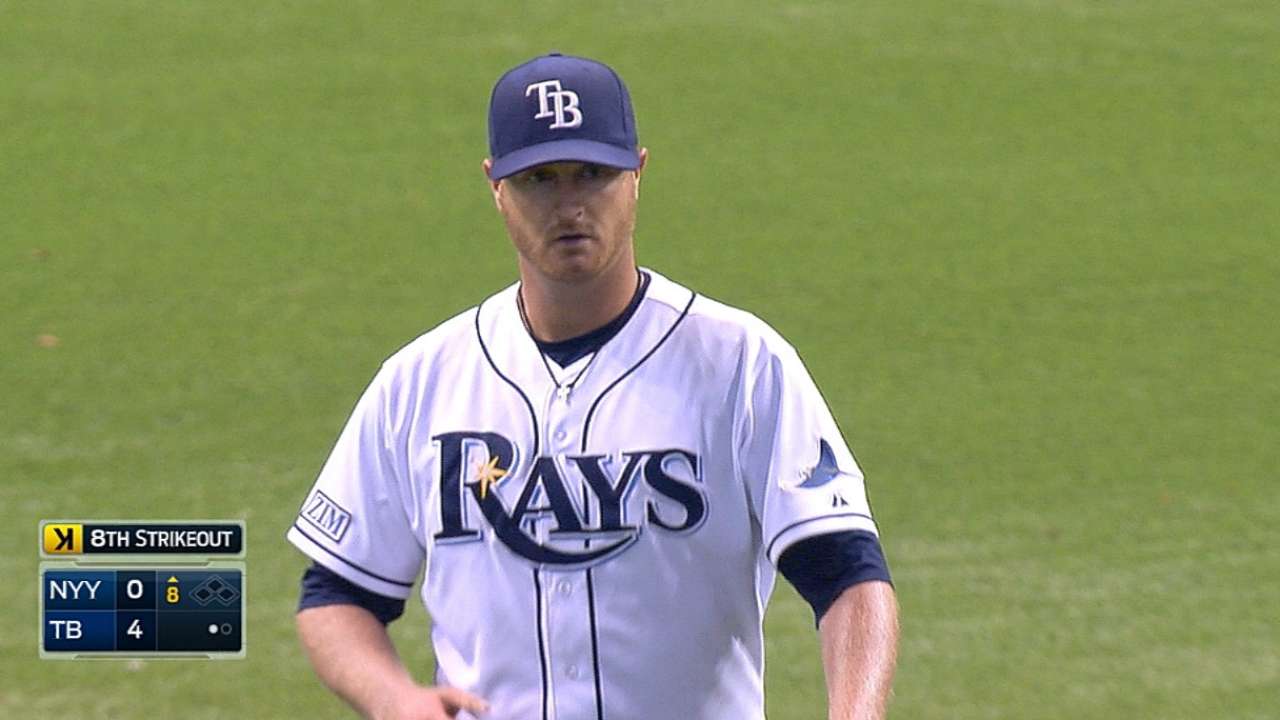 ST. PETERSBURG -- It was a pipe dream on June 10, not yet visible around the curvature of the baseball earth from where the Rays were wallowing. By July 29, they could taste it, but it slipped away, staying just out of reach. But now, two months and five days after Tampa Bay dropped to a Major League-worst 24-42, the Rays are finally back to .500.
With a 5-0 win in their series opener against the Yankees on Friday night, the Rays accomplished what only three other teams in Major League history -- including the 2004 Tampa Bay club -- have done: come from at least 18 games under and get back even. The '04 Devil Rays were also 18 games under, joining the 1899 Louisville Colonels (22 under) and the 2006 Florida Marlins (20 under).
Alex Cobb's gem at Tropicana Field pushed the Rays to 61-61, the first time they've had as many wins as losses since April 22, when they were 10-10. That means more than 100 games passed -- 51 wins, 51 losses -- since they were last a .500 team.
"I don't have any emotions, really, right now, thinking about it," Ben Zobrist said. "Obviously we're in the middle of August still, and it's just been a battle for a long, long time to try to get back to this point. So, yeah, it's good that we finally got here, but we don't feel like we're done."
They can't be done, not if they want to become the first team of those four to actually make the playoffs. None of the other three even finished their seasons as .500 clubs.
"Well, [.500] wasn't our goal," manager Joe Maddon said. "If you want to talk about a sub-goal, we've got to get back -- because you can't get into the playoffs unless you get there, obviously.
"To get back to even ground is very important, in that we can look forward. It's still about winning series. We won the first game against a really good Yankees team."
Goal or not, it's taken a monster stretch for the Rays to get where they are. The Rays bottomed out at 24-42 on June 10, when they held the worst record in the Major Leagues. Since then, they've been one of the best teams in baseball, going 37-19.
They were close a few weeks ago, on July 29, when they were 53-54 before sliding back a few games. But on Friday, it was Cobb who finally got it done, hurling 7 1/3 stellar innings against New York, striking out eight and scattering six hits.
"He was stingy," Yankees skipper Joe Girardi said. "We got some guys on, but it seemed like he got better when we got guys on base."
On the offensive side, Tampa Bay scratched out a pair of first-inning runs against Brandon McCarthy -- both on fielder's choices, after the Rays loaded the bases with nobody out. They added two more in the seventh, on a Curt Casali RBI single and a Zobrist RBI groundout, and one in the eighth on James Loney's sixth home run.
The Yankees threatened in the eighth, when they loaded the bases with one out off Cobb and reliever Brad Boxberger. But Boxberger struck out Jacoby Ellsbury and Mark Teixeira to get out of the inning unscathed, prompting a roar from the crowd -- and a single, intense clap from an onlooking Cobb in the dugout.
"When you have the bullpen that we've got, especially Boxy warming up, you don't feel like you have to be perfect out there," Cobb said. "You can make mistakes. You can allow guys to get on base, and more often than not he's going to come clean up the mess."
With the strikeouts of Ellsbury and Teixeira, left-handed hitters now have one hit in their last 56 at-bats against the right-handed Boxberger.
How is a righty like The Box so much trouble for lefties?
"Let them figure it out," Maddon said.
Derek Jeter, playing his penultimate series in St. Pete, got a loud ovation of his own from the 26,535 in attendance when he stepped into the batter's box in the top of the first inning. But there was another round of applause when he walked out of the box -- from the Rays fans, after Cobb struck him out on three pitches.
Seven other Yankees hitters got that same applause, as Cobb, on top of his game, sent them back to their dugout. When the right-hander walked off the mound in the bottom of the eighth, doffing his cap to the crowd, he got the longest ovation of all.
Once the game was over, he got the chance to think about the road his team's taken.
"I'd be lying to say I knew we were going to get to this point," Cobb said. "I think Joe's the only one that's been saying that. I haven't believed him the whole time -- but I won't doubt him again."
David Adler is an associate reporter for MLB.com. This story was not subject to the approval of Major League Baseball or its clubs.