O's rally to force extras, fall in 11th on walk-off homer
Chen allows one run over seven; Hardy hits clutch single in return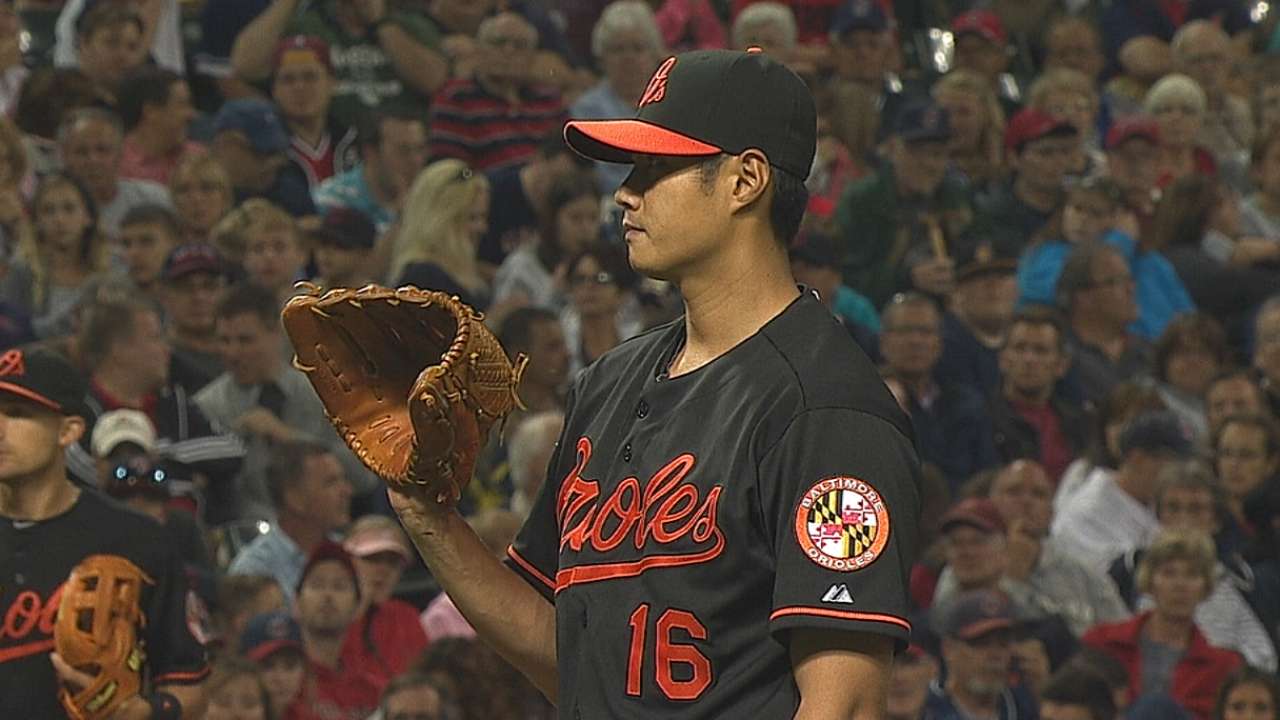 CLEVELAND -- The Orioles' bullpen, an impressive group that has helped carry them through a fantastic second half, couldn't hold on long enough.
First-place Baltimore, which watched lefty Wei-Yin Chen match American League Cy Young Award candidate Corey Kluber for most of the night, finally caved in the 11th as Brian Matusz allowed a walk-off homer to Mike Aviles in the 2-1 series-opening loss to the Indians on Friday night at Progressive Field.
The O's, who have a 7 1/2 game lead in the AL East, were able to come back from an early one-run deficit and got three scoreless innings from their bullpen before Matusz gave up the leadoff blast. It marked just the Orioles' second loss in their last eight extra-inning contests, with the team dropping to 12-5 overall.
"Us as relievers, we take a lot of pride in getting guys out and giving us the chance to win a ballgame," said Matusz, who recorded the final out of the 10th. "Right there with Aviles, 1-2 curveball, wanted to bounce it on the plate right there. Ended up giving a little bit up and he put a good swing on it. In those situations, it's no fun being on this side of it, but you learn from your mistakes, make better pitches and move forward."
The Orioles, who had won eight consecutive series-opening games and are one of the hottest teams in baseball, will do just that as they didn't lose any ground to divisional foes on Friday and continue to get solid starting pitching.
They needed it badly in facing Kluber, who has allowed two or fewer runs in 11 of his last 12 starts and was as dominant as expected.
"He's just worked himself into being one of the premier pitchers in the game," Indians manager Terry Francona said of Kluber, who struck out 10 and was engaged in a pitchers' duel with Chen for the first two-thirds of the game. "It's nice enough when you get a guy that can pitch, but when you go about it the way he goes about it and the way he got there, he's never content. He wants to be the best. And the way he works at it, he's not going to talk about it, because that's not his nature. But his actions are so good."
After failing to convert in a one-out bases-loaded spot in the third inning, the Orioles finally chased Kluber with the help of a peculiar eighth-inning delay.
Down a run, Adam Jones squared to bunt on Kluber's first pitch and pulled back, but the ball still struck the fingers on his right hand. Jones signaled to home-plate umpire Dana DeMuth that he had been hit, with Orioles manager Buck Showalter and head athletic trainer Richie Bancells also coming out to check on him.
After several minutes, Showalter argued that Jones had been hit by the pitch and wanted to challenge the call. But the play, which was examined for about 3 1/2 minutes after that, wasn't reviewable because first-base umpire Ron Kulpa had already overruled DeMuth and said Jones offered at the pitch. Showalter conferred again with the umpires after that, as did Francona, with the long delay giving Jones -- who eventually grounded out -- a 0-1 count.
"That's why the challenge was never lost. We were right on the challenge, but when they went back to the screen, Kulpa said he's got him offering at the pitch, which is not reviewable," Showalter said. "I wish they had said that -- would have saved us all a lot of time. That's why they had it wrong. Should probably get an explanation before they review it."
After Jones' groundout, Nelson Cruz singled on Kluber's 116th pitch, and the Indians ace exited in favor of reliever Bryan Shaw, with Delmon Young and J.J. Hardy -- returning to the lineup after missing three games -- tying things up with a pair of two-out singles.
Chen, working on eight days' rest, exited after seven innings and held the Tribe to one run on four hits with six strikeouts. The lefty allowed only Zach Walters' leadoff homer in the fifth inning, which scraped the left-field wall and held up as a home run after a crew-chief review.
"The last time I faced them, I used a lot of fastballs and sliders, so this time I decided to use some more changeups, and fortunately it worked pretty well," Chen said through his interpreter. "So that's one of the reasons I could get control of this game."
Brittany Ghiroli is a reporter for MLB.com. Read her blog, Britt's Bird Watch, and follow her on Facebook and Twitter @britt_ghiroli. This story was not subject to the approval of Major League Baseball or its clubs.