Brilliant Kluber picked up by 11th-inning walk-off HR
Indians ace strikes out 10 before Aviles launches winner in extras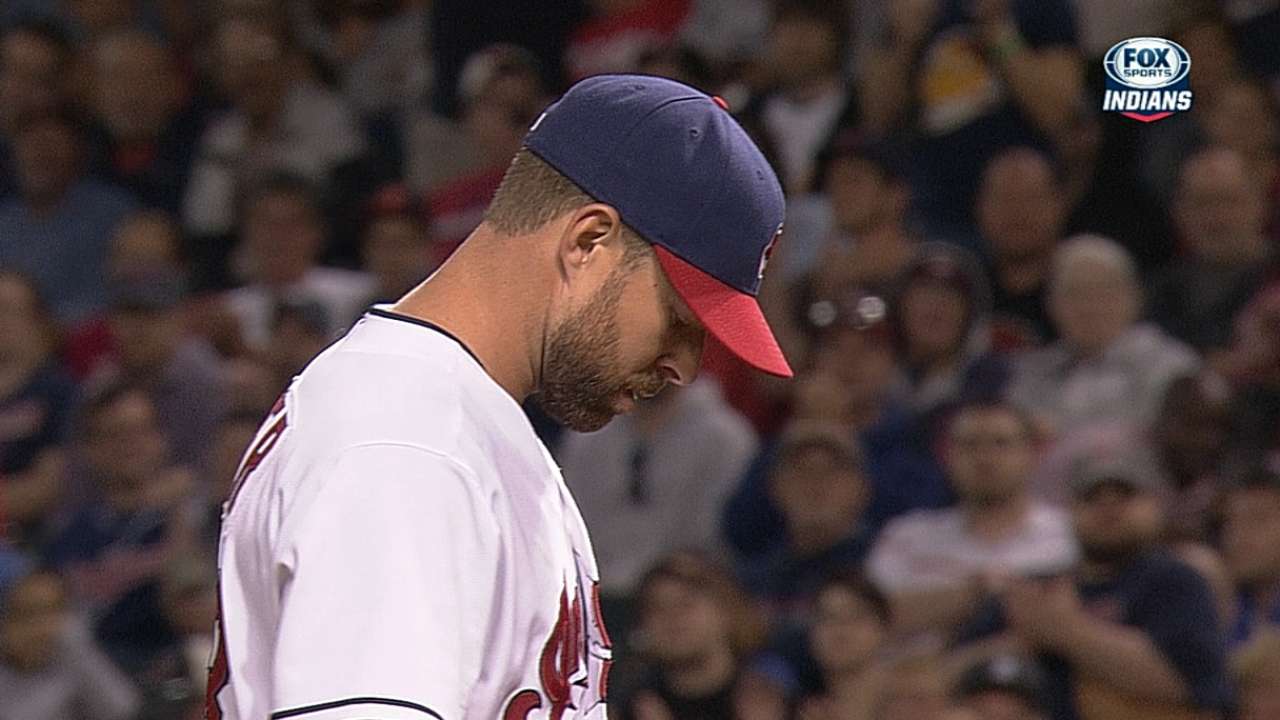 CLEVELAND -- Corey Kluber prides himself on his composure. No matter the situation at hand, there is no flash or frustration on display when the leader of the Indians' rotation is on the mound working.
In the third inning on Friday night, Kluber briefly broke character.
With the bases loaded and two outs, Kluber fired a curveball that was tempting enough to induce a feeble swing from Adam Jones. After first-base umpire Ron Kulpa confirmed that Jones' went far enough for a strikeout, Kluber quickly gave a hard slap of his glove, celebrating an impressive escape act early in Cleveland's 2-1, walk-off win in 11 innings at Progressive Field.
"I just thought it was a big moment in the game right there," Kluber said. "I felt like, to be able to work out of that jam kind of shifted the momentum in our favor a little bit."
Kluber exited in line for a win, but a lack of offense and a late lapse by Cleveland's bullpen saddled the starter with a no-decision, necessitating another night of late-inning heroics for the Tribe. In the decisive 11th frame, Mike Aviles pulled a pitch from Baltimore's Brian Matusz to the Home Run Porch in left field, delivering the victory as fireworks popped overhead.
The blast was the first career walk-off home run for Aviles, who stopped short of home and held out his arms, savoring Cleveland's traditional water dousing before proceeding to touch the plate. Aviles' shot marked the ninth walk-off win of the season for the Indians, who have enjoyed a Major League-high seven game-winning homers.
"It feels good," Aviles said. "I can honestly say, when I'm an old person and I've got grandkids, I can tell them, 'Yeah, that really did happen.' I'm excited for that one. They can't take that away from me."
The path to that moment was paved by Kluber.
Kluber, who has a 2.41 ERA this season, continued his unexpected American League Cy Young Award campaign with yet another stellar gem for the Indians. In his latest act, the right-hander stymied the Orioles for 7 2/3 strong innings, keeping Baltimore off the board for his first seven innings, while piling up 10 strikeouts and scattering five hits.
With his showing against the Orioles, Kluber became just the sixth Cleveland pitcher in the past 100 seasons, and first since Dennis Eckersley in 1976, to have at least eight double-digit strikeout games in one year. The others on that short list include Tribe greats Sam McDowell (five times), Herb Score (twice), Luis Tiant and Bob Feller.
Asked if he was running out of superlatives for Kluber, Indians manager Terry Francona smiled.
"My vocabulary's not that good, but I would attempt to," Francona said. "He's just worked himself into being one of the premier pitchers in the game."
Kluber also logged at least six innings with no more than one earned run allowed for the fifth consecutive start. That represented the longest such run for an Indians pitcher since Orel Hershiser had five such games in a row from June 19-July 12, 1996.
In the eight outings since Kluber's last loss on June 30, the right-hander has gone 6-0 with a 1.31 ERA, 70 strikeouts and nine walks in 62 innings. In the second half, all Kluber has done is spin a 0.76 ERA with 55 strikeouts, six walks and a .161 opponents' average across 47 2/3 innings (six starts).
"I think it's just kind of getting on a roll," Kluber said, "and continuing to do what I've been doing the previous starts. I'm not trying to go out there and do too much or change anything. I'm just kind of trying to stay the course."
The Indians' lone run against Orioles left-hander Wei-Yin Chen came in the fifth inning, when Zach Walters lifted a 2-2 pitch just over the wall in left field for a leadoff home run. The home run, which was confirmed by a crew-chief review, snapped a 16-inning scoreless streak for the Indians, whose previous run also came via a shot from Walters.
Baltimore effectively erased that run following Kluber's departure in the eighth inning.
After Nelson Cruz sent Kluber's 116th pitch (a season high) up the middle for a two-out single, Francona turned to setup man Bryan Shaw. Delmon Young and J.J. Hardy then connected for consecutive singles, the latter of which scored Cruz to pull the contest into a 1-1 deadlock.
In the midst of the top of the eighth, Orioles manager Buck Showalter stormed the field and wanted to challenge a check-swing strike call on Jones. Showalter argued that Kluber's one-out offering struck Jones in the hand, but the play in question was not one that could be challenged. The umpires reviewed the play and determined that it was a strike, as called.
Showalter continued to argue -- the delay lasted nearly four minutes -- making it appear that he was trying to throw Kluber off.
"I just didn't think it got handled correctly," Francona said.
"I'm not sure exactly what [Showalter] was asking about or arguing," Kluber said. "It was pretty lengthy. I don't think that's why we have the replay system, for him to go out there and try to interupt the flow of the game. In the end, it didn't really affect me."
When Kluber retired Jones on a comebacker to the mound, the pitcher's poise was again on display.
"Klubes didn't show any emotion, which is no different than any other time," Aviles said. "He still went out, kept doing what he had to do and that's the beauty of a guy like Klubes. Regardless of what's going on, he can still take a step back, take himself out of the situation, calm down and attack the hitter."
Jordan Bastian is a reporter for MLB.com. Read his blog, Major League Bastian, and follow him on Twitter @MLBastian. This story was not subject to the approval of Major League Baseball or its clubs.