White Sox bury Blue Jays with five-run frames
Offense piles it on in first and fifth; Abreu has three hits, three RBIs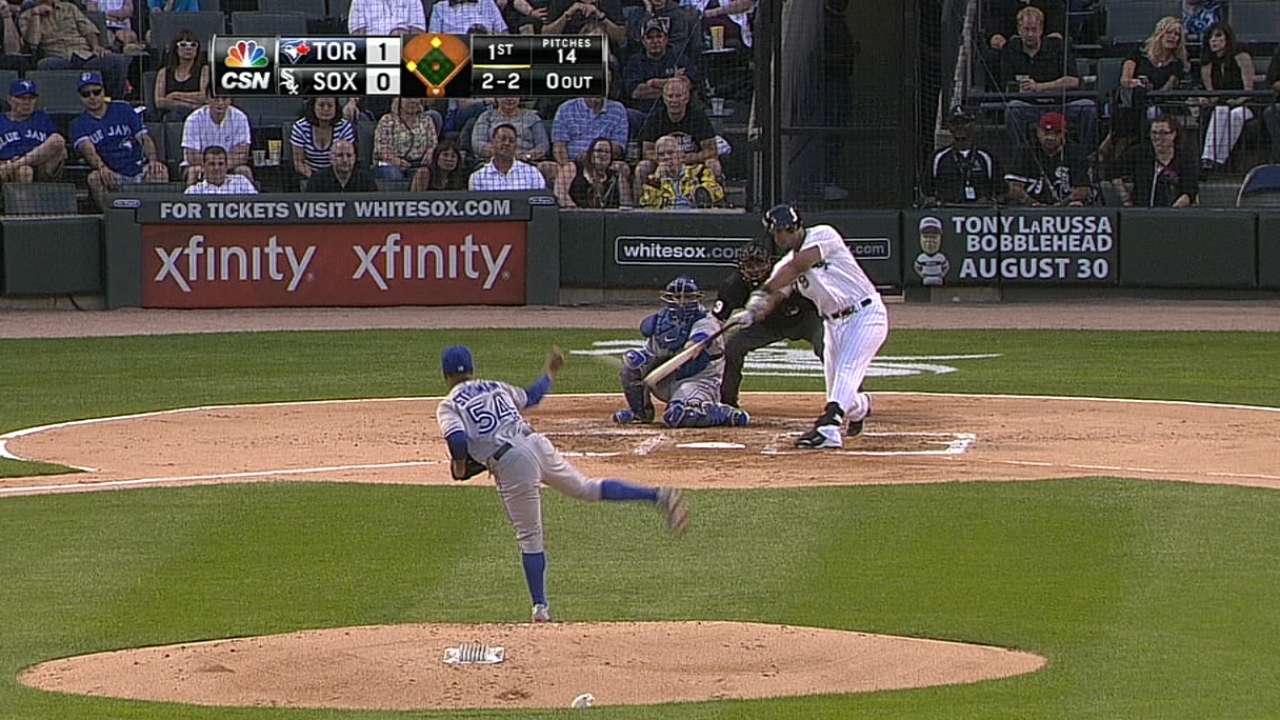 CHICAGO -- The White Sox reared a rowdy homecoming on Country Music Night on Friday at U.S. Cellular Field, dismantling the southward Blue Jays, 11-5, to ease the frustration of a frenzied road trip.
The White Sox, who hadn't scored more than three runs in their previous eight games, turned in five in two separate innings while batting through the lineup in those frames.
Their six straight hits in the fifth were a season high, and their 17 were three shy of a season benchmark. All starters had a hit with the exception of Tyler Flowers, who reached on a walk. Seven South Siders had a multi-hit game.
This all on the heels of a 2-4 road trip and 2-4 homestand after surging to start the second half of the season.
"You'd much rather have those than the ones [you] come from behind or something like that," said designated hitter Adam Dunn, who finished with two RBIs and tied a season high with three hits.
The White Sox forced their way into Blue Jays bullpen after just eight batters, scoring five runs on five hits.
The last Toronto starter relieved before the end of the first against the White Sox was Jim Clancy on July 11, 1982, according to Comcast SportsNet Chicago.
"You can't get enough runs against that team," Dunn said of Toronto, which ranks fifth in MLB with 547 runs. "They can put up runs in a hurry and we did a good job when we had opportunities to bust it open."
Hector Noesi worked through five-plus innings, allowing five earned runs on eight hits with four strikeouts and two walks.
Noesi has won four of his last six decisions, and has trimmed his ERA from 14.21 to 4.84 after being claimed off waivers on April 25.
"It means, to me, a lot because this is my dream right here -- being a star," said Noesi, who was a reliever during stints in Texas and Seattle before joining the White Sox. "Every time I go there and help my team, it's a lot to me."
Noesi was hit in the thigh but remained in the game. Alexei Ramirez also took a fastball off the hand in the second, but shook off what looked to be immense pain and trodded to first, later scoring.
"Obviously, he's played a whole lot of games and he plays every single inning every day," Dunn said. "When you look at him, he's built like a 12-year-old girl. I mean, it's amazing how he ... well, I don't mean it that way ... but it's true. He's very surprisingly durable and the kid just loves playing. ... Quote of the day?"
Jose Abreu went 3-for-5 with three RBIs. He remains homerless since July 29, yet still tied for the league lead with 31.
"You're looking at the professional side of his hitting. He does have all the power and I think everybody goes through a stretch where you don't quite have that feeling to hit homers," manager Robin Ventura said. "To be able to do it like that, it's a good message throughout our lineup of how you're trying to attack somebody and stay through the middle."
The second-place Blue Jays are 3-10 in August, 0-4 on their current road trip, after starting the second half 11-3. They are still in the hunt, however, for the second American League Wild Card spot, trailing Seattle and Detroit.
Daniel Kramer is an associate reporter for MLB.com. This story was not subject to the approval of Major League Baseball or its clubs.