MLB.com Columnist
Jim Callis
Pipeline Inbox: What's in store for Urias' development?
Jim Callis responds to fans' questions about baseball's top future stars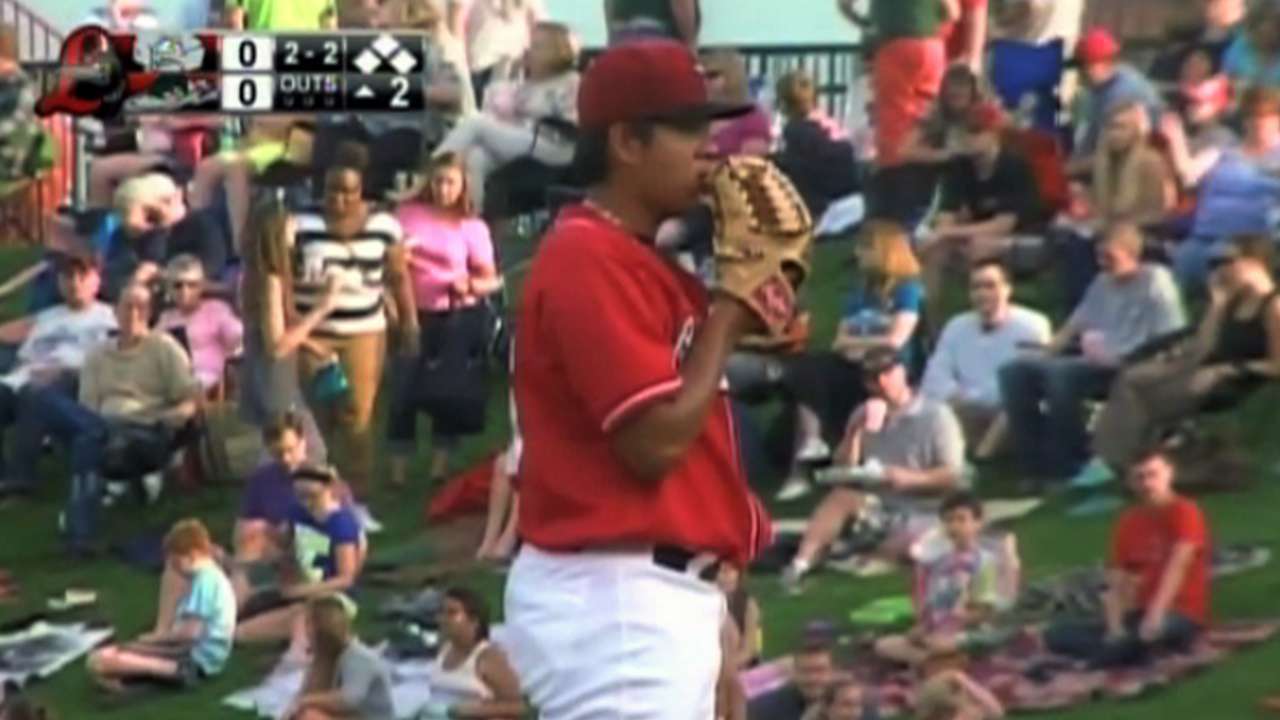 The 2015 First-Year Player Draft is still 10 months away, but players have been busy all summer trying to establish themselves. Top collegians have showed scouts what they can do with Team USA and in several summer leagues, with the Cape Cod League the most prominent among them. High schoolers have been busy on the showcase circuit, and one of the premier events will be held this weekend.
The Under Armour All-America Game will be played at Wrigley Field for the seventh straight year, this time under the lights. Forty-one high schoolers will face off at 6 p.m. CT on Saturday, with MLB Network broadcasting the game on a tape-delayed basis at 7 p.m. CT on Sunday. As always, many of the top-rated prep prospects for the next year's Draft will be on hand, including Lake Mary (Fla.) High shortstop Brendan Rodgers and Eagle's Landing Christian Academy (McDonough, Ga.) outfielder Dazmon Cameron.
Fifty-one Under Armour Game performers have gone on to become first-round picks, including the top four high school selections in the 2014 Draft: Brady Aiken (Astros, No. 1 overall), Tyler Kolek (Marlins, No. 2), Nick Gordon (Twins, No. 5) and Alex Jackson (Mariners, No. 6). Eleven UA Game alumni have played in the Major Leagues, including Kevin Gausman and Scooter Gennett, and another, Byron Buxton, is the consensus top prospect in the Minors.
This week, I saw Dodgers left-hander Julio Urias for the third time this season, and he was as impressive as ever. It's safe to say most have bought in on Urias, though a late growth spurt in the offseason would make many more comfortable. Prospect Watch lists his ETA as 2016, but that might be tricky with him on pace to throw only about 90 innings this year. What should the process be over the next year or two to get him Major League-ready?
-- Nolan W., Upland, Calif.
Urias presents a development dilemma in that he's so good as such a young age (he didn't turn 18 until Tuesday) that the Dodgers are trying to challenge him without pushing him too hard. The best lefty pitching prospect in baseball, he's having no problems dealing with high Class A hitters this year, as his 2.86 ERA, 87 strikeouts in 72 1/3 innings and .215 opponents average will attest. Of course, having three plus pitches (91-96 mph fastball, deep curveball, sinking changeup) makes life easier for Urias.
Los Angeles is being careful not to pile too heavy a workload on Urias at a young age. Tuesday's outing marked just the second time this season that Urias worked as many as five innings. My guess is that the Dodgers will ramp Urias up to 110-120 frames in 2015, and then 150 or so the following season.
I do believe that Urias will pitch in the big leagues before he turns 20. Los Angeles could have Urias skip some starts early in 2016 so that he wouldn't exceed 150 innings but would have enough left in the tank to contribute through September (or October).
Lately, I've heard nothing but raves about Mets second baseman Dilson Herrera. Is his upside greater than Daniel Murphy's? What are your thoughts on Herrera in general?
-- Daniel W., New York
Acquired along with Vic Black last August in a trade that sent Marlon Byrd and John Buck to the Pirates, Herrera has had a spectacular first full season in the Mets' system. At age 20, he has batted .321/.377/.469 with 10 homers and 22 steals between high Class A and Double-A. Herrera is establishing himself as one of the best second-base prospects in baseball.
Herrera's offensive ceiling is very similar to that of Murphy, who's one of the most consistently productive second basemen in the Majors and appeared in his first All-Star Game in July. Herrera projects to hit for similar average and power, with the potential for a bit more than Murphy because he's on course to reach New York at the same age (21) that Murphy was when he was drafted. Herrera also is a faster runner and a smoother defender, so he should become a better all-around player.
Who are some of the top bats to keep an eye on for next year's Draft?
-- Eric B., Philadelphia
I mentioned the two best high school position players in the introduction to this Inbox. Rodgers has uncommon power for a middle infielder, a track record of barreling balls against top competition, and the quickness and arm strength to remain at shortstop. Cameron's tools aren't as loud, but he has a chance to be solid across the board.
The two best college position players are Southeastern Conference shortstops. Dansby Swanson will move there after playing second base in 2014, when he was named Most Outstanding Player of the College World Series after helping Vanderbilt win its first national title. He's a quality hitter with gap power and above-average speed, and he has the tools to stick at shortstop.
The other SEC shortstop who could go very early in the Draft is Louisiana State's Alex Bregman. An aggressive hitter with more pop than Swanson, Bregman plays above his tools but likely is destined for second base in pro ball, a package that draws comparisons to Dustin Pedroia.
How encouraged should I be about Reds left-hander Amir Garrett's dominant second half?
-- Ben F., Miamisburg, Ohio
Very encouraged. The Reds took a major gamble when they invested $1 million in Garrett as a 22nd-round pick out of a Nevada high school in 2011, because he barely pitched and was committed to St. John's to play basketball. Garrett recently decided to focus on baseball full-time, spurred in part by his performance at low Class A Dayton, where he has gone 5-2 with a 1.82 ERA with a 64/18 K/BB ratio and a .167 opponents average in 59 1/3 innings since the All-Star break.
Garrett pitched only 77 2/3 pro innings from 2011-13, but he attended all of Spring Training and has spent all of this season in the Minors after NCAA rules mandated he sit out the basketball season following his transfer to Cal State Northridge. The extra time with baseball has paid off, as the athletic 6-foot-5, 210-pounder has made significant strides with the consistency of his breaking ball, changeup, control and command. Garrett is still running his fastball up to 96 mph, which is what attracted Cincinnati in the first place.
Jim Callis is a reporter for MLB.com and writes a blog, Callis' Corner. Follow @jimcallisMLB on Twitter. This story was not subject to the approval of Major League Baseball or its clubs.