Playoff races heat up, MLB.TV Premium price slashed
Rest of season for only $24.99, half its current cost, through 11:59 p.m. ET on Sunday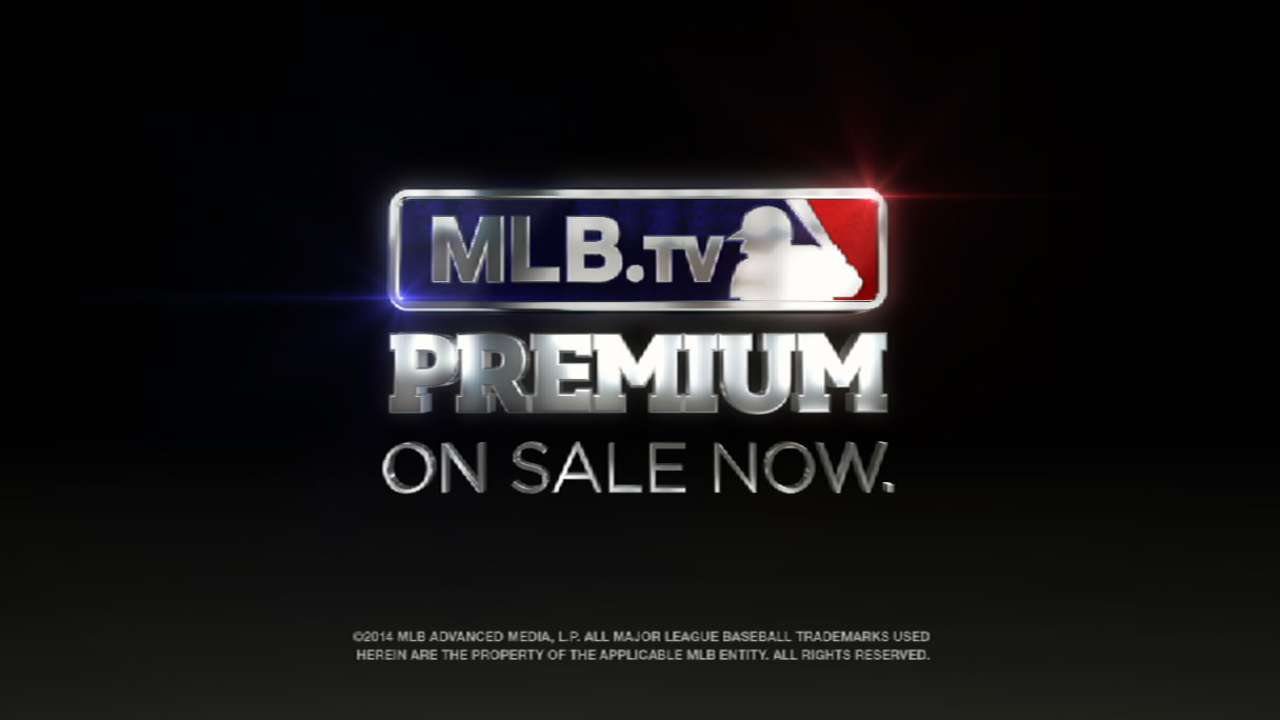 Nearly all 15 series around Major League Baseball this weekend involve contenders for postseason berths. Four starting pitchers are each going after a 15th win. There are possible October previews, and David Price's Detroit home debut -- opposite Felix Hernandez.
MLB.com is throwing a pennant-race party for the occasion.
From now through 11:59 p.m. ET on Sunday, you can sign up for an MLB.TV Premium subscription at only $24.99 -- half off the current price. It is a golden opportunity to see every remaining live out-of-market game plus the 110th World Series.
Thirteen series feature contenders who are no more than 4 1/2 games out of postseason position. The other two series are Cubs at Mets and Astros at Red Sox, the former providing you a good look at Chicago phenom Javier Baez and the latter a chance to see David Ortiz and the retooled defending world champions.
Derek Jeter, who played in the very first MLB.TV live stream back in 2002, has only 19 more regular-season road games scheduled in his career. You can see Yankees at Rays this weekend, and then track him down the homestretch in coming weeks.
It's a marquee-pitcher weekend on MLB.TV. King Felix and Price are the scheduled starters when the Mariners and Tigers meet at 7:08 p.m. ET on Saturday. Three National League pitchers will look to match Johnny Cueto at 15 wins: Clayton Kershaw on Saturday night in a showdown at home against Milwaukee, Adam Wainwright at home against San Diego on Sunday and Wily Peralta for the Brewers at L.A., also on Sunday.
That Dodgers-Brewers series certainly has a postseason feel. And what about in Atlanta, where the Braves play three important games against Oakland -- not only to measure up with the American League's top club in the standings, but also to avoid falling further behind Washington in the NL East. Who knows, it could be a World Series preview.
No matter who shows up for that 110th Fall Classic in late October, you could be among the first ever to watch it streamed live in the U.S. MLB.TV Premium subscribers got to watch the live FOX stream of the All-Star Game for the first time, and the World Series will follow suit as the Internet's longest-running and No. 1 sports streaming product grew again in 2014.
MLB.TV Premium subscribers have access to every live out-of-market game across more than 400 supported mobile and connected devices, and so far this season it has added Xbox One and PlayStation 4 to the list.
MLB.TV Premium subscribers also get home and away broadcast feeds, plus a free 2014 subscription to the highest-grossing sports app of all time, MLB.com At Bat -- on iPhone, iPod Touch, iPad, supported Android smartphones and tablets, Amazon Kindle Fire and Windows Phone 8.
With MLB.TV, MLB was the first sport league to stream its entire season (2003); first to wire its venues for TV-quality streaming (2005); first to use adaptive bit rate streaming (2008); first to stream live 720p HD video (2009); first to stream live games/subscription product to iPhone (2009); first live video on connected devices (2009); first to stream live video to a gaming console (2010); first live games embedded on Facebook & Twitter (2011); and first to make a live video stream embeddable to any site on the Internet (2013).
"Having MLB.TV is a great thing for me being the passion I have for baseball and the love I have for the game," Mets legend and MLB.TV subscriber Dwight Gooden said. "Obviously I'm a Met at heart, but there are a lot of teams I like to follow. I like to follow a lot of the young pitchers so if I'm traveling or doing anything and can't get to my TV, I have my laptop right there where I can keep up with the game instead of waiting for it to come on with the postgame stuff. I get the live action right there."
Mark Newman is enterprise editor of MLB.com. Read and join other baseball fans on his MLB.com community blog. This story was not subject to the approval of Major League Baseball or its clubs.